Procurement
2022 Government Procurement Conference examines recovery from COVID-19
The City & State event at the Museum of Jewish Heritage gathered public procurement stakeholders, legislators and nonprofit leaders.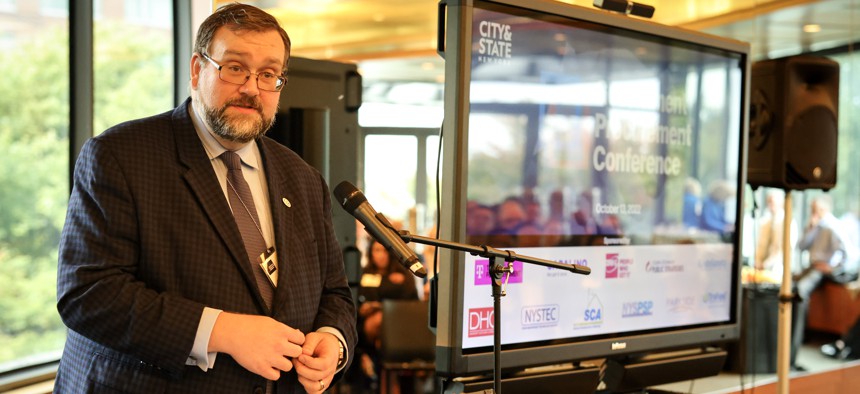 City & State's 2022 Government Procurement Conference was held on Thursday at the Museum of Jewish Heritage, an event attended by public procurement stakeholders, contract officers, legislators, procurement specialists, private firms and nonprofit leaders. 
The focus of this year's event was to examine the recovery from COVID-19 while fostering business partnerships between city and state level government, prime contractors, and small, minority, service-disabled veteran-owned, and women-owned businesses.
Among key issues addressed were changes in procurement practices, notably New York City's implementation of PASSPort Public and the state's Preferred Source Program, procurement practices for Minority and Women Owned Businesses, Small Businesses and Service –  Disabled Veteran-owned Businesses, Cooperative Procurement and the growing significance of technology and digitization in the public procurement process.  
Keynote Speaker, Sean Caroll, chief procurement officer for the state Office of General Services, spoke on applying strategic solutions to public procurement issues. 
"In places like the city contracts office, (Department of Transportation) and New York state - procurement is already seen as a strategic partner," he told attendees. "That means procurement solves problems, operationalizes policy legislative directives and bridges the divide between social equity, sustainability and resiliency while exercising financial discipline, and advertising functional success." 
Citing challenges brought to light by the COVID-19 pandemic, Caroll further stressed the importance of modernizing the process of procurement which includes joint efforts in both technological innovation and increased multi-industry cooperation. 
"The concept of modernized procurement is often associated with technology, but it is so much more than that," he said. "Twenty years ago, there were very few cooperative purchasing groups. Now we are experiencing rapidly expanding use of cooperatives and joint procurements where we joined together to leverage savings and value through volume."
"The future state of these agreements includes not just value in the form of pricing and commodities and service availability, but also in cost avoidance, reduction of administrative burden, better terms and conditions and contractual use complaints," he added.  
In order to support these modernization efforts, Caroll stated the need for a "cultural shift" in government's perception of procurement practices, in addition to greater investment in a robust social infrastructure that provides training and transparency efforts to ensure that innovation and cooperation efforts are not at the expense of local and social equity vendors. 
Regarding the inclusion of MWBE and DVOB small businesses, Caroll stated, "the future relies on these commitments to ensure that the government spends its money to reflect the diversity of the taxpayers we ultimately serve, and that no segment of the community is restricted from access to the competitive process." 
"By partnering with business owners across all demographics," Carroll said, "the government can and is successfully driving income jobs and ultimately generational wealth into these communities, while maintaining the highest standards of competition, responsiveness and responsiveness of the goods and services we contract for. "
These initiatives towards greater transparency and accessibility would also include providing a variety of electronic formats for vendors to accommodate individuals with disabilities, including visual impairment and language barriers in an effort to remove institutionalized barriers to participation. Recent changes reflecting these initiatives include PASSPort Public, an online platform which provides information on the City's procurement process, a more user-friendly solution to its predecessor Checkbook.
New York City Comptroller Brad Lander, one of the conference's panelists, stated: "the goal of passport ultimately, is end-to-end visibility for individual vendors and contractors. So you can see where your contract is moving through the system, but also to set up something like contract staff that will make it possible to see public information about outcomes and how long things are taking."
As a potential means to ease procurement backlog, Lander highlighted the data obtained through PASSPort. "For an individual contractor, you'll know where it [contract] is, and you could follow it through the system. And then second, as we get more data, which we have long worked for, you'll know how long which agencies are taking and where contracts are sitting at which stages and it'll enable us to both disclose and then focus on improvements in those areas that are the biggest problems," said Lander. 
Panelists also spoke of recommendations to vendors and procurement officials and urged for greater social policy intervention in areas of inefficiency.
"This is a place where the city needs to be more aggressive," said panelist Adam Buchanan, principal at Capalino, an urban strategies and government relations firm. "Some of you may not know that there is a prohibition on the city of furthering social policy for procurement. And I think the city should be a little more aggressive in trying to get that restriction out of procurement. The city has all these opportunities to push for these amazing social policies."