New York City
Electeds rally for universal child care bills package
The event was held in support of a set of bills that will make child care more affordable and accessible.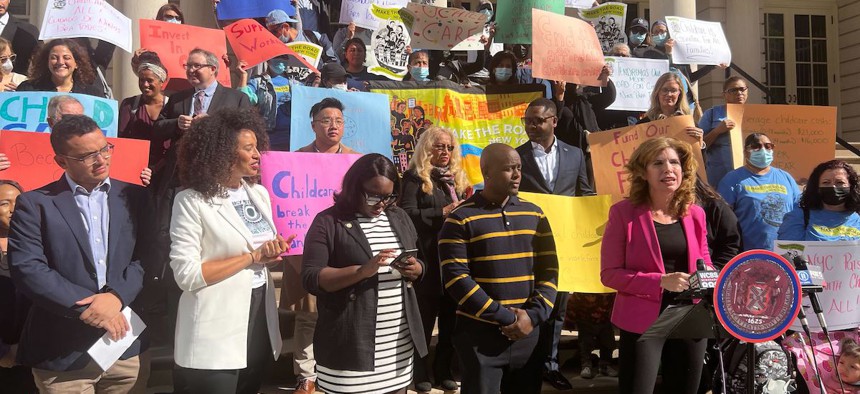 Elected officials rallied in front of New York City Hall Wednesday  in support of the Universal Child Care Act, a package of bills that passed the City Council hours later. The act includes bills that establish a child care advisory board, a child care grant pilot program, an electronic child care directory, a child care subsidy information portal and facility requirement guidance for property owners and tax abatement information. 
"Every child in the city deserves access to affordable child care, and the Universal Child Care Act is going to create that," said Council Member Julie Menin, who led the package of bills and hosted the rally. "And it's going to create that regardless of income restrictions, regardless of geographical limitations, regardless of immigration or employment status. That is the only way to create a universal child care program."
Access to child care long before COVID-19 had already been a pressing issue, with high costs making it challenging for families. According to a study by Columbia University, 32% of households had difficulty affording child care and 36% having difficulty finding child care when needed. Child care also disproportionately affects Black, Latino and Asian households as fewer white families report this as a problem. 
Among those at the rally were Council Members Sandra Ung, Amanda Farías, Shaun Abreu, Shekar Krishnan, Kevin Riley, Chris Marte, Althea Stevens, Alexa Avilés, Sandy Nurse, as well as Speaker Adrienne Adams, Public Advocate Jumaane Williams and others.
"Today is a great day for universal child care," said Stevens. "Let's be clear, this is not a new issue. We've been yelling about this for a number of years on how we have to make sure that every child in this city has access to good and quality child care. Me being a teen mom, this was something that was instrumental for me. I had to decide whether I was going to work and go to school or put my child in daycare because sometimes it was more than what my rent cost…this is not a women issue this is a family issue."
Mayor Eric Adams earlier this year unveiled a plan to expand childcare to 41,000 families and has invested in universal pre-kindergarten programs. Prior to the Adams administration, former Mayor Bill deBlasio and his wife Chirlane McCray championed universal pre-kindergarten programs and grew enrollment throughout his tenure.
The new legislative package is intended to go beyond that and ensure all New Yorkers have access to affordable childcare by establishing a child care advisory board (Int. 486) that will make recommendations on how to make child care more affordable and move forward the five year implementation plan. The act will also establish a grant pilot program (Int. 488) that will award grants to businesses at significant risk of closure or displacement. 
Int. 485 will create a website that lists every child care provider in the city and is expected to be available in 11 different languages, alongside Int. 487, which will provide information on child care subsidies. Another bill of the act, Int. 489, will provide property guidance for business owners to increase the number of eligible child care facilities. 
"Let New York continue to be the model for this nation of what leadership and inclusivity looks like, we are unapologetic about that," said Speaker Adams. "So from the moment that this historic women majority council took office, child care has been a top priority to us. As the first speaker who is both a mother and a grandmother, I'm proud to lead a legislative body of young parents, parents to be, mothers, and some who may not even want children but realize how important this issue is. We have an opportunity to advance and understand the importance of affordable child care to advance economic equity"
Powered By
NEXT STORY: What is Eric Adams' internet master plan?