Policy
New York's favorite new industry has a climate problem
Micron, the chip manufacturer pouring $100 billion into Central New York, has committed to net-zero emissions by 2050, but details are thin on how the plant doing extremely energy intensive work will get there.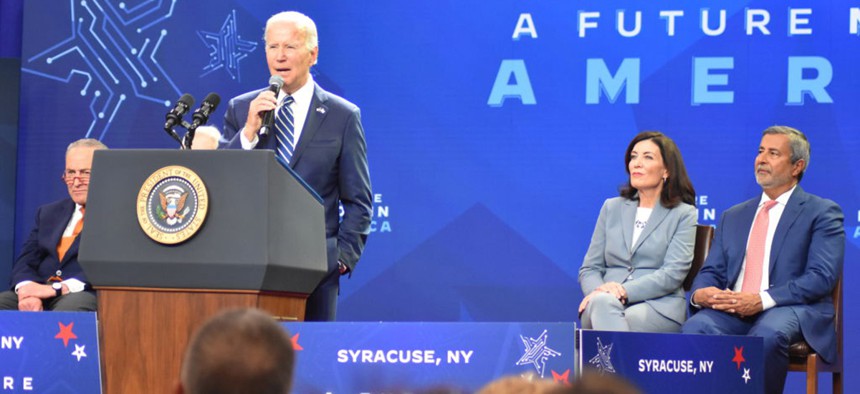 President Joe Biden made his second visit to New York this month to celebrate the CHIPS and Science Act, which among other things incentivizes the production of computer chips on American soil. That program, along with new state incentives, is already bringing a new semiconductor manufacturer to New York.
Biden appeared alongside Gov. Kathy Hochul, Senate Majority Leader Chuck Schumer and Sen. Kirsten Gillibrand on Thursday to celebrate Micron Technology's $100 billion investment in Central New York over the next 20 years. Micron will build a new semiconductor plant – or "megafab" – in Clay, with a pledge to create nearly 50,000 jobs in New York, including 9,000 "high-paying jobs."
Hochul lauded the deal as a marquee achievement as she fights a competitive election battle, and Micron has been a central topic in the competitive race in the 22nd Congressional District, where the facility will be located. 
But while the industry's economic development potential is evident, the climate challenge posed by chip manufacturing has been more seldom discussed in New York. Chips are used to power technology that will help fight climate change, like electric vehicles. But semiconductor manufacturing also requires massive amounts of energy. A 2020 study by Harvard researchers on the energy costs of computing found that chip manufacturing "accounts for most of the carbon output attributable to hardware systems." Earlier this month, NY1 reported that Micron's New York plant will eventually use about 20 million gallons of water per day, drawing from Lake Ontario, though authorities are not worried about running out of water. Some of the water will be treated wastewater that is sold back to Micron.
New York has characterized its investments in the computer chip industry as reliant on sustainability commitments. New York state passed a "Green CHIPS" bill at the end of this past legislative session that makes semiconductor manufacturers eligible for the Excelsior Jobs Tax Credit Program. But only "green" projects are eligible, meaning that they have to take sustainability measures to limit greenhouse gas emissions. That could involve using techniques that reduce carbon emissions during the manufacturing process or producing chips that are used in technology that reduces greenhouse gas emissions, according to the Times Union. "New York is poised to lead the nation in semiconductor manufacturing – and as always, we're doing it in the cleanest, greenest way possible," Hochul said in a statement when signing the Green CHIPS bill in August. 
Micron, which is taking advantage of the state's Green CHIPS program, has said that it aims to use 100% renewable energy at the New York facility in line with the company's commitment to 100% renewable energy across its U.S. operations by 2025. Micron also has emissions reduction goals. "Greenhouse gas emissions (GHG) for the new facility will be mitigated and controlled by using state-of-the-art technology," a release from Micron earlier this month stated. "These efforts support Micron's global target to achieve a 42% reduction in (greenhouse gas emissions) emissions from operations by 2030 and net-zero emissions by 2050." A representative for Micron did not immediately respond to a question from City & State about what that state-of-the-art technology involves.
"Thanks to New York's nation-leading Green CHIPS program which Governor Hochul signed into law this year, Micron's facility in Central New York will be one of the greenest, most sustainable chips manufacturing facilities in the country," Hochul spokesperson Justin Henry said in a statement. "Micron is making leading-edge sustainability commitments to use renewable energy, reduce waste, limit greenhouse gas emissions, and more to minimize the project's environmental impact and protect the Central New York community." Micron's sustainability commitments for its New York facility also include creating on-site renewable energy systems and battery storage. 
The state reports that New York is already home to 76 semiconductor companies, employing 34,000 people. GlobalFoundries, a chip manufacturer with existing upstate and plans to expand, has its own greenhouse gas reduction goals. 
Though climate experts have said that it will be a challenge for chip companies to meet their ambitious goals, environmental groups in New York are not yet ringing too many alarms about the chip industry's growing presence in the state. "As with any industry, there is a right way and a wrong way to do business," Julie Tighe, president of the New York League of Conservation Voters, said in an emailed statement. "While we haven't seen the details fleshed out, given Governor Hochul's steadfast focus on clean energy and protecting the environment, we hope and expect that as Micron brings these much-needed jobs to Central New York, the company and the administration will ensure their operations use clean energy, are both energy and water efficient, and overall environmentally sound."