Policy
What are New York City's three racial equity ballot proposals?
Voters will decide on a set of initiatives that would set up a framework for addressing institutional racial inequities.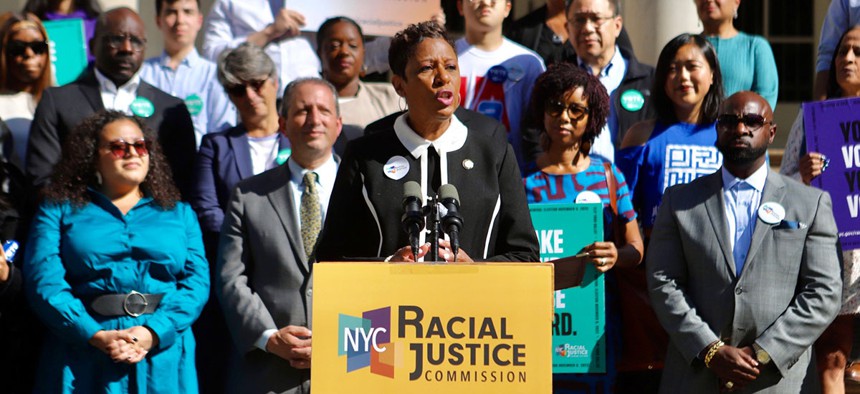 In November, New York City voters will be faced with a set of racial equity ballot proposals. These initiatives would, if passed, enact amendments to the City Charter that imbue city government with the mission of achieving racial justice and equity.
The impetus for the amendments came on the heels of the COVID-19 pandemic that disproportionately harmed people of color as well as the protests against police brutality that rocked the city during the summer of 2020.
These ideas began on March 23, 2021, when then-Mayor Bill de Blasio announced the creation of a Racial Justice Commission and tasked it with two major objectives: Examine structural and institutional racism across the city and recommend amendments that would rectify those issues.
After months of research and public input sessions, the commission compiled its work in a December 2021 report where it detailed the amendments that would be put up as ballot proposals this year. In May, Mayor Eric Adams announced a $5 million effort to bolster the public's awareness of the proposals.
At a Tuesday press conference promoting the ballot proposals, commission Chair Jennifer Jones Austin encouraged voters to "Flip the Ballot," since ballot initiatives are typically on the back of the ballot and candidates for office are on the front. She was joined by New York City Council Speaker Adrienne Adams, city Comptroller Brad Lander and Rep. Adriano Espaillat in one of the first major shows of public backing from prominent elected officials.
Adrienne Adams called the ballot proposals "unprecedented." Espaillat took a national view and said that in light of certain states working to pass voter suppression laws, it was critical "that cities act on their own to protect equity and racial justice." Lander applauded holding city government accountable for creating racial equity and said it would be an "honor" to vote for the proposals.
Lurie Daniel Favors, a member of the commission and executive director of the Center for Law and Social Justice, told City & State: "If (New Yorkers') vision was spoken to during the 2020 protests, if they felt something in that moment that recognized we have to do something more, and if we want structural change beyond the conversation or the talking points, New Yorkers will have to make that decision at the ballot box."
Next month, voters will decide whether to accept or reject the proposed amendments to the City Charter. Here are details about each of the three ballot proposals.
Proposal 1: Add a statement of values to guide government
This initiative would add a preamble to the City Charter (the document currently has no preamble) that emphasizes the city's racial diversity; recognizes past racial injustices; and provides the city government with a mission statement to provide "a just and equitable city for all." The commission called the proposed preamble as "a statement of foundational values intended to guide city government in fulfilling its duties."
Proposal 2: Establish a racial equity office, plan and commission
This proposal would establish three measures to achieve the vision of the proposed preamble: The mayor and city agencies would all be required to produce racial equity plans every two years; an Office of Racial Equity would be established to guide the city through the logistics of creating racial equity and set racial data indicators; and a Commission of Racial Equity would be established to gather public input and make policy recommendations – similar to how the Racial Justice Commission formulated its proposed amendments. The racial equity plans would be put together with input from the office and new commission to "identify and communicate publicly the goals and strategies, both short and long term, for improving racial equity and justice."
Proposal 3: Measure the true cost of living
This proposal would require the city to produce an annual "True Cost of Living" measurement. According to the commission's report, the need for a "True Cost" measurement was born from the ineffectiveness of the Federal Poverty Guidelines and the city's own poverty measurement. A "True Cost of Living" measurement would go beyond simply measuring poverty to gauge the actual cost of living in the city, including factors such as housing, food, childcare, transportation and other essential needs. The proposal also dictates the measurement be calculated without considering "public, private, or informal assistance."