New York State
What is the Environmental Bond Act?
Voters this November will decide whether or not to greenlight a $4.2 billion piece of environmental legislation.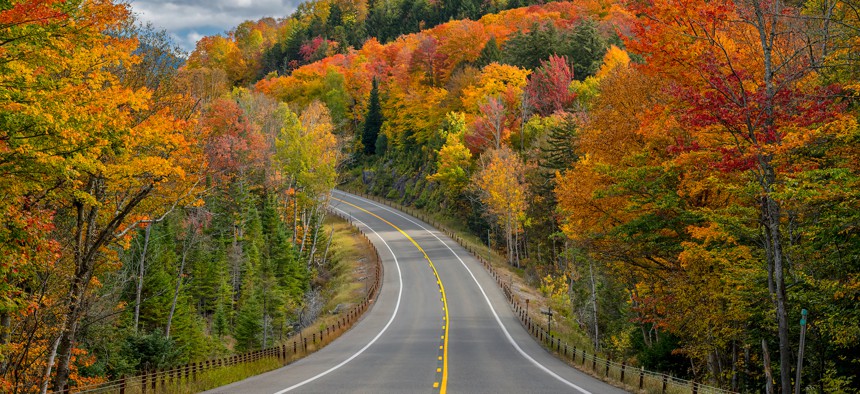 This upcoming Election Day, New Yorkers will decide on a significant piece of legislation that would allocate $4.2 billion toward environmental projects. The Clean Water, Clean Air and Green Jobs Environmental Bond Act of 2022 will appear as a ballot initiative on Nov. 8 after the measure was approved by the state Legislature back in April. 
Much like environmental bond acts that have been passed throughout New York's history, the 2022 bond act would enable the state comptroller to issue state bonds in order fund the measure, in this case totaling $4.2 billion. The funds would then be allocated across a number of capital projects that would aim to improve the state's environmental condition. 
According to the Rockefeller Institute of Government, New York's environmental bond acts have historically been passed in response to the rise of certain environmental movements during certain eras. The early part of the 20th Century saw the state pass an environmental bond act with the purpose of conserving natural land and forests, thus establishing state parks and land preserves. Bond acts of the 1960s and 1970s were passed with a focus on industrial pollution and air and water quality. The 2022 bond act, you could say, is an amalgamation of the previous acts, with an overarching theme of combating climate change. Here's how the 2022 bond act will be allocating it's $4.2 billion in funds:
$1.5 billion in climate change mitigation (which includes funds for zero emission school buses)
$1.1 billion in restoration and flood risk reduction.
$650 million in open space land conservation and recreation.
$650 million in water quality improvement and resilient infrastructure. 
$300 million in unallocated funds.
The measure also dictates that 35% of the total funds must be spent in disadvantaged communities. 
"The Clean Water, Clean Air and Green Jobs Environmental Bond Act is a once-in-a-generation opportunity for New Yorkers to protect clean drinking water, modernize infrastructure, preserve green spaces and drastically improve quality of life across the state," said Jessica Ottney Mahar, New York director of policy and strategy at The Nature Conservancy, an environmental organization. "If passed by voters on November 8, Prop 1 will improve public health by upgrading the state's antiquated 100-year-old pipes and water infrastructure, fund projects to mitigate climate change and flooding, and create tens of thousands of local jobs. New Yorkers have a chance to protect their state from an increasingly dangerous climate future, by voting 'yes' on Prop 1." 
Indeed, New Yorkers who have suffered the consequences of recent storm flooding would be relieved to see the $1.1 billion for restoration and flood risk reduction. The funds would be used for coastal rehabilitation and shoreline restoration projects; projects to reduce inland flooding and revitalize water fronts; and even the option to produce voluntary buyouts.
The bond act also considers urban environments. Urban dwellers would especially benefit from the climate change mitigation pot which would devote funds towards urban heat reduction via green roofs, cool pavement and reflective roofs. The measure also goes a step further to include monies attempting to provide environmental justice. Specifically aimed at trying to eliminate air and water pollution in environmental justice communities – communities set to be defined by a "Climate Justice Working Group." Not to mention that 35% of the total funds will also be used in disadvantaged communities. 
Such is the promise of the 2022 bond act that a vast and diverse number of organizations from across the state have signed up to form the "Vote Yes for Clean Water and Jobs" coalition in support and in advocacy for the act. Among the perceived benefits of the bond act, the coalition touts jobs, health and safety. A recent analysis by infrastructure consultant AECOM shows the bond act would create about 84,000 jobs. 
An earlier version of the 2022 bond act was introduced in 2020 by former Gov. Andrew Cuomo. It was originally named the "Restore Mother Nature Bond Act" and set to be funded at $3 billion. Although the act was approved by the state Legislature, it ultimately had to be rescinded from the ballot due to the economic uncertainty while facing the pandemic. In 2021, the measure was reintroduced and approved by Cuomo once again, but after his resignation, Gov. Kathy Hochul made the bond act her own by changing the name and having the legislature amend the measure to include an additional $1 billion in funding. 
While the billions of dollars needed to fund the environmental bond might have seemed like a hurdle during the height of the pandemic, it seems that this time around the state is more poised to handle such debt.
Powered By
NEXT STORY: Chip maker to build $100B manufacturing site near Syracuse