New York City
City & State summit seeks solutions to unfolding affordable housing crisis
Key issues addressed were increasing housing supply, rezoning and the city's response to future tax exemption plans.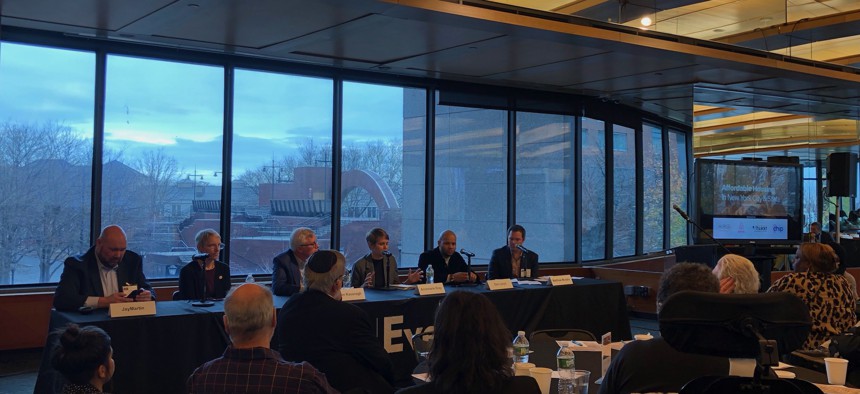 City and State's affordable housing conference Tuesday gathered New York City and state leaders as they discussed potential solutions to the unfolding housing crisis. From increasing housing supply, to rezoning by lifting land use restrictions and addressing political roadblocks, panelists stressed the importance of tackling affordable housing shortages.
Keynote speaker Ingrid Gould Ellen, Paulette Goddard Professor of Urban Policy and Planning at New York University, touched on the similarities between housing issues concerning both New York City and New York state, with rent burden increases and homeownership growing further out of reach. Ellen, in her remarks at the Museum of Jewish Heritage in Lower Manhattan, pointed to easing restrictive land use regulations to combat lagging trends in housing development, as New York's suburban communities this year issued the fewest number of building permits when compared to similar communities in the Northeast. 
Panelists discussed various intersectional issues related to housing affordability in New York state, from restricted housing supply, inadequate code enforcement and limited rental options. Limited housing supply was the top issue, with panelist Annemarie Gray, executive director of Open New York, elaborating on the consequences of limited development. 
"We don't build enough of all kinds of housing, due to exclusionary zoning and land use practices. The suburbs, in particular, are not doing their part. We have a regional transit system and regional economy, but we don't plan for housing opportunities at a regional level. And we have a political process that gives an outsized voice to people blocking housing, especially in the wealthiest neighborhoods. Fundamentally, more housing equals more power for renters, and building owners need more competition." 
State Senator Brian Kavanagh, chair of the Committee on Housing, Construction and Community, urged for increased tenant protection across the state with a widespread lack of adequate code enforcement a leading issue in tenant homes. However, he also noted that lack of supply and a lack of quality housing were top issues. "There's very poor quality housing," he said, "with 6% of children upstate tested having excessive levels of lead. They're being poisoned, mostly in their own homes."
Most panelists argued for a more competitive fair rental market, which would lead to greater tenant protections, higher standards of living and lower rent prices.
"Unfortunately, you heard a lot of focus on tenant protections. Those are the end result of not having enough supply. If we had enough supply, tenants would have the purchasing power in the market to move and live where they want to be," Jay Martin, executive director of the Community Housing Improvement Program. "Landlords would be fighting for tenants with vouchers. They'd be fighting for tenants and their properties. They'd be fighting to maintain their buildings better." 
New York City Chief Housing Officer Jessica Katz and Planning Chair Dan Garodnik, spoke of the housing initiatives within the Mayor Eric Adams' City of Yes Plan, which recently approved 12,200 units of housing with 7,700 affordable units, in addition to neighborhood rezoning and individual projects enabling affordable and supportive housing. 
"What we are endeavoring to do is to change the zoning tax citywide to ensure that every neighborhood is meeting their share of the need for housing of all types," Garodnik told attendees. "We're going to find ways to add as of right opportunities for affordable and supportive housing. We're going to try to find ways to enable different housing types in low and mid density, commercial areas."
On the expiration of the 421-a affordable housing tax exemption, offering developers tax breaks in exchange for building affordable housing units, City Council Member Pierina Sanchez spoke of the exemption's disadvantages.
"It cost us $1.7 billion a year… and we weren't getting the deep affordability levels, and we're not getting permanent affordability," she told attendees. "If I were a developer, I would be clamoring to figure out how I can build affordability in perpetuity, because that's where the political moment is in New York." 
Garodnik supported this view, yet remained optimistic of future successor programs that would "spur supply and partners with other programs like mandatory inclusionary housing." 
As the city faces increasingly alarming trends of housing displacement, panelists at the conference pushed for housing solutions that benefit low-income New Yorkers and communities of color. 
"It's really about lifting up those voices that have been ignored. There's been such an imbalance of power for so long, where mostly homeowners, mostly white, mostly upper income folks have had the power," said Michelle De La Uz, executive director of Fifth Avenue Committee. "We're making sure that the needs of communities of color and low income communities are keeping those voices at the table and performing public policy decisions."
Powered By
NEXT STORY: Poll: New Yorkers want public power