New York City
Eric Adams picks a number: 500,000 new homes in the next decade
The mayor announced a plan to streamline residential development in New York City.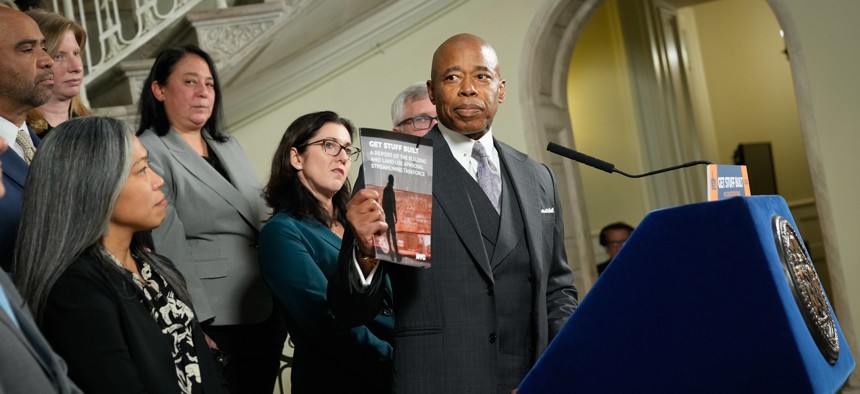 In Washington, D.C., President Joe Biden has his Build Back Better agenda. In New York City, Mayor Eric Adams has a simpler plan: build, build, build.
The mayor set an ambitious goal Thursday: building 500,000 new homes over the next decade in New York City. Adams said he was responding to a crisis that has resulted in increased housing prices, more homeless New Yorkers and longer commutes, as people have to live further out to find affordable housing. That would more than double the approximately 200,000 units built over the past 10 years – a necessary goal, according to the mayor, as the city's population has increased by about 300,000 people since 2010.
"We need more housing, and we need it as fast as we can build it," Adams said in a speech at City Hall. "If we do not deal with this housing crisis, New York will no longer be a city for working people, for families, for immigrants or for elders. We cannot let this happen. We must take action now."
Adams' initial housing plan, which he released in June, was criticized by some housing experts for being short on metrics and for not setting a goal for the number of units built. At the time, he said the focus should be on the people getting into housing, rather than the number of homes in the pipeline. Thursday's speech built on that announcement, and Adams' larger "City of Yes" framework. The "Get Stuff Built" report – playing on Adams' "Get Stuff Done" mantra – provided 111 recommendations that could streamline residential development.
Those included removing regulations, including a major change that would exempt smaller projects from conducting an often costly and time-intensive environmental review. Other fixes were more obvious, like filling job vacancies at the Department of City Planning. The city's vacant positions have caused headaches across various agencies.
"We're trying to go from a system that's based on paperwork and based on process to one that's based on progress," said Deputy Mayor for Economic and Workforce Development Maria Torres-Springer, who helped lead the Building and Land Use Approval Streamlining Task Force that issued the report.
Most of the changes could be made internally, within the alphabet soup of city agencies ranging from the Department of City Planning and the Department of Transportation to the Mayor's Office of Environmental Coordination. But Adams emphasized that the initiative's lofty goals could only be accomplished through a "full government approach," with support from the federal government, state Legislature and City Council.
New York City Council Speaker Adrienne Adams seems likely to be an eager partner on the goal, as she too has made increasing residential development a top priority. "We have too few homes for New Yorkers," she said at a November press conference, teasing that she'll have more to say in coming weeks, "and that is felt the most for those who need affordable housing at the deepest levels."
Gov. Kathy Hochul, too, promised to release a "bold and audacious" housing agenda in January. She stopped short of providing details, promising instead to unveil more during her State of the State speech, but she did strike a similar tone to the mayor, saying the state has failed to allow new housing developments.
But even as the need to build more housing has become a hot topic for leading politicians, expected blowback from constituents looms over the discussion.
One common concern has been that new buildings will drive up costs in the surrounding neighborhood, eventually displacing long-term residents and gentrifying communities. One prominent report from UCLA showed that new development does not increase the cost of rent in nearby buildings.
Adams said the initiative will create housing that is affordable to both middle- and low-income residents. "Development does not have to be displacement," Adams said. "We must ensure that there are safeguards in place to make sure people are not displaced and that there's roads for the district attorneys to take for those who try to illegally evict."
As for neighborhoods that have historically resisted new buildings or blocked affordable housing projects, Adams said they will no longer be allowed to do that.
"We can no longer have the thought process not on my block, not in my neighborhood, not in my community," he said. "We have to say we must house all our neighbors."
It has yet to be seen how the plan will be met by City Council members. While there can be an incentive to see construction projects completed in a timely manner, the current Uniform Land Use Review Procedure used when developers look to build outside of what the current zoning allows, gives members significant input and influence over what gets built. Any changes to that – even relatively modest ones like Adams is presenting, that don't abolish the procedure – could be seen as reducing their power, and their constituents' input.
In his speech, Adams also pointed to planned development that would get the city toward that 500,000-unit goal. Thousands of new homes are already planned for two parts of the city identified as emerging job hubs, including the East Bronx and Central Brooklyn. Under one of the plans, Parkchester, Van Nest and Morris Park would get 6,000 new homes by 2027 near long-planned Metro-North Railroad stations.