Heard Around Town
NYC Council 'still waiting' to see a plan on mayor's plan for severe mental illness
Eric Adams and his team have been doing a media blitz, explaining and defending last week's announcement.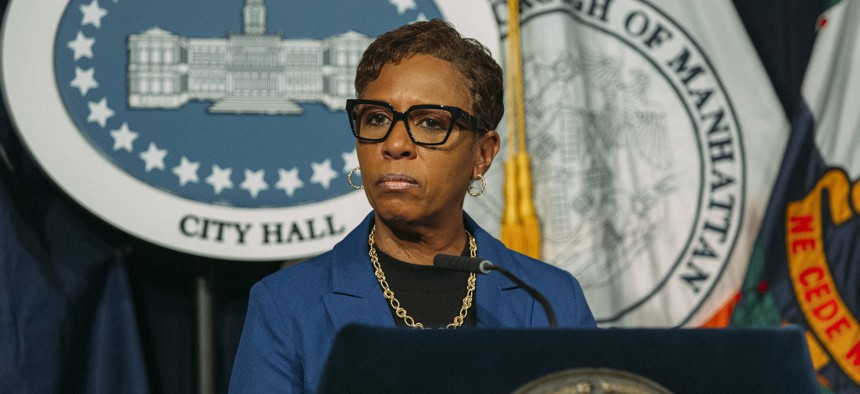 New York City Council Speaker Adrienne Adams is reserving judgment on Mayor Eric Adams' latest mental health announcement – in the most judgmental way possible. "We are still waiting for a full, comprehensive plan when it comes to the rollout," she said Wednesday at a regularly scheduled press conference before the council's stated meeting.  "What we see in the council is an idea. What we'd like to see is a plan. We have not seen that yet."
Last week, the mayor issued a directive, clarifying that severely mentally ill people could be involuntarily hospitalized in the city not just if they appeared to be a danger to themselves or others, but even if they just appeared unable to meet their basic needs. It was, at its heart, a minor change, but it was released with a City Hall press conference and some fanfare. The plan was met with some criticism from civil rights advocates and mental health professionals, but more than that, it was met with questions. Among them: How will this be implemented? How will police officers and other first responders be trained? Are hospitals prepared? 
Adams and his team have gone on somewhat of a media blitz in the last week, answering questions and following up, but the basic response is that there's more to come. 
"When people tell us that the city has a long way to go to kind of build that continuum of care that meets all levels of need and ensures that people receive care in the least restrictive, appropriate environment, they're preaching to the choir," Adams' senior adviser for severe mental illness, Brian Stettin, told FAQ NYC. "We have done, I think, some interesting and exciting things on that front, and we have a lot more to come. This plan should not be understood in a vacuum."
Speaker Adams was asked if it was "disconcerting" that the mayor made this announcement without a more comprehensive plan behind it. "I can't speak for the mayor," she said. "I understand the urgency of the situation. But again, we are waiting for the plan."
The mayor's office also defended making the directive without a full plan. "New Yorkers see the mounting mental health crisis on our streets every day and this administration will do everything within its power to provide support and services to those in need who have gone without support for decades," press secretary Fabien Levy wrote, as part of a longer emailed statement. "To do anything less than to connect these individuals with the proper care and support is cruel and heartless, and only displays the lack of willingness to actually address the needs of suffering New Yorkers."
Speaker Adams said it was too soon to say whether the council would hold an oversight hearing on the mental health announcement, but did provide some questions of her own: "What are we going to do once we decide and determine that someone should be hospitalized or evaluated? … How are the health considerations determined? … What does that treatment look like long term?"