Ask the Experts
Will Eric Adams' mandate to involuntarily hospitalize mentally ill persons work?
Mental health professionals offered mixed reviews on the mandate which already has caused a backlash with advocates for persons suffering from mental illness.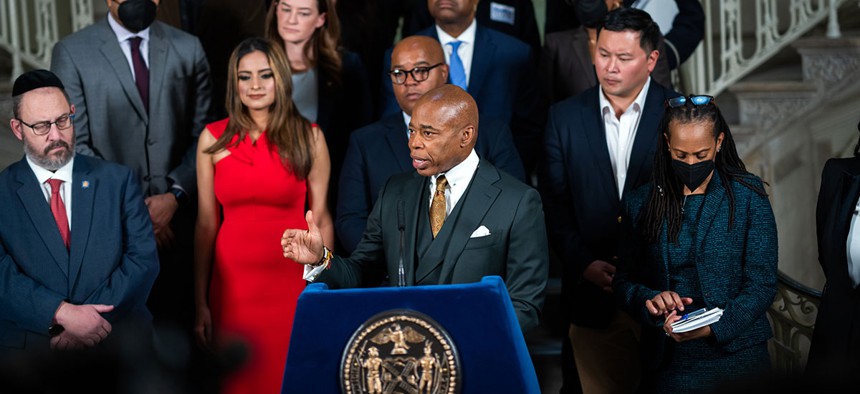 Last week Mayor Eric Adams announced his administration's new directive to take on New York City's mental health care problem, which includes a greater focus on involuntary hospitalization – a move that's come with significant backlash from advocates for persons who are suffering from mental illness. 
Involuntary hospitalization has long been considered a measure to protect against threats to harm oneself or others. The new directive incentivizes law enforcement and the medical community to expand the definition of that. Adams at a Nov. 29 press conference said that some persons with mental illnesses, due to the nature of their affliction, fail to recognize the need for intervention and support. "Without that intervention, they remain lost and isolated from society, tormented by delusions and disordered thinking. They cycle in and out of hospitals and jails," the mayor said. 
So far, the new policy has had mixed reviews from mental health professionals for a plethora of reasons. "The criterion of 'unable to meet one's basic needs' is actually a subcategory of threats to oneself. It is a less acute threat than an immediate threat to, for example, kill oneself. It nonetheless represents a threat to one's physical existence and well-being," Dr. Paul Appelbaum, professor of psychiatry, medicine and law at Columbia University, told City & State. 
"To the extent that there are additional people who are brought in with severe mental illness who can't meet their basic needs, clothes, food, shelter, etc., who are brought into the system through this initiative, the result may be a reduction of criminalization rather than an increase in it. It may prevent to some extent further criminalization of people with mental illness," Appelbaum added. 
"They have been criminalized in many cases because their conditions have been ignored until the point at which they commit a criminal act which results in their incarceration. That's a terrible way to care for people with mental illness," Appelbaum said.
Other mental health professionals said they worry the mandate will further stigmatize seeking mental healthcare if it is seen more as a punishment than a resource. 
The new directive is based on existing policy and, in part, is a recommitment to Kendra's Law which Adams has consistently said he would strengthen. It's the same law that the New York Civil Liberties Union said  "violate[s] the fundamental freedoms of competent, non-dangerous persons with psychiatric disabilities."
"We're saying with this new directive that if they're mentally ill and they're out on the street, we think we are now going to call them dangerous. It does feel like we're moving backwards on that particular point," Dr. Diana M. Falkenbach, professor of  forensic psychology at John Jay School of Criminal Justice told City & State.
Under the new mandate Falkenbach expressed concern over the possbility of abuse. 
"This new mandate would take it a step further so that if the person is not behaving bizarrely but they are homeless and also have a mental illness, whether they're acting out on their mental illness or not, those people can now go to the hospital," Falkenbach said. "This is a whole new set of hundreds of people in New York City that just because they have a mental illness and are homeless, they therefore now can be hospitalized against their will." 
Other mental health care advocates like Harvey Rosenthal, CEO of New York Association of Psychiatric Rehabilitation Services, argue that taking this approach to hospitalization is problematic.
"I think once you open that doorway and fail to prioritize what really needs to happen, you're giving people a false solution. You're playing to like fears of violence and saying we're going to get them off the street and force them into hospitals and have the police do it. I think coercion has not been proven to be the way. It doesn't breed trust and follow up," Rosenthal told City & State.
Rosenthal noted the new directive oversimplifies a complex and nuanced issue and asserted that the approach is actually counterintuitive to the goal Adams claimed the new measures will do. Rosenthal asserts that hospitalization should largely be used in very acute situations whereas other treatment options could be met through other types of interventions like housing-first policies and peer support groups. "We don't think hospitals are the place to give people food, shelter, and clothing. You can do that some other and better way," Rosenthal said.
He suggests that New York City embrace a different approach like the program his team implemented in Westchester county called INSET. It works specifically and only with people that would otherwise be on a Kendra's Law court order, Rosenthal said, adding "they have successfully engaged, using peers, people in recovery."
Housing-first policies have largely been successful at addressing some of the problems that often exacerbate mental health challenges that come along with homelessness. There is a direct correlation between economic insecurity – particularly housing insecurity – and suicidal tendencies, among other risky behaviors. 
Houston, Texas – America's fourth largest city – implemented a housing policy to take on homelessness rather than putting an additional burden on the city's hospital system which much like New York has failed to keep up with inpatient psychiatric healthcare demand. In Houston, that has since changed and the city now has more mental health facilities. In Houston, one in four homeless suffer from a mental illness. In New York, it's one in five. 
Adams said he intends to improve the tools available to law enforcement, including providing a new phone line that allows police and other first responders to connect with clinicians that can provide insight. Resources, however, have been sparse. According to a report from Public Advocate Jumaane Williams, several of the city's mobile crisis and respite centers have been closed.