Heard Around Town
NYC budget watchdog warns of fiscal cliff
The Citizens Budget Commission had a dreary outlook at their budget briefing this week.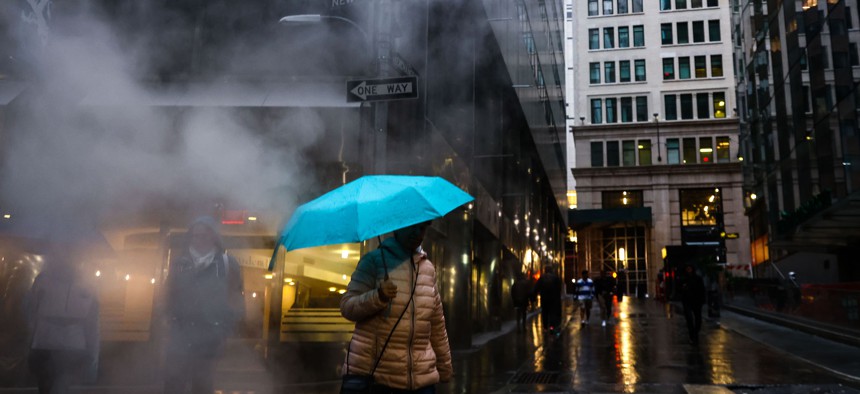 New York City is staring down billions of dollars in budget gaps in the coming years, and those gaps could balloon quickly without action to rein in spending, the Citizens Budget Commission warned in a budget briefing on Tuesday. 
New York City Mayor Eric Adams is expected to present a preliminary budget for fiscal year 2024 next month. While CBC President Andrew Rein said that the city has taken a step in the right direction to prepare for that budget and its projected $2.9 billion gap with a plan to eliminate roughly 5,000 vacancies (a fraction of total city vacancies), allow agencies hire for remaining roles, and direct agencies to self-fund new initiatives, he said that new fiscal risks could make out year budget gaps unmanageable. 
Rein identified potentially higher collectively bargained raises for city employees, a possible recession, and city and federal fiscal cliffs as risks that could grow out year budget gaps.
Rein also said that if the city doesn't receive the $1 billion in federal funds it has budgeted for to offset the costs of dealing with the migrant crisis – and there's been no guarantee that it will – that will also increase budget gaps.
Between the vacancy reduction planned for 2024, available budget reserves and other technical adjustments, Rein said the city could get the next fiscal year's budget gap down to a manageable level. "The question really is those out years," Rein said, pointing to fiscal years 2025 and 2026, which show budget gaps of around $4.6 and $5.9 billion even before accounting for a potential recession or higher than planned raises. "Will steps be taken to reduce spending over those out years, or will there be added programs that increase those gaps?"