Politics
Takeaways from Hochul's State of the State
The governor acknowledged New Yorkers' struggles with mental health and announced the New York Housing Compact.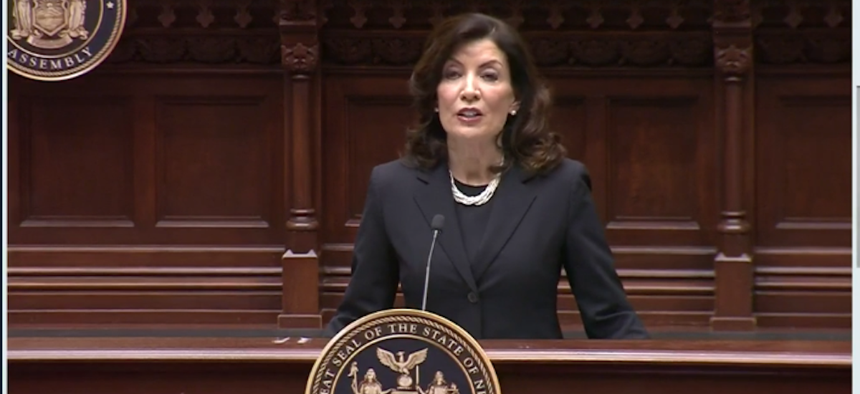 Gov. Kathy Hochul delivered her highly anticipated State of the State address inside the Assembly Chamber Tuesday afternoon, her first as the elected governor of New York. Leading up to the address, the governor indicated that housing and crime would serve as the keystones of her agenda for the year. She already announced a plan to build 800,000 units of new housing over the next decade, although she withheld details until her speech. Hochul outlined a plan that relied heavily on easing regulatory restrictions and otherwise promoting development not just in New York City, but around the state, with new requirements for municipalities to meet. But even before the speech, housing advocates – barred from the Capitol along with all other unauthorized visitors – protested her housing proposals for failing to protect tenants and ensure affordable housing. 
Hochul also once again pledged to tackle bail reform again, likely the most controversial proposal on her crime agenda. Lawmakers from both chambers, along with legislative leaders, have long indicated they have no desire to revisit the state's bail laws, particularly after agreeing to roll them back several times. However, Assembly Speaker Carl Heastie expressed support to reporters for the prospect of investing more money into pretrial services, which Hochul includes in her agenda. 
Hochul's other priorities included mental health, public safety, climate and education. Here are some takeaways.
Public Safety
The first policy issue Hochul discussed was crime – and a sense of insecurity she called "pervasive." She is once again pushing lawmakers to adopt changes to the state's bail laws, further rolling back the reforms first adopted in 2019. Most notably, she now proposes eliminating the "least restrictive" standard judges must follow when determining pre-trial conditions when it comes to serious crimes that remain bail-eligible. The goal, according to the governor, is to give judges greater discretion to set bail or even remand a defendant when they're accused of especially serious or violent felonies, while maintaining the "least restrictive" standard for lesser crimes to ensure that someone isn't detained pretrial simply because they don't have enough money.
Within the governor's plans for public safety, Hochul also proposed an expansion to the state's gun-involved violence elimination program. The governor is planning to substantially increase funding to hire hundreds of new prosecutors across the state as well as funding for discovery and pretrial reforms.
Housing
Leading up to the State of the State, the governor indicated she planned to make housing a "top priority" in her address and pledged to build 800,000 housing units over the next decade to meet the state's housing shortage and address the affordability crisis. She called the initiative the New York Housing Compact, which focuses largely on zoning and regulatory changes to make it easier to build. Though she acknowledged the need to incentivize the construction of affordable housing, a specific proposal to replace the expired 421-a tax break for developers was missing from the housing compact. The governor said she plans to work with the Legislature to find a replacement for the "critical piece of the puzzle". An eighth of the units Hochul wants to build will be reliant on a similar incentive program to 421-a, which ended in June. The governor also did not re-up her proposal from last year to legalize accessory dwelling units in the suburbs.
According to Hochul's office, the plan is centered on increasing supply and protecting tenants as well as homeowners. The housing plan also relies on every locality across the state working toward a target amount of homes. Regulatory changes include legalizing basement apartments in New York City, streamlining environmental reviews for transit-oriented developments and permitting greater density by lifting the floor area ratio cap in New York City.
Mental health care and health care
Hochul unveiled a $1 billion plan to address mental health. The plan adds 1,000 beds for psychiatric treatment and 3,500 housing units for New Yorkers with mental illness. 
With the mental health care plan, the administration plans to prioritize out-patient services and insurance coverage in an effort to improve the process for admissions and discharging of patients.
In terms of health care, Hochul plans to establish a commission focused on improving the state's health care system. At a time when health care providers have faced prominent staffing shortages, as a direct result of the COVID-19 pandemic, and have relied on nurse agencies to fulfill vacancies, Hochul plans to introduce legislation to require staffing agencies to register and report operational data. The governor also plans to increase protection against medical debts and increase access to health care providers with increased Medicaid reimbursement rates, expansion of Medicaid coverage and more. 
Climate
To address climate, Hochul is proposing several programs focused on sustainability for the future. With the cap-and-invest program, the state will establish a gradually declining cap on greenhouse gas emissions. Emitters will purchase allowances from the state for emissions, and revenue from those auctions will be targeted at protecting vulnerable communities. Hochul will also propose legislation to create a universal Climate Action Rebate that the administration expects will bring $1 billion in funds for New Yorkers. Hochul plans to make buildings sustainable and provide a $1 billion investment for electric vehicles.
Education
Hochul said she is striving to provide "high quality" education. This year, the governor plans to increase funding for Foundation Aid to school districts by $2.7 billion, bringing the total investment to $24 billion, and increase funding for full-day kindergarten. Hochul also plans to establish tutoring programs across the state with a focus on reading and math and create a pathway to careers and higher education. The governor is also proposing annual tuition increases for SUNY and CUNY schools which will be determined by the Higher Education Price Index or 3%, whichever is lower.
Minimum Wage
Hochul announced a proposal to match the minimum wage to current inflation rates. The governor noted the rising prices of goods and services since the start of the pandemic and explained that people making minimum wage across the state have lost their "purchasing power." Hochul is hoping the increase in minimum wage will help low-income workers, specifically families of women and people of color. The governor also pointed to data showing how increased worker wages can result in increased consumer spending in communities and improve work productivity and retention.
The MTA
While the Metropolitan Transit Authority faces a financial crisis and the impending threat of a fiscal cliff, Hochul says she is committed to finding a "comprehensive set of solutions" but did not detail specifics on how to address the agency's financial challenges. The governor did mention the transit authority's role in her housing plan to build units near the transit hub and claimed the plan would ensure the "long-term fiscal health" of the MTA. Hochul plans to create a new transit connection between Brooklyn and Queens, expand electric vehicle transit infrastructure, improve bus reliability and lower the speed limit in New York City.