Infrastructure
Biden touts $300 million grant for 'critical first phase' of Gateway Hudson River tunnel
The funding, however, will only go towards a sliver of the work that's needed for the $16.1 billion project, which is set for completion in 2038.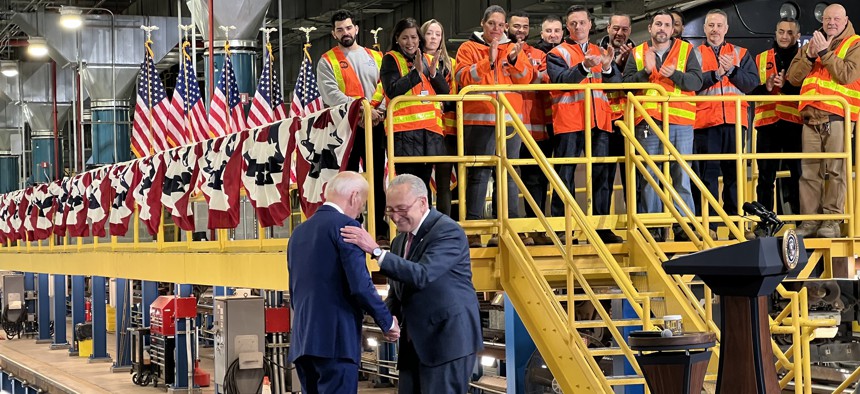 Transportation officials have long fought to revamp a pair of century-old rail tunnels beneath the Hudson River that connects New Jersey to Midtown Manhattan, warning that there could be sizable economic impacts if the aged line fails. It's been a long, controversial political saga, but after years of failed promises, some relief for the next phase of the long-delayed project came Tuesday afternoon aboard a presidential motorcade – or at least a hint of it.
President Joe Biden joined a bevy of New York's top Democratic leaders at the West Side Rail Yard to unveil a $292 million grant that will go towards completing a concrete casting for part of the tunnels.
According to White House officials, this is a "critical first phase" of the long-delayed Hudson Tunnel Project, the biggest section of the overarching Gateway Program. Officials plan to rehabilitate the old tunnel, which suffered damage from Hurricane Sandy in 2012, as well as add a second tunnel. The revitalization of the project began in 2013, but stalled under former President Donald Trump. The nearly $300 million in funding stems from the bipartisan $1.2 trillion infrastructure law signed by Biden towards the end of 2021.
"After many false starts and obstacles placed in our way, Gateway is full steam ahead. With today's new dollars, Gateway's future is secured. Finally, finally, finally, we can say it will be built," said Senate Majority Leader Chuck Schumer, who described the project as a personal "labor of love."
Metropolitan Transportation Authority employees perched on yellow platforms between the tracks as an array of state and national elected officials, including Sen. Kirsten Gillibrand, Gov. Kathy Hochul, New Jersey Sen. Cory Booker, and U.S. Secretary of Transportation Pete Buttigieg, entered to speak one by one. Banners striped with red, white and blue hung in long rows. The front of one of the stationary trains was even outfitted with the presidential crest. 
But despite Tuesday's political pomp, the grant will only cover a small slice of the multi-billion dollar project, which swelled to an estimated $16.1 billion in September. It'll also be years till commuters are able to reap the rewards of a swifter journey, as officials recently pushed the project's anticipated completion date to 2038.
"This is one of the biggest, most consequential projects in the country," Biden said. "But it's going to take time. It's a multi-billion-dollar effort between the states and the federal government, but we finally have the money and we're going to get it done. I promise you, we're going to get it done."
The project is supposed to create 72,000 "good-paying" jobs and significantly improve train reliability for thousands of passengers on Amtrak and New Jersey Transit, according to the White House. 
Tom Wright, president and CEO of the Regional Plan Association, said the federal funding will reduce New York and New Jersey's debt load and make the project more cost-effective overall.
"Both states are collaborating well and have committed to their share of dedicated funds to realize the project," Wright said in a statement. "Now with federal partnership, we have the alignment we need to get this done."