Energy & Environment
Hochul, lawmakers, activists agree: It's time for all-electric buildings in NY
A bill to ban new gas hook-ups is getting a renewed push in Albany.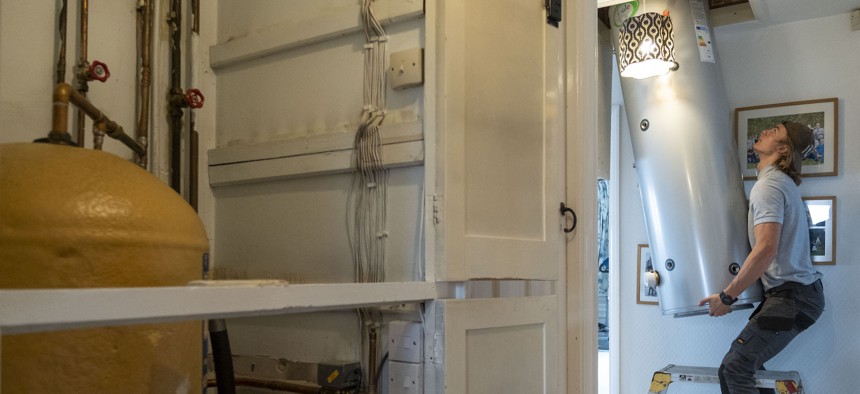 Environmental advocates are hoping that this is the year that New York will get gas and oil out of its buildings. Some 200 activists are expected to rally in Albany Tuesday for a package of legislation to help electrify the state's buildings as New York attempts to hit ambitious climate goals set in 2019.
At the top of the agenda for climate change activists in the Capitol is the "all-electric building act," which would ban new gas and oil hookups in all new construction by the end of the decade. "New York has one of the most ambitious and important climate laws in the country that we have to meet," Liz Moran, New York policy advocate at Earthjustice, told City & State of the states landmark 2019 Climate Leadership and Community Protection Act. "And to meet that, we need to address one of the largest sectors of our greenhouse gas emissions, which is buildings." Moran, along with other advocates and lawmakers, is pushing for Gov. Kathy Hochul to include the legislation in her executive budget, which she is expected to present by the end of the month. 
The governor has already included her own version of the "all-electric building act" in her State of the State address earlier this month, something she also did last year. But ultimately, the legislation didn't get done in the budget, nor did it pass in the Legislature last session. Despite hitting roadblocks in the past, Moran said she felt confident that with a finalized scoping plan from the Climate Action Council – a group formed through the Climate Leadership and Community Protection Act to figure out how to meet the goals set by the law – electric buildings will get through this year. Electrifying buildings was one of the key goals of the massive climate bill. "We already know this is technologically feasible," Moran said. "It's already happening in a number of locations in New York state."
One of those places will soon be New York City, which approved its own version of the "all-electric building act in 2021. The law made New York the largest city in the world to begin phasing out the use of gas and oil in new buildings. Requirements for new construction will take effect at the start of next year. However, Mayor Eric Adams said on Monday that he personally has a gas stove and does not necessarily support replacing it and others with an electric one, offering his own thoughts on a debate that has polarized political social media in recent weeks. "Those of us who are good cooks – you know, people don't realize that electric stoves can't give you the right setting when you are cooking something that – if you're a good cook," Adams said. "You know I'm a good cook, and that electric stove, it doesn't cook for me."
But to meet the state's climate goals – like reducing greenhouse gas emissions 85% by 2050 – advocates are also pushing to retrofit existing buildings that use gas or oil with electric heating instead. A second bill called the New York Home Energy Affordable Transition Act – or NY HEAT Act – would remove a subsidy for new gas and oil hookups. "So there's no free extension, no ratepayer subsidy for that any longer," Rich Schrader, the northeast regional policy director at the Natural Resources Defense Council, told City & State. "(It's) one of the methods the state will be using to move away from gas heating and transition towards electric heat pumps and the like." The state currently has more than one incentive for homeowners and renters looking to retrofit their system to switch to electric, including a rebate as well as a program for low- and moderate-income households to help afford the installation. Richard Rodriguez, an Albany area energy auditor, switched to an electric heat pump about two years ago through the EmPower New York program offered by the state, which covered the majority of the cost of installing an electric heat pump. "It's been a dramatic shift for us," Rodriguez told City & State of the hundreds of dollars in savings he and his wife have seen in the winter months. "And I've seen folks with even more dramatic situations where they spent even more on oil and or propane, and they've reaped even greater benefits." 
Rodriguez assesses homes' energy consumption and costs for a living and says that it can take convincing to get some people to make the switch, especially with uncertainty around upfront costs and reliability of the technology. But he said that most people ultimately make their decisions based on the dollars and cents it will cost. "As of today, at least, high efficiency heat pumps are usually, in almost every scenario, cheaper to operate," Rodriguez said. 
Although these bills have received support from both the governor and lawmakers, they haven't yet succeeded in getting approved, in no small part to the lobbying efforts of the gas and oil industry. "This is an industry with deep pockets, and who in many, many other places around the country have fought these kinds of legislative efforts," Schrader said.