Immigration
NYC requests state support in sheltering 500 asylum seekers
New York City Mayor Eric Adams said the city will soon be unable to continue sheltering migrants on its own.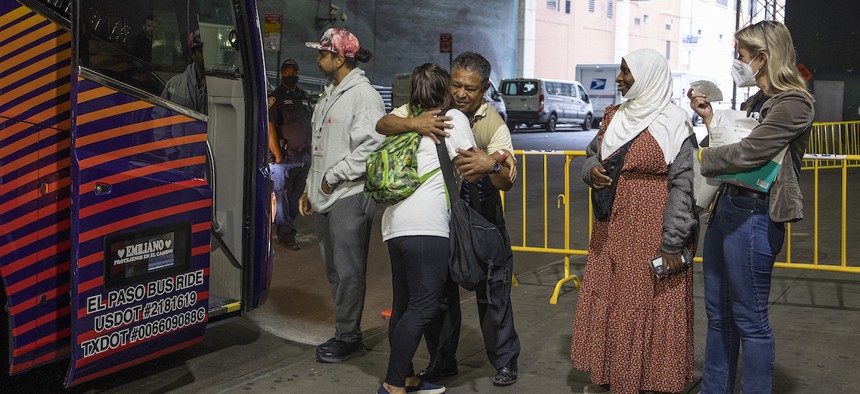 New York City Mayor Eric Adams has been relaying the same message for months on the city's management of the asylum seeker crisis: That the city is reaching its breaking point in bearing sole responsibility for the roughly 40,000 migrants who have arrived in the city since last spring.
But on Friday, when he reiterated that message, Adams added a specific request to the state government: Help shelter 500 asylum seekers. "Based off our projections, we anticipate being unable to continue sheltering arriving asylum seekers on our own and have submitted an emergency mutual aid request to the State of New York beginning this weekend," a statement from Adams read. "Our initial request is for shelter to accommodate 500 asylum seekers, but, as New York City continues to see numbers balloon, this estimate will increase as well." 
Since last spring, New York City has opened 74 emergency shelters and four humanitarian relief centers in order to provide food and shelter to anyone who needs it, in accordance with the city's right to shelter. Many of the recent migrants have come seeking asylum from Venezuela, and many were bused to sanctuary cities like New York by politicians on the southern border.
City Hall said that the city averaged 400 new arrivals every day last week and recorded an all-time single-day high of 835 asylum seekers. The city has requested $1 billion in federal funds to support the costs of managing the crisis over the last year, and while the federal government has allocated $785 million across the country to reimbursing some of those costs, it's still unclear how much of that will go to New York City. In a radio appearance on Caribbean Power Jam on Friday morning, Adams estimated the cost of providing shelter and services to arriving asylum seekers could be closer to $2 billion.
Adams has called for support from the state as well, but the emergency aid request on Friday marks the most specific appeal the city has made to the state.
It's unclear what support from the state to shelter migrants might look like. The request submitted by the city did not have a financial amount attached to it but called for coordination and operational help in providing shelter. City Hall did not offer specific scenarios of how the state could support the sheltering of 500 or more asylum seekers, or if it would involve the state taking on responsibility for sheltering asylum seekers outside of the five boroughs.
Spokespeople for Hochul did not immediately respond to a request for comment.
In a joint statement on Friday, the Legal Aid Society and Coalition for the Homeless reiterated that the city is mandated to provide shelter to anyone who needs it. "Regardless of the circumstances, these are obligations that no mayor can shirk," the statement read. "That said, Washington and Albany have so far provided only minimal financial assistance for the City to meet this moment, and all levels of government must do their part to ensure that legal obligations are met and all people in need, including asylum seekers, are provided access to safe, decent, and accessible shelter."