Policy
The quest to end legal protections for public employees in NY – and not just police
Repealing qualified immunity, an issue that most often comes up with employees of public schools, is a priority for some state Democratic lawmakers.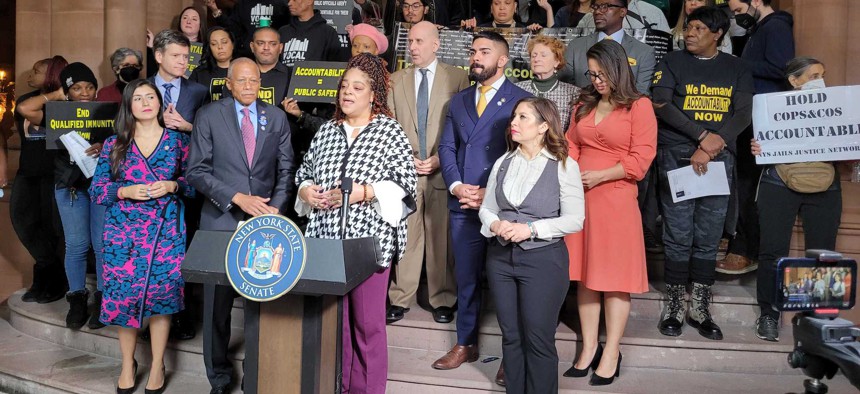 Lawmakers and police reform advocates rallied in the Capitol on Wednesday in support of repealing qualified immunity, a law that protects public employees from being sued over misconduct. While it affects a wide range of workers, the protection from liability in cases of police brutality has gained the most notoriety. As the governor pushes a public safety agenda, the gathered advocates argued that ending qualified immunity is essential to ensuring people's safety.
The issue of qualified immunity gained particular prominence during the 2020 protests against police brutality in the wake of the murder of George Floyd. That summer, state Sen. Robert Jackson and Assembly Member Pamela Hunter introduced legislation to end the legal defense at the state level for the first time. "We cannot have public safety without trust," Jackson said during the rally. "We cannot have trust without accountability." 
Right now, a person can bring a lawsuit against the state or the body that employs the public servant – for example, the New York City Police Department – but the public employee themself can use qualified immunity as a defense to avoid personal liability. The reason is that under the court-created rule, the person suing has to prove that the individual knowingly violated "clearly established" law through precedent set by a previous court case. The problem that arises is that because of qualified immunity, there are no previous cases to rely on, making the standard nearly impossible to meet and setting up a cycle of immunity for public servants like police officers.
The proposed legislation would repeal that part of state law that permits that defense, while upholding the original intent of the Supreme Court ruling that first established qualified immunity of protecting police officers and other public officials from "frivolous" lawsuits. "We need to pass this bill as soon as possible so that there can be justice for the people and the families that have been hurt by police officers, by other public officials, that have done wrong by them," Democratic state Sen. Jessica Ramos said.
Few states have approved laws to limit qualified immunity. Colorado became the first state to do so the summer of 2020, creating a law that gave people a new way to file a lawsuit against police officers in state court and removed the qualified immunity defense in those cases. New Mexico followed about a year later with a similar law. The same year, 2021, New York City also approved its own version of a qualified immunity repeal, a move heralded by Democratic officials and police reform advocates. 
But like Colorado and New Mexico, the New York City version of the repeal applied only to police officers. And it specifically could no longer be used as a defense in cases of alleged excessive force. At the time, the New York Civil Liberties Union wrote that the new law doesn't go nearly far enough. "The Council's bill also covers only a fraction of the full universe of potential misconduct claims against officers," Michael Sisitzky, assistant director of policy at the NYCLU, and Simon McCormack, NYCLU senior writer, wrote. The legislation was further weakened when an earlier provision that would have made officers financially responsible for harming civilians was dropped from the final bill. Right now, the impact of the city law remains unclear due to a lack of data to analyze yet, according to VOCAL-NY's Keli Young, the police reform group's civil rights campaign coordinator. 
However, New York's proposal would go further than the city's law, and even those in Colorado and New Mexico. Unlike in those instances, New York's repeal would not be limited to police officers and would apply to all public servants. "To be clear, the cases in which this has happened the most, in fact, has been with school officials," Assembly Member Anna Kelles said at the rally on Wednesday of instances when the courts granted immunity. "So what we're saying also is that we do not want to protect our children if we do not support this."
Police unions have strongly opposed the repeal of qualified immunity, a major roadblock for activists and lawmakers looking to end the defense in New York. Past versions of the bill have never made it out of committee in the Legislature – and lawmakers can't rely on the governor's support either. Gov. Kathy Hochul told reporters on Tuesday that she does not support the repeal of qualified immunity despite maintaining her desire to hold bad actors accountable. Spokespeople for state Senate Majority Leader Andrea Stewart-Cousins and Assembly Speaker Carl Heastie did not immediately return requests for comment.