Energy & Environment
The uncertain fate of upstate's most controversial bitcoin mining site
Greenidge Generation demonstrated a way to revive old upstate power plants.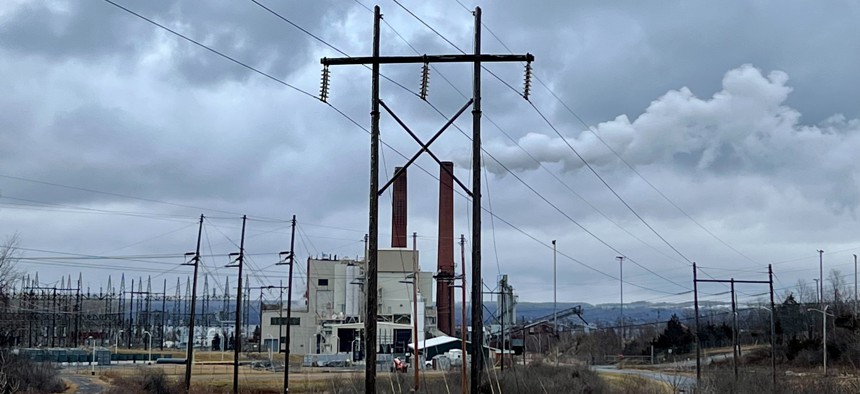 First opened in 1937, the coal-fired power plant outside the village of Dresden in the Finger Lakes region is one of many upstate power plants decommissioned in recent decades due to inefficiency and excessive greenhouse gas emissions. But the plant received a new lease on life in 2014, when Atlas Holdings acquired it and retrofitted it to burn natural gas rather than coal.
Greenidge Generation, a subsidiary of Atlas Holdings, applied to the state Department of Environmental Conservation for a Title V air permit that would enable them to restart electricity generation. In that application, Greenidge said the plant would only operate part time, providing wholesale electricity to the state's power grid at times of peak demand. Greenidge's air permit was issued in 2016, with renewal scheduled for September 2021.
The Dresden plant restarted operations in 2017. At first, it only operated when demand on the grid and the price of electricity were especially high.
"It was serving the grid and providing electricity solely to the grid," said Mandy DeRoche, deputy managing attorney in the Clean Energy Program at Earthjustice, which represents environmental groups opposed to Greenidge. "So we can see from the emissions profile and the days of operation, hours of operation, that they came online only a couple days a year. Each of those years, they correspond with heat waves and cold snaps."
But Greenidge soon discovered a way to monetize its electricity generation all year long.
A lucrative opportunity
In the years after the Dresden plant restarted its operations, an increasing number of cryptocurrency mining companies set up operations in upstate New York, lured by relatively cheap electricity prices. Greenidge realized that it had access to a particularly cheap source of energy, since it owned its own power plant, and began investing in bitcoin mining.
Starting in 2020, Greenidge began operating the Dresden plant nearly full time, using most of the power generated to power its own bitcoin mining rigs rather than selling it to the grid.
"As both the cryptocurrency markets and the power markets are constantly fluctuating, we do whichever is more profitable at any given time – either sell the generated power or mine crypto with that power," Greenidge Chief Financial Officer Tim Rainey told Forbes in 2020.
As it became a leading company in the cryptocurrency mining space, Greenidge went public on the Nasdaq stock exchange through a reverse merger and took out large loans to finance the purchase of more mining rigs and a second power plant/crypto mining facility in South Carolina.
Emissions create a downside
As the Dresden plant was now running around the clock, its total greenhouse gas emissions spiked – jumping from about 40,000 tons of carbon dioxide in 2019 to more than 200,000 tons in 2020.
Environmental advocates protested, arguing that the state Department of Environmental Conservation had only authorized the operation of a part-time power plant, not a full-time cryptocurrency mining facility.
The department ultimately rejected this argument. But the agency was more receptive to advocates' claim that Greenidge's operation of the Dresden plant could violate the Climate Leadership and Community Protection Act, a landmark climate law that the state enacted in 2019.
"That's the big change between the 2016 permit and the 2021 application for the renewal is that groundbreaking climate law passed that does not allow for emissions increases to interfere or be inconsistent with the emissions reductions in New York state," DeRoche said.
After a monthslong public comment hearing and repeated delays, the department's Division of Environmental Permits denied Greenidge's air permit renewal on June 30, 2022.
"Based on the information in the Application as prepared and submitted by Greenidge, as well as public comments and other relevant information, the Department hereby determines that the Facility's continued operation in its current manner would be inconsistent with or would interfere with the attainment of the Statewide GHG emission limits," the agency wrote in a letter explaining its decision.
Uncertain fate
Greenidge immediately appealed the decision, and it is currently being reviewed by an administrative law judge. If the judge upholds the state Department of Environmental Conservation's denial of the permit, then Greenidge would likely appeal the decision in state court. Until Greenidge exhausts all of its appeals – which could take a year or more – the Dresden plant will be allowed to continue using the expired air permit.
But it's possible mining operations at the Dresden plant could grind to a halt well before that. Like other crypto mining companies, Greenidge has been hit hard by the collapse in bitcoin's price.
On Dec. 20, the company agreed to sell most of its mining hardware to NYDIG, a creditor to whom it owes $74 million, and warned investors that it may soon have to file for voluntary bankruptcy protection. Greenidge did not respond to a request for comment on this article.
The company's stock, worth roughly $15 per share in early 2022, is now worth less than $1 per share, putting it at risk of being delisted from the Nasdaq.