Policy
What you need to know about NYC retirees' health care fight
The city is moving forward with a long-sought switch to a privatized Medicare Advantage plan, but city retirees plan to challenge the switch in court once again.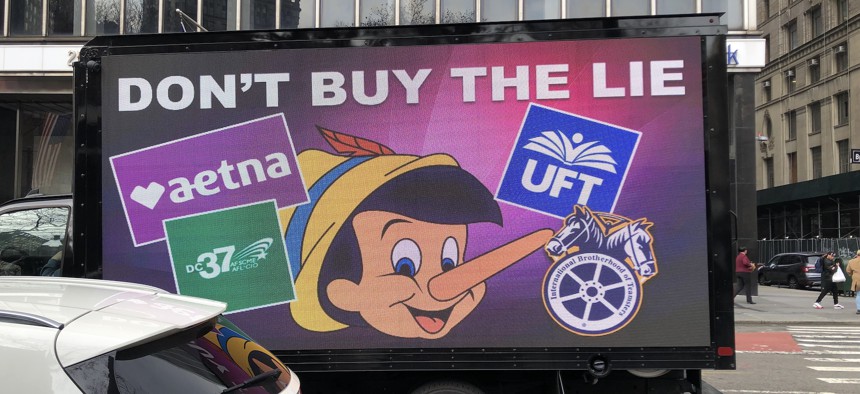 More than 250,000 retired New York City employees will be automatically switched to a privatized Medicare Advantage insurance plan this September, under a contract signed by the city, according to an announcement on March 30. The switch has received steady pushback from some retirees since it was proposed in an agreement between leaders of the city's labor unions and former Mayor Bill de Blasio's administration to find health care savings. 
In early Marcg, the city's Municipal Labor Committee approved a plan for Aetna to provide a Medicare Advantage plan as the only health care option for retirees. After the Daily News reported in late March that retirees fighting the move hoped to utilize an option in the contract that might allow them to keep their traditional Medicare coverage without paying premiums, the Adams administration quickly shot down the prospect, arguing that it wouldn't allow the city to realize the $600 million in savings on retiree health care spending that it's seeking. Now, a group of city retirees is preparing to sue to block the impending switch.
Here's what you need to know about the drawn out conflict. This post was last updated on March 30, 2023.
Why is the city proposing this switch?
New York City employees and their dependents have long received health insurance after retirement. When retirees become eligible, they enroll in traditional Medicare, but the city also fully subsidizes a popular supplemental coverage plan provided by EmblemHealth and known as Senior Care. 
But New York City and its unions needed to find savings due to rising health care costs. The fund that covers premium costs and other benefits is jointly controlled by the city and unions and is becoming depleted. It's called the Joint Health Insurance Premium Stabilization Fund. The city and the Municipal Labor Committee, an umbrella organization of the city's labor unions reached an agreement in 2018 to find substantial savings in the city's spending on health care, including $600 million in recurring savings. One option in that agreement, which the city and unions have decided to pursue, was switching retirees to Medicare Advantage. Medicare Advantage is an alternative to traditional Medicare that is provided by private companies that the federal government contracts with. The plans tend to offer lower premiums but can also come with narrower networks and higher out-of-pocket costs, and federal investigators have found the plans often deny necessary care. The city estimated that switching retirees to Medicare Advantage would save $600 million a year thanks to federal subsidies that Medicare Advantage plans receive, with those savings replenishing the city's depleting fund for premiums and benefits. 
Why are some retirees fighting the switch to Medicare Advantage?
Although the switch to Medicare Advantage was agreed upon by the city and union leaders, many city retirees have pushed back against the change. Although Medicare Advantage will still be free, the New York City Organization of Public Service Retirees has raised concerns that retirees will be stuck with a smaller network of providers and larger out-of-pocket costs. 
The Adams administration has publicly tried to assuage some of those concerns. "This plan improves upon retirees' current plans, including offering a lower deductible, a cap on out-of-pocket expenses, and new benefits, like transportation, fitness programs, and wellness incentives," Adams said in a statement on March 30. "We also heard the concerns of retirees and worked to significantly limit the number of procedures subject to prior authorization under this plan." But some retirees are not convinced, citing studies into denials of care under the plan.
Are all city retirees going on Medicare Advantage?
Barring a successful legal challenge, it seems like it. Options that would have allowed retirees to choose to keep their current coverage without fees have so far stalled or failed. 
The city initially wanted to offer retirees a choice between going on Medicare Advantage or paying $191 per month to keep their old coverage. The Organization of Public Service Retirees sued before the switch was set to go into effect last January to stop the city from making retirees pay to keep their current coverage. In March 2022, a judge ruled in favor of retirees, citing a section of the city's Administrative Code that requires the city to pay the entire cost of health insurance for employees, retirees and dependents. The ruling, which was upheld on appeal, said that the city could still proceed with the switch to Medicare Advantage but that it couldn't force retirees to pay to maintain their current coverage if they wanted to opt out. Had they proceeded, it would leave the city and the Municipal Labor Committee in a bind to realize the promised health savings if they had to continue to cover premium costs for the large number of retirees who opt out.
The Adams administration has tried to get around the ruling by amending the Administrative Code. Earlier this year, the administration called on the City Council to pass a bill to change the code, allowing retirees to opt out of Medicare Advantage in favor of their current coverage for a monthly fee of $191. At the request of the mayor, Council Member Carmen De La Rosa, who chairs the Committee on Civil Service, introduced a bill to do so in January, but the proposal was met with swift and fierce pushback from retirees and some council members over the idea of burdening retirees with fees to keep their existing plan. The City Council did not pursue the bill further. 
Marianne Pizzitola, president of the NYC Organization of Public Service Retirees, was among those who urged the council to vote down the proposed legislation and called for an alternative to the choice of Medicare Advantage or paying to maintain current coverage. "We are happy to meet with the Adams administration as well as Speaker Adams to outline over $300 million in potential savings without placing an undue burden on hundreds of thousands of the retirees who kept New York City running for decades," she said at the time.
What's the latest?
On March 30, the Adams administration announced that the city had signed the contract with Aetna to provide Medicare Advantage to retirees, with Adams calling it "in the best interests of both our city's retirees and its taxpayers."
The city's Municipal Labor Committee had earlier voted to approve the switch to Medicare Advantage, though some unions voted against it. The switch to Aetna's Medicare Advantage plan as the city's only insurance plan for retirees is set to go into effect on Sept. 1, 2023. Union leaders and City Hall have said that if the City Council ever agrees to amend the Administrative Code, then they are happy to offer an alternative – the option for retirees to pay $191 per month and remain on their current health insurance. But as of now, the Administrative Code won't allow that, so retirees will not be able to keep their current plans once the switch goes into effect.
The retirees almost found a loophole. The Daily News reported earlier that the contract with Aetna would include an option to allow retirees to keep their traditional Medicare coverage at no additional cost, but only if the administration opted to go with a particular implementation structure. Under that option, the city would be on the hook for a $20 monthly fee for anyone who opted for traditional Medicare. But a day later, a City Hall spokesperson said that the administration would not authorize that option, since it would cut into the $600 million in savings that they plan to achieve with the switch. 
"While the proposed contract with Aetna includes a provision for the rate that would be charged were the city to continue paying the full price of Senior Care, that approach would result in minimal savings and undermine the city's ability to continue providing high-quality, premium-free care to active employees and retirees," a City Hall spokesperson wrote in an email to City & State. "As a result, we do not intend to offer this option to active employees or retirees. As we have said repeatedly, we support offering retirees the choice to remain in Senior Care while paying a monthly premium, but without the City Council action we have advocated for, we will move forward with eliminating Senior Care."
But the Organization of Public Service Retirees said that the fight isn't over yet, and they are still pushing the city to find alternative savings measures that won't come "on the backs" of retirees. The organization is planning to file another lawsuit to block the switch, though it's not yet clear what grounds the suit will be based on. 
"Retirees will now be faced with inhumane decisions about switching their care away from longtime doctors and healthcare providers who accept traditional Medicare, but are not in-network in the restrictive Aetna plan," Pizzitola said in a statement on March 30. "These dedicated men and women have given up higher wages in the private sector for the promise of healthcare. The only option now on the table puts decisions about retirees' health in the hands of an insurance company, not our doctors."