Energy & Environment
New York City leaders want everyone to compost. They don't all agree on how to get there.
While the Adams administration plans to expand its voluntary residential composting program citywide, council members continue their push for mandatory composting.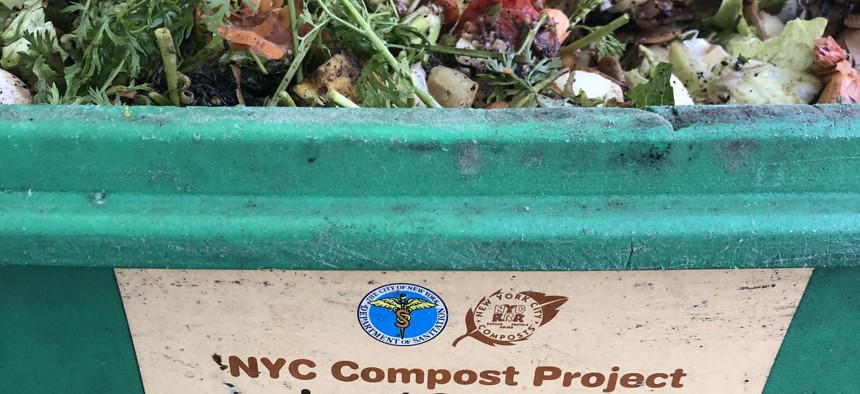 How do you get people to collect their food scraps – the rotting apple cores and banana peels, the half-eaten animal bones, the greasy paper plates – and deposit them in a designated composting bin? 
Do you offer weekly residential curbside composting pickups and coax people into participating with aggressive outreach efforts that highlight just how beneficial composting is for reducing greenhouse gas emissions and starving rats? Or do you mandate participation in curbside composting, stressing that there's little time to waste in getting enough people on board to start realizing those benefits?
As New York City Mayor Eric Adams and the City Council pursue the shared goal of getting more New Yorkers to separate out their food and yard waste, the administration and council are split on the best approach to take. 
New Yorkers can currently drop off compost at community sites and "smart bins" scattered across the city, but the ability for all residents to have their organic waste collected at home – just as trash and other recycling is separately collected – could be transformative. On that, the Adams administration and the City Council agree.
The Adams administration, which launched a boroughwide residential curbside composting program in Queens last fall, announced last month that it plans to expand that program to the entire city by 2024, but keep participation voluntary. The City Council, meanwhile, has championed a "Zero Waste" legislative package that would go a step further and mandate residential curbside composting. (Some New York City businesses are already required to separate organic waste.)
New York City Council Member Shahana Hanif, who sponsors that universal composting bill, released a statement with Council Member and Sanitation Committee Chair Sandy Nurse following Adams' announcement, stressing the importance of a mandatory program to see high participation. "As we've seen in previous piloted non-mandatory efforts, such a program would undoubtedly result in less compost being collected, less efficient truck runs, and higher costs for organic processing," the statement said of expanding the city's voluntary program. "This is not economically sustainable and fails to reach the environmental impact that the current crisis moment demands."
Forty-one co-sponsors, including Nurse and City Council Speaker Adrienne Adams, signed on to Hanif's mandatory composting bill last year. But the city has to conduct an environmental review before the council can vote on it. A spokesperson for the Department of Sanitation said that the review is underway.
"It's a way to guarantee that everybody is, in their good faith effort, participating and doing the acts that we need everybody to be doing – which is separating their organics from landfill," Nurse told City & State recently of the council's push for a mandatory program. Nurse also said that mandating residential composting would hold landlords accountable to providing easy access to composting bins to their tenants.
The Adams administration and the Department of Sanitation – which handles the massive responsibility of the city's waste – said that participation in the Queens program shows that voluntary programs are effective. Asked about the push from the council to make composting mandatory, a department spokesperson referred to comments made by Sanitation Commissioner Jessica Tisch in The New York Times. "This program is going to represent the first time that many New Yorkers have ever had access to curbside composting," Tisch told the paper last month. "Let them get used to it."
Nurse said that the council bill would give New Yorkers time to get used to it – providing a grace period of around 18 months before anyone would get ticketed for not complying. "I think people worry about fines and fees, and I think we can do a lot to get people in the fold just by offering a consistent program, by offering consistent infrastructure, and having the messaging that this is something we all need to do – this isn't something we all can opt to do," Nurse said, mentioning aggressive outreach and education as other necessities. "I think that will really help us be the carrot rather than the stick."
Prior to the Adams administration's launch of boroughwide curbside composting in Queens, composting pickups were available in limited parts of the city for residents who opted in, but participation was so low that Adams halted a planned expansion of the program, citing its inefficiency. The legacy opt-in program is still available in seven community boards in the Bronx, Brooklyn and Manhattan.
City officials have suggested that the Queens program encourages higher participation, in part because it doesn't require anyone to sign up as the opt-in program did. Anybody in the borough who wants to can put out compost for pickup, and compost bins were automatically delivered to buildings of ten units or more as part of the pilot program.
A Department of Sanitation spokesperson said that they couldn't provide a number of households participating in the Queens program. But the department released data showing that in its first three months, the Queens program collected more than three times as much tonnage per district as the opt-in program – and it's less expensive.
Still, some environmental advocates and experts have urged New York City to take the extra step of mandating an expanded curbside composting program. "I think it does need to be mandated and enshrined in law, just as other parts of our recycling program are," said Justin Wood, director of policy at New York Lawyers for the Public Interest. "We know that recycling is taken seriously when it's mandatory."
While proponents of mandatory composting point to other cities with such programs – Seattle, Los Angeles and San Francisco, for example – as models for New York, the department spokesperson noted that those cities didn't always move to mandatory composting right away.
Though city officials have not committed to making residential composting mandatory, the spokesperson said that the city is seriously considering requiring separation of just yard waste – but not food waste – later in the program's rollout. The spokesperson said that research from other cities has shown that mandating the separate disposal of yard waste – which is already separate from indoor waste – is an easier first step to get people in the habit.