Policy
Who decides a NYC public school holiday?
Here's a look at the movement to give students the day off for holidays like Diwali.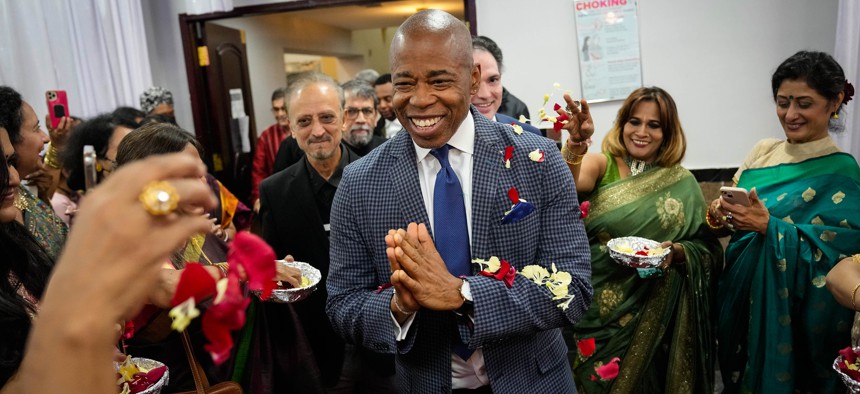 For roughly 20 years, attempts to push New York City schools to recognize Diwali as an official school holiday have failed.
There have been rallies and resolutions, legislation and promises, but no significant policy changes, save for the city moving to suspend alternate-side parking rules in 2005 in deference to the festival of lights. Still, Diwali, celebrated by Hindus, Buddhists, Sikhs, and Jains, has never been observed on the city's public school calendar despite the hopes of hundreds of thousands of South Asians and Indo-Caribbean families in the city. Every year when Diwali rolls around in the fall, many of these parents have had to weigh whether to send their children to school or to keep them at home in the name of religious and familial obligations.
But if Assembly Member Jenifer Rajkumar, the first South Asian American woman elected to the Assembly, has her way, that's not a choice New York City parents will face next school year. The political winds appear to be shifting. She's hopeful it'll carry her legislation to Gov. Kathy Hochul's desk.
Rajkumar's bill, A628, which would trade Brooklyn-Queens Day for Diwali on public school calendars, has garnered 39 co-sponsors. She is backed by New York City schools Chancellor David Banks and Mayor Eric Adams who vowed in October to make Diwali a public school holiday next school year, reiterating the promise he'd made after he was elected. The council unanimously passed a resolution in support of Rajkumar's legislation on Feb. 16. Multiple lawmakers also voiced their support during recent state budget hearings. And last month, over 200 South Asian and Indo-Caribbean New Yorkers traveled to Albany to advocate for the legislation.
"Together we ask, 'Can you see us? Has our time come?'" Rajkumar said on Jan. 24, looking up toward the men and women coalesced along the Assembly chamber's balcony. She believes it has. She also thinks that if New York City embraces the holiday, it'll help spread the sentiment to the rest of the country. "Really what they came to say is that Diwali is an American holiday," Rajkumar later told City & State.
'A pathway' to Diwali
In a place as diverse as New York City, there are many holidays that contribute to the city's lifeblood. It's one of the most spiritually and culturally rich places in the world. Some elected officials have moved to reflect that through the breadth of holidays recognized in schools. Most recently, then-Mayor Bill de Blasio added Lunar New Year and the Muslim celebrations of Eid al-Adha and Eid al-Fitr to the 2015-2016 school year calendar. Still, Diwali advocates know all too well, official recognition is difficult to attain. Lofty political and logistical barriers remain. When asked why he didn't also add Diwali to the calendar, de Blasio told The City in 2021 that the "school calendar has gotten very, very full." While a mayor is able to add city and Department of Education holidays at their discretion, state law requires students attend at least 180 days of instruction.
"New York City Public Schools are committed to equality and respect for families and children of all faiths. State regulations around the duration and length of the school year create limitations to add additional school holidays to the school calendar," Jenna Lyle, deputy press secretary at the Department of Education said in a statement. "The administration continues to explore opportunities to recognize and celebrate the diverse cultures and communities of the city of New York."
That required 180 days of instruction was why Rajkumar's bill proposed getting rid of Brooklyn-Queens Day – a June holiday also known as Anniversary Day – and using the freed up spot to observe Diwali, which is celebrated between October and November. This year it will fall on Sunday, Nov. 12. State Sen. Joseph Addabbo is the legislation's sponsor in the Senate. Both bills are currently in committee, although Rajkumar said she's optimistic about the measure's passage. "All of New York is kind of coalescing around the Diwali school holiday," she said.
Maybe that's because of Rajkumar and state Sen. Kevin Thomas, who became the first Indian American elected to the state Senate in 2019. Maybe it comes with a growing Asian caucus and a more diverse legislative body. Maybe it's more granular – a reverberation of the growing strength of New York City's immigrant communities. Rajkumar thinks so.
"Over 200,000 South Asians that celebrate Diwali have contributed to the city in incredible ways," Rajkumar said. "Like my family, many came to this country in the '70s and have really established themselves – and the faiths that celebrate Diwali are very inclusive."
Others, while perhaps a bit more skeptical having heard New York leaders promise to recognize Diwali before, have also noted a change. Dilip Nath, president of the New American Voters Association, has been entrenched in the fight to make Diwali a public school holiday since the early 2000s.
"I think most of the legislators, they're willing to do Diwali because they participate, they have celebrated with us for decades now. They understand it," Nath said. "Adams I think is very much committed to it. He's come to a number of festivals. I think that shows he wants to make it happen and he's just looking for a pathway. I think we have a pathway to making it reality now."
Hochul also seems receptive. She issued a proclamation in honor of Diwali and hosted the state's first gubernatorial Diwali celebration, according to Avi Small, the governor's first deputy press secretary. She said Hochul will review the legislation if it passes both houses.
'A symbolic impact'
When de Blasio, spurred forward by lawmakers' legislative push, decided to add Lunar New Year to the calendar in 2015, families across the city celebrated. Pressure from local, state and federal leaders had mounted in the preceding months after his administration recognized Eid al-Adha and Eid al-Fitr. Despite initially saying Lunar New Year wouldn't be added that year, the former mayor made space by converting two half days into full school days. The Lunar New Year, which generally spans 15 days in the winter, is one of the most important celebrations in East and Southeast Asian cultures.
But Lunar New Year wasn't designed as a day off on the public school calendar this year. That's because the day fell on Jan. 22, a Sunday. The education department doesn't generally observe any nonfederal holidays on the preceding Friday or Monday when they land on a weekend.
While students who ended up not attending school because of Lunar New Year were given an excused absence, advocates feel the benefits of having an observed day go beyond the logistical positives for families – particularly amid the rise of hate crimes committed against Asian Americans in the city.
"There is also a symbolic impact," said Alice Wong, chief of staff at the Chinese-American Planning Council. "One of the most common, derogatory insults that we get when people see Asian Americans is they tell us to go back to our country. Asian Americans are Americans. We belong to this country. … Having an observed holiday says to the larger New York community that a huge percentage of the AAPI population in New York City does celebrate Lunar New Year and that particular portion of Asian Americans are seen, that they are welcomed and that there is room made for them for something that is culturally and socially very important."
The New York City Council passed two resolutions earlier in the month aimed at getting the education department to observe Lunar New Year even when it falls on the weekend. One measure, sponsored by Council Member Christopher Marte, stated the council's support for this idea. The other, sponsored by Council Member Sandra Ung, called on Congress to support Rep. Grace Meng's bill to make Lunar New Year a federal, nationally recognized holiday.
"It should be a holiday in general beyond schools," Ung said. "There's so many Asian Americans that celebrate Lunar New Year, and it's time we recognize the importance of the community and also the contributions they have to the United States."
Ung said many families were disappointed about there not being an observed school holiday this year. She hopes that the council's support for the holiday can continue to lead the rest of the country.
Families who celebrate Diwali hope that there are many years ahead in which they'll be able to spend the day together during an official school holiday. Neeta Bhasin said she believes the whole city will be better for it. As the founder of the city's annual Diwali at Times Square festival, she has helped create a massive stage for South Asian communities to showcase their culture and share Diwali messages like inclusion, peace, love and knowledge over ignorance. Bhasin is also a grandmother of several children in the public school system. She wants them to grow up proud of their culture, surrounded by other children who respect all traditions."Diwali's significance assimilates with the message of this country – diversity, equality and inclusion. That is the message of Diwali: light over ignorance," Bhasin said. "Spreading that message has to start from elementary school onwards. When we educate our children, they will educate other children in their schools and those children will educate their parents."
She already knows what she'll be doing next year if Diwali becomes an official school holiday. "I'm thinking of having all of them together with their schoolchildren and inviting them to celebrate," she said of her family. "Not only with our own children, but with all children as well."