Policy
America's teens are in a mental health crisis. So are New York's.
New York City Mayor Eric Adams announced a sweeping mental health plan that includes a suicide prevention pilot for New York City youth.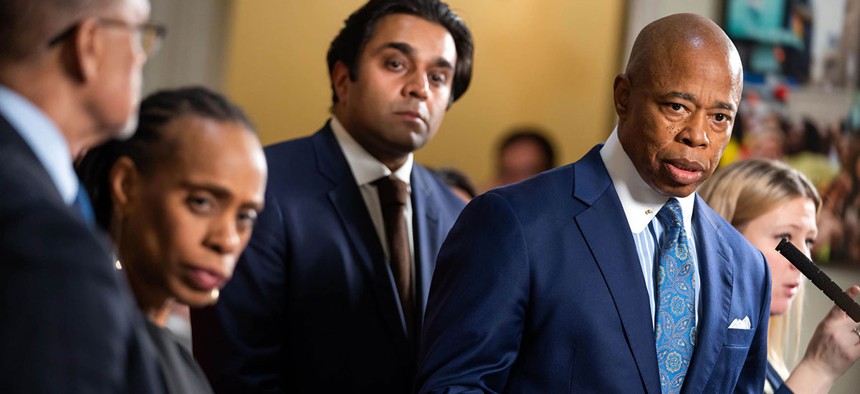 In 2021, nearly one in three American high school girls reported seriously contemplating attempting suicide over the previous year. More than four in 10 LGBTQ high schoolers did the same. Students of color were more likely to have attempted suicide. And across the board, 42% of high school students reported experiencing "persistent feelings of sadness or hopelessness."
That survey data, released last month by the U.S. Centers for Disease Control and Prevention, demanded a renewed focus on the "crisis in American girlhood," the "record levels of sadness," and the "red alert" on teens' mental health struggles.
New York City has not escaped this crisis. In 2021, a shockingly high number of public high school students – 9.2% – reported attempting suicide over the past 12 months, according to unpublished raw data from the Department of Health's 2021 Youth Risk Behavior Survey. (The CDC's recent survey found that in 2021, 10% of high school students reported attempting suicide over the previous year.)
In New York City in 2021, 38% of high school students reported feeling so sad or hopeless that they stopped doing normal activities, with Black and Latino students more likely than white students to report experiencing that, according to unpublished raw data from that year's Youth Risk Behavior Survey. Though some of these indicators have risen since the COVID-19 pandemic, they were at concerning levels before that too. Thirty-six percent of high school students reported experiencing that level of sadness and hopelessness in 2019.
An expansive new mental health plan from New York City Mayor Eric Adams gives this crisis some new attention. "Year after year, suicide is increasing as a cause of death for young people," Adams said in an address at City Hall on Thursday, announcing that the city will launch a program in hospitals to prevent repeated attempts at suicide for youth who have made a first attempt, pilot community-based prevention programs for young people of color, launch prevention training for staff in schools, and invest in suicide prevention research and data collection. "We're going to make it easier for young people to get help and healing before it's too late," Adams said.
The city's mental health plan, which is so far light on details and estimated costs, would also create a mental health telehealth program for high school students in what the city described as an effort to meet kids where they're at.
New York City Health Commissioner Ashwin Vasan said on Thursday that the "hospital-based interruption program" will partner with New York City Health + Hospitals to provide young people with a peer counselor or social worker in the three months after a suicide attempt – which is when he said they are at the highest risk of a repeated attempt or a completed attempt. "Our Caring Transitions program is focused on catching those young people at their moment of greatest vulnerability after a suicide attempt," Vasan said. The city's report on this mental health plan noted that the program will focus on youth in Queens and the Bronx who have experienced a suicide attempt or "clinically significant suicide-related behavior."
A separate community-based pilot program would serve kids and young adults of color ages 5 to 24 who face suicide-related risks that could be be intensified by racial inequities.
While Adams said on Thursday that the city can use technology to meet youth where they're at with a telehealth program, he also suggested that technology – social media in particular – can be a factor in exacerbating mental health issues in youth. Adams said the city would examine the potential risks of social media and work to make tech companies keep online spaces safe. "We all realize what social media is doing to our children," Adams said. "Ask your young girls how they feel about themselves based on what they're seeing on social media."
The efforts to address youth mental health is just one aspect of the administration's new mental health plan announced on Thursday. Among other steps to address serious mental illness and the opioid crisis, the city said that it would expand a program citywide to reduce police response to mental health crisis calls in favor of mental health professionals. The Behavioral Health Emergency Assistance Response Division (B-HEARD) pilot has not achieved its stated goals since launching in June 2021, with the majority of mental health calls still being routed to police.
During former Mayor Bill de Blasio's administration, First Lady Chirlane McCray led ThriveNYC, the city's signature mental health program. When it was launched in 2015, the administration noted that 8% of New York City high school students had reported attempting suicide. More than $1 billion and eight years later, that number has only grown.