Heard Around Town
Amid e-bike fires, Council member suggests charging at police, fire stations
The City Council considered how to prevent lithium-ion battery fires at the FDNY budget hearing.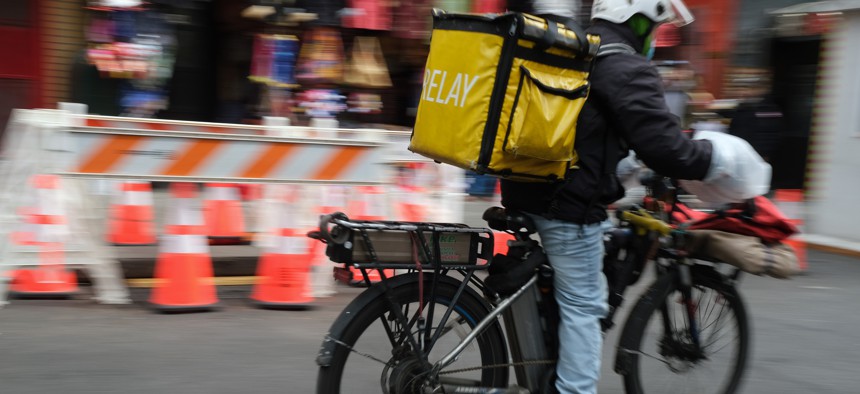 Unsafe charging of e-bike batteries has already caused 38 fires in New York City this year, the Fire Department says. So Council Member Gale Brewer suggested an idea Monday: letting New Yorkers charge lithium-ion batteries at police and fire stations. 
State, federal and city officials alike have scrambled to find ways to regulate their use without adversely impacting the livelihood of the delivery workers who've grown increasingly reliant on e-bikes and mopeds. Earlier this month, the City Council approved a package of bills intended to bolster the fire safety of the batteries they use.
It's a complicated matter – one the New York City Fire Department dug into during a preliminary budget hearing before the council. Finding safe, alternative ways for New Yorkers to charge their devices outside of apartment buildings or dangerous mass charging stations has been a challenge. The Fire department has been inspecting bike shops and other businesses, in one case finding dozens of batteries charging together on racks.
While Fire Commissioner Laura Kavanagh said officials would need to consider whether Brewer's idea would work, she acknowledged the need to find alternative methods. 
"We recognize that due to the need for so many of these people to rely on these bikes for their livelihood, we definitely believe there has to be – whether its a way to get safer batteries, battery exchange, safe charging – that those things need to happen in order to make sure that those folks who rely on these bikes have another alternative than charging them in their own home," Kavanagh said.