Policy
Rank-and-file Assembly Dems insist bail changes will not be tolerated in budget talks
After news broke Wednesday that Assembly Speaker Carl Heastie could be open to removing the "least restrictive means" language from the law, his conference expressed confidence that their leader won't cave on bail reform.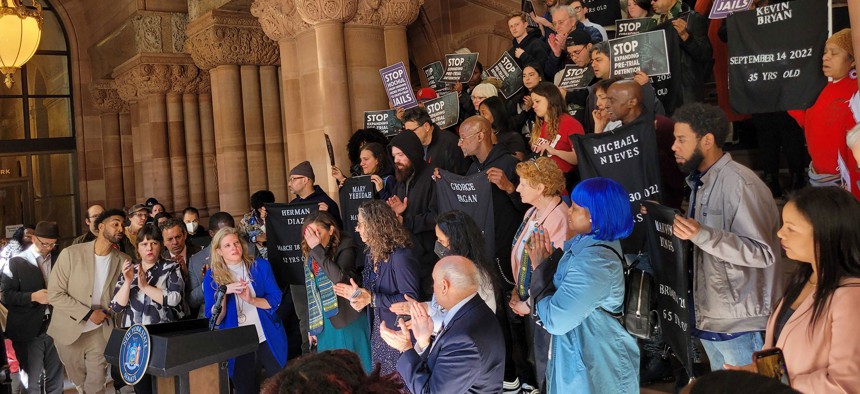 With Gov. Kathy Hochul now saying definitively that the state budget won't get approved before the (theoretical) April 1 deadline, changes to the bail law have once again proven to be the major sticking point. The governor dug in over the weekend on the issue, and Politico reported late Wednesday that the Assembly could be preparing to make concessions. But rank-and-file members of the Assembly had a clear message on Thursday: Their chamber won't budge. Four Assembly members told City & State that the Assembly had no plans to accept Hochul's proposal to further roll back the state's landmark 2019 bail reform law.
On Thursday morning, lawmakers and criminal justice reform advocates gathered at the Capitol in opposition to the governor and Legislature considering further rollbacks to the state's bail reform laws. Lawmakers were already not enthusiastic about considering further changes to the state's laws, but news of the death of longtime criminal justice advocate Marvin Mayfield, the director of organizing at Center for Community Alternatives, sent a wave of motivation amongst lawmakers to protect against further changes.
After fellow lawmakers and advocates offered tear-filled eulogies, Assembly Member Demond Meeks of Rochester recalled Mayfield's final message to him. "'Keep up the good fight,'" Meeks said Mayfield told him in a text message sent back in February. "The message from Marvin to all of us: Keep up the good fight!" 
Following Politico's reporting, Assembly Member Latrice Walker released a statement denying there have been any concessions in the chamber on bail reform. "I feel the need to clarify that the Assembly Majority opposes any changes to weaken or upend the bail laws and subject more New Yorkers to the dangers of pretrial detention," she wrote. Last year, Walker went on a hunger strike (which ultimately lasted 19 days) in opposition to rollbacks that Hochul had proposed, a version of which were eventually approved as part of a nine-day-late budget.
Walker wasn't alone in insisting that the chamber would not budge on bail. Several Assembly members who spoke with City & State asserted Assembly Speaker Carl Heastie is standing firm on the issue amid budget negotiations while pointing to the issue's political impact on his tenure leading the chamber. "Criminal justice reforms that have been done in the last five years or so are part of Carl's legacy as a speaker and the house's legacy," said one Assembly member who asked to remain anonymous to speak candidly. "He's working really hard to ensure that legacy is not undone."
Newly elected Assembly Member Brian Cunningham underscored this sentiment in an interview with City & State. "We don't have an appetite for bail reform in the Assembly. Leadership doesn't have an appetite to make changes to bail reform," Cunningham said.
The Crown Heights Assembly member also denied concessions on bail reform were even on the table. "I don't think it's been considered. But I think if it was brought to the table, it wasn't from the Assembly," Cunningham said, while asserting any conversations around bail reform should instead take place outside of the budget negotiations.
Assembly Members Tony Simone of Manhattan and Jessica González-Rojas of Queens echoed support for the speaker while at a bail reform rally at the Capitol. "I've seen no signs of it," Simone said of the idea that Heastie is folding bail reform. Gonzalez-Rojas added that Heastie has been "standing really strong on this issue."
But Hochul has been adamant about her plans to include bail reform rollbacks – even proposing removing the "least restrictive means" standard for judges which would allow more discretion when considering bail in serious offenses – in the final state budget. Jack O'Donnell, Democratic political strategist and managing partner of O'Donnell & Associates, asserted Hochul's strategy of not budging on bail reform seems to be working. "The governor drives the budget process and she's using that leverage to negotiate her priorities – especially criminal justice and housing – before anything else," O'Donnell said.
Criminal justice reform advocates and legal experts have also warned that Hochul's bail proposal would have far reaching consequences beyond simply removing the "least restrictive means" standard. The language she pitched would also fundamentally change the meaning of bail, the experts warned, so that judges could set it for reasons other than to ensure a return to court. New York is the only state in the country that restricts the usage of bail and remand for that reason alone.
Far less chatter has come out of the state Senate, although Bronx state Sen. Gustavo Rivera told City & State in a text that his chamber is "holding the line." During the Thursday rally, Assembly Member Anna Kelles of Ithaca said that "the Senate and the Assembly are staying strong, and our leadership is staying strong." In a press conference later on Thursday, Senate Majority Leader Andrea Stewart-Cousins defended the bail reform law even as she indicated an openness to some of the governor's proposals to modify the law. "We want to help to clarify the judicial discretion as well as keep the integrity of our bail law," Stewart-Cousins said. She added that while the debate over bail has been a "focal point," that it has not been an "exclusionary focal point."
A spokesperson for Heastie did not immediately return a request for comment.