Heard Around Town
Sanitation gets another responsibility: street vendor enforcement
The rats don't run this city, DSNY does.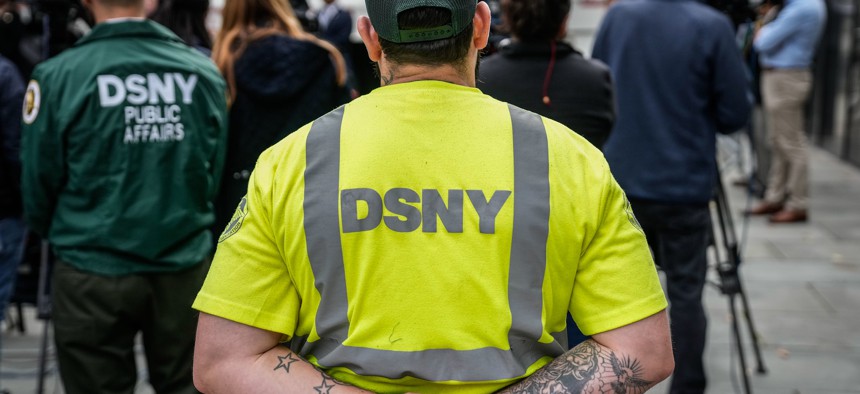 New York City's Sanitation Department keeps on gaining powers – the latest being enforcement of regulations for street vendors, which Mayor Eric Adams moved from the Department of Consumer and Worker Protection to DSNY in a surprise announcement Friday. That's after Adams consolidated other agencies' cleaning responsibilities under Sanitation last year. When Commissioner Jessica Tisch said "the rats don't run this city, we do" she might have been talking specifically about her agency – which as City & State noted in October, is having a moment.
Not everyone's happy though – City Council Sanitation Committee Chair Sandy Nurse and Council Member Shahana Hanif suggested that this announcement came out of nowhere, and that it should have been discussed at the department's budget hearing earlier Wednesday. "DSNY already struggles to enforce its essential imperative of street cleanliness with the positions it has," they said in an emailed statement, and that job will only get bigger when the city moves back trash setout times April 1. The Sanitation Department's enforcement division is facing a 15% vacancy rate, according to a council budget report, amid the city's widespread staffing shortages.
(City Council members and the department have recently been butting heads over the best way to do a compost program, too. Sanitation may be golden in the mayor's eyes, but not necessarily the council's.)
Zealous enforcement of street vending regulations by both DCWP and the NYPD was one motivation for the massive Street Vendor Project rally outside City Hall Thursday. A city official with knowledge of the plan who wasn't authorized to speak publicly told City & State that DCWP would still be handling licensing and other services, and that DSNY would be handing enforcement "around cleanliness and quality of life," as well as licensure. It will be a relatively small team, with 40 members of the sanitation police shifting to street vendor work. Adams' executive budget is expected in April, and time will tell whether the department gets a budget boost for its new responsibilities, or faces cuts like nearly every other agency.
With reporting by Annie McDonough
Powered By
NEXT STORY: Where could there be a new casino in NYC?