Heard Around Town
Council considers 'immigrant workers' bill of rights', as asylum-seekers look for work
Immigrant workers are especially vulnerable to exploitation.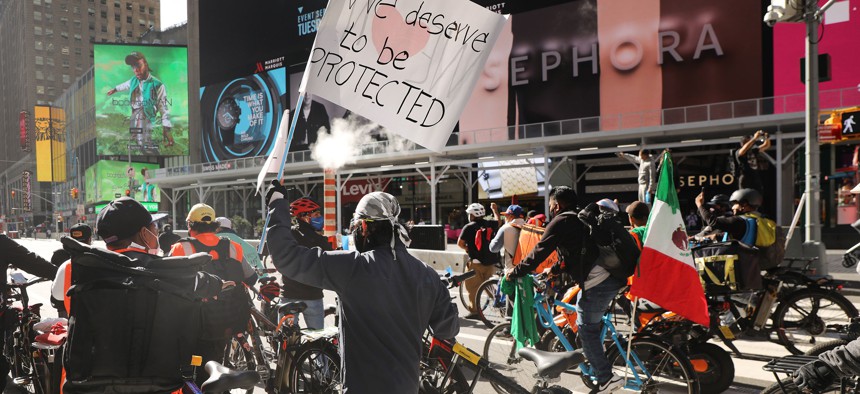 Wage theft, being sent into potentially dangerous situations without sufficient training, threats of retaliation, and harassment are just some of the ways that immigrant New Yorkers have been exploited in the workplace, according to Darly Corniel, director of education-program operations at the Consortium for Worker Education.
"Those who don't have the appropriate documentation to report back or simply stay in a job because they are afraid that if they leave, they will be retaliated against," Corniel said at a City Council oversight hearing Friday. "This kind of thing makes it difficult for people to come forward and actually demand or convey what exactly is happening in the workplace." 
These issues, which have long plagued the city's labor market, are among what New York City Council Members hope to address through the creation and dissemination of an "immigrant workers' bill of rights." While there are already existing federal, state and local laws that protect immigrant workers regardless of status, many immigrants aren't aware of this, according to Council Member Shahana Hanif, who sponsors Intro. 569. The legislation would compile all those protections into a single document to be distributed to employees annually. Employers would also be required to "conspicuously" display the bill of rights in the workplace – or in the case of delivery workers and other app based workers, on the mobile app.
"Equipping immigrant workers with knowledge of their rights will allow them to exercise them when violations occur," Hanif said. "Additionally, we hope that this will dissuade employers from committing the violations in the first place."
The legislation comes as city leaders' pleas to federal leaders to expedite work permits have gone largely unanswered, underscoring the need for the bill. While all immigrant workers are at a high risk of exploitation regardless of citizenship, asylum-seekers and others without documentation are especially vulnerable as employers may use their status against them. 
"As we determinedly push for and await changes to work authorization for asylum-seekers at the federal level, New York City can prepare our workplace to ensure immigrant workers and protected and made aware of their rights," Hanif said.
Department of Consumer and Worker Protection Assistant Commissioner Carlos Ortiz said the department supports the intent of the legislation and would like to work with the council through potential issues like signage requirements.