Policy
Hochul and legislative leaders consider changes to discovery reform, worrying public defenders
As state budget negotiations continue, state leaders are rumored to be considering relaxing requirements for prosecutors to turn over evidence quickly.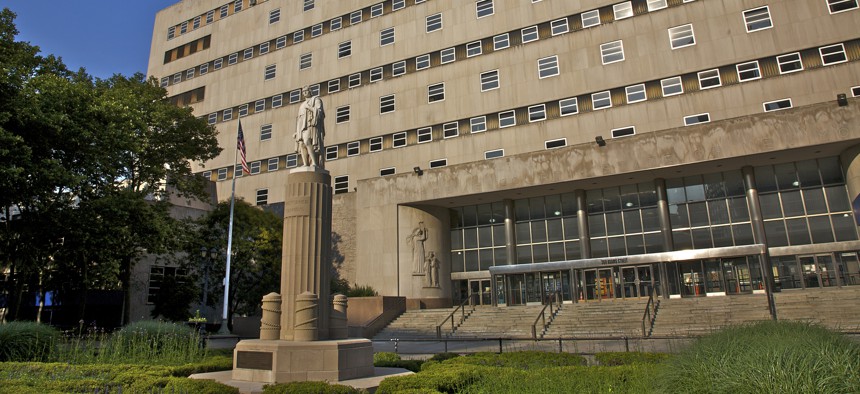 Up until now, most of the public debate over criminal justice reforms in the budget have revolved around Gov. Kathy Hochul's proposal to give judges more discretion in setting bail. But in what public defenders are calling an eleventh hour push by New York City district attorneys, Albany officials are now considering changes to discovery reforms that were approved in tandem with bail reform. Sources familiar with the ongoing talks told City & State that prosecutors are proposing a change that would in effect give them more time to hand over all evidence to defense attorneys, with less potential for consequences if they don't.
At least four different public defender groups released statements on Wednesday morning urging legislative leaders to reject proposed changes to the 2019 discovery reforms, which implemented new standards for prosecutors to meet when handing over evidence to the defense. Before the reforms, prosecutors could hold off on providing evidence to the defense until right before a trial began – which public defenders said resulted in critical evidence being withheld from their clients, leading to high rates of plea deals and forcing people to languish in jail due to continual delays in proceedings. The laws enacted in 2019 put a clock on how long prosecutors had to provide the evidence. If they didn't turn over all the evidence in time, a judge could toss the case for failing to adhere to laws meant to ensure timely trials for defendants.
Under the current law, prosecutors must submit all evidence they have to the defense before they can file a certificate of compliance, a document that attests that they have done their due diligence and can stop the speedy trial clock. The judge can toss the case if prosecutors fail to file the certificate, or if a judge finds that they have not done sufficient due diligence and turned over all the evidence, by the speedy trial deadline – which is 90 days after arraignment for a misdemeanor and six months after arraignment for a felony. Prosecutors have called on the Legislature to repeal the laws, complaining that they don't have the resources to comply with them. In her executive budget, she had proposed $40 million for prosecutors to help them comply with discovery laws, something that both legislative chambers included in their proposals as well as extra funding for public defenders for the same reason.
But now public defenders say that prosecutors are trying to ram through changes to the discovery law as part of the budget and behind closed doors. "Rather than provide the necessary resources to fulfill the purpose of New York's discovery law, Gov. Hochul, alongside a handful of district attorneys, are attempting to force through a proposal that would gut these much needed reforms," the Brooklyn Defender Services said in a statement. "Legislative changes to undermine the discovery laws will diminish prosecutorial accountability, result in more wrongful convictions, and cause more New Yorkers to languish in deadly jails for longer."
According to sources familiar with a proposal recently presented to lawmakers, prosecutors are suggesting changes to the discovery law that would put more onus on defenders to receive evidence. Under the proposed changes, the defense would have 35 days after a prosecutor files a certificate of compliance to file a motion challenging it. If they do not file a motion, then they would waive the right to any evidence that may be missing from discovery. Even if they do file a motion challenging the certificate of compliance, they won't get the missing evidence right away. A judge would have to hold a hearing and then rule on the motion, something that could take months to settle and would stop the speedy trial clock in the meantime, leaving defendants either in jail or stuck in limbo.
A spokesperson for Hochul did not immediately return a request for comment, but the governor advocated for and won minor rollbacks to discovery reform last year.
Both the Legal Aid Society and the New York County Defender Services specifically singled out New York City district attorneys as the ones pushing for these specific changes. "This 11th hour ploy to gut one of the most transformative reforms Albany has codified in recent memory is a shameless attempt by prosecutors to revert back to the days when discovery practices skewed heavily in their favor," the Legal Aid Society said in a statement. "Funding is actually the solution that would allow discovery reform to fulfill its intended goal."
Morgan Bitton, the executive director of the District Attorneys Association for the State of New York, told City & State that the group has pushed for changes to discovery reform to give prosecutors more time to comply – something they have not been shy about – but that she has not seen the specific proposal currently at issue. Some district attorneys, like Democratic Staten Island District Attorney Michael McMahon, have floated other proposals for changes to the law. In a memo shared with City & State, McMahon suggests splitting the process of discovery into three stages as a means of making it easier for prosecutors to comply.
Correction: An earlier version of this story referred incorrectly to McMahon's political affiliation.
Powered By
NEXT STORY: New York receives hefty Juul settlement