Policy
Report: 50% of working-age households do not meet the minimum cost of living
The alarming statistic is up from 36% in 2021, according to the study.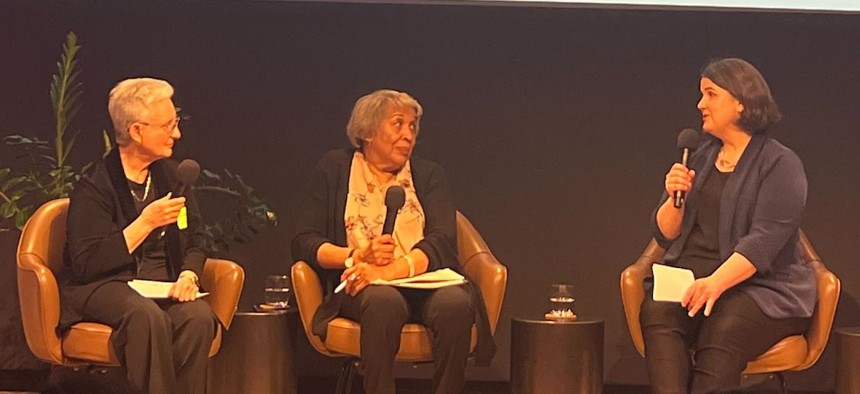 Fifty percent of working-age households are not earning enough to meet the minimum costs of living in New York City, according to a new report released this week. That's up from 36%, according to "The 2023 NYC True Cost of Living Report, the seventh such study since its inception in 2000 and released by United Way of New York City and The Fund for the City of New York. 
The study set out to measure the economic security of New Yorkers. Living expenses generally cover basic needs, such as housing, food, health care, and transportation. More than 2.6 million working New Yorkers were surveyed in the study, not including those over 64, people with work-limiting disabilities and those who are incarcerated, in dormitories, shelters and nursing homes. The report also took into account the profound impact COVID-19 has had on New Yorkers economically.
"This report comes at a critical time for organizations supporting the community because it helps us to gain a more comprehensive understanding of how many New Yorkers are deeply affected by increasing economic insecurity and more specifically, where services are most needed," said Grace Bonilla, President & CEO of UWNYC, during a press conference releasing the report Tuesday. 
Employment was mentioned as a key to addressing income adequacy in the city, but it was not a guarantee. "Having a job is not the sole solution, even to income inadequacy," said Public Advocate Jumaane Williams, also at the press conference. "We know people who are working full time who are homeless, who still can't make ends meet." 
People of color, particularly Latino, American Indian, and Black households were disproportionately more likely to struggle with economic insecurity, with Latino communities having twice the rate of income inadequacy than white households, according to the report. And households led by single mothers experienced the highest rates of income inadequacy, with 86% unable to cover the cost of basic needs with young children present. 
The highest rates of households struggling with income inadequacy were in the central Bronx, 
which includes Belmont, Crotona Park East, East Tremont, Hunts Point, Longwood, Melrose, Morris Heights, Fordham South, Mount Hope, Concourse, Highbridge and Mount Eden.
The report stands in contrast to the Official Poverty Measure, which is used to determine the eligibility for benefits and services that help low-income families, however is seen as outdated and inaccurate. 
"The official poverty measure for a family of four this year is $30,000. I was looking at our data for a Queens two bedroom. That's $30,000. So then that leaves nothing left after housing to cover food or child care, and other basic expenses," said Lisa Manzer, director of the Center for Women's Welfare at the Univesity of Washington School of Social Work.
"And looking at a family type of two adults, preschoolers, school-aged-child, across all boroughs, the true cost of living is over $100,000 and even over $150,000 in South Manhattan. So clearly, the official poverty measure, it's just, it's not enough, it's not going to cut it," Manzer added. 
Advocates called for both an increase in wages and benefits eligibility as a solution in response to the report's findings. 
"The solution of many people who discussed this, is to think about a combination of raising wages and increasing benefits eligibility if we truly care about our families," said Merble Reagon, former executive director for the Women's Center for Education and Career Advancement. "Because if our system is working on the backs of people who are not earning enough money to make ends meet, then what are we talking about in terms of quality of life?"