Immigration
Adams' order suspending some right-to-shelter protections called premature, illegal
You might expect city leaders to present a united front to face this crisis, but that's not the case.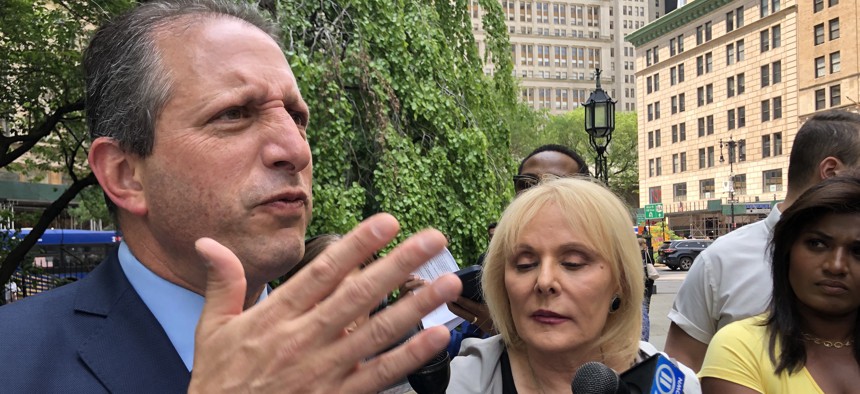 Mayor Eric Adams took a scalpel to New York City's decades-old "right to shelter" protections on Wednesday night, issuing an executive order that temporarily suspends some provisions of the requirement to provide shelter to anyone who needs it in anticipation of an influx of new asylum-seekers to the city.
"This was a hard decision, but it's the right decision. This is just wrong what is happening to New York City," Adams said at an unrelated press conference on Thursday morning when asked about the emergency order. The administration has warned that the city will see many more asylum-seekers coming to New York after the Thursday night expiration of Title 42, a federal order that allowed immigration authorities to turn more migrants away at the borders. 
But while Adams has cited that increase to justify the order, some immigrant advocates say the complexity of immigration laws and the flow of international migration means you can't be sure what will happen. "No one really knows," New York Immigration Coalition Executive Director Murad Awawdeh told City & State. "It's just not something that anyone can honestly predict."
The emergency executive order signed Wednesday temporarily suspends three pieces of law. One, in place since 1991, that prohibits family shelters from not having a bathroom, refrigerator and cooking facilities. One that requires the city to provide temporary overnight shelter to any families with children that haven't completed the standard homeless intake process by 10 p.m. And one that provides eviction protections – to the extent they might legally apply to migrants living in emergency housing. The new order would, in theory, limit the legal options for any asylum-seekers who might want to challenge the city's legal right to move them around. 
"Our desire is not to put the children and families in dormitory settings. Our desire is to manage a humanitarian crisis," Adams said Thursday morning. The laws were implemented for the typical flow of the city's homeless population, not the current situation of international migration, Adams continued – reiterating a legal argument that he has been making for nearly a year. "If we have to reexamine the law to make it adjust to the real life humanitarian crisis we have, then we have to do that."
City Hall spokesperson Fabien Levy justified the move too, in an emailed statement. "New York City has cared for more than 65,000 migrants over the last year – sheltering, feeding, and caring for them almost entirely on our own," he said in an emailed statement. "No asylum seeking-family that has sought shelter from us over the last year has slept on the street thanks to our colossal efforts, but without more support from our federal and state partners, we are concerned the worst may be yet to come," Levy added. "This is not a decision taken lightly and we will make every effort to get asylum seekers into shelter as quickly as possible as we have done since day one."
Despite swift pushback from immigration advocates, the city doesn't appear to have actually violated the laws around right to shelter in a consistent way yet. "We received word from the city in advance of the order being issued that they had planned to suspend these three particular local laws. As of this moment, to our knowledge, they are not currently using that power yet," Kathryn Kliff, a staff attorney at the Legal Aid Society, told City & State on Thursday afternoon.  
Once the city does – if it does – it could open the city up to a lawsuit. In a joint statement on Wednesday night, the Legal Aid Society and the Coalition for the Homeless condemned the administration's move and said that they are considering options to respond to the order, possibly including litigation. 
"We are concerned about any plan by the city to keep people in congregate spaces for any length of time, or to continually be having people at the intake site for hours and days on end. Those are the issues that we would be looking into and whether litigation is an appropriate response at this point," Kliff said. "Right now, they are meeting the need, to our knowledge. But nobody really knows exactly how many people are going to be coming now that Title 42 is lifted. I think the city has been operating under the assumption that it will be a worst-case scenario, and we really don't know." 
New York City Comptroller Brad Lander echoed that it's not clear what the influx will look like in the coming days and weeks. "We just don't actually know how many folks are going to come," he said. "To roll back critical shelter safety protections, without actually seeing how many people are coming, I think opens up the possibility of harm without the evidence that you needed to do it." 
Lander raised the possibility that Adams' administration floating options of housing people in tents in Central Park, or shutting down streets to create more room could be a way to lobby the federal and state governments for more support – and the comptroller didn't condemn that potential strategy. "Do we need advocacy to get more money from Washington and Albany? Yes, we absolutely do," Lander said. "So if what's happening is a kind of advocacy effort, that's one thing."
City Hall has suggested that the shortage of shelter space has hit new levels of crisis recently, as more migrants, mostly from Latin American countries, come into the city in need of housing and services. For the first time Thursday, the city moved some people in its care to a hotel in suburban Orange County, where it will continue paying for housing and services.
New York City Council Speaker Adrienne Adams slammed the mayor for not giving the council a heads up about the executive order, saying it was the latest example of a lack of collaboration. "It not only raises serious transparency issues, but it is not an example of how to effectively confront a challenge of this magnitude facing our great city," Speaker Adams said at a press briefing at City Hall on Thursday.
The speaker also objected to the content of the order. "The executive order suspends one local law that already had included in it a clause to allow flexibility as long as there is public notice and consultation with the council," she said. "So it seems like an arbitrary and capricious suspension of a local law, just to avoid communicating with the public and the council in advance."
That kind of language sounds like she's setting the stage for a lawsuit. But Speaker Adams didn't commit to any legal action, just saying the council is "exploring all of our options"