Policy
Attorney General James proposes bill regulating crypto industry
The CRPTO Act would require crypto exchanges to publish audited financial statements and prohibit them from lending out their customers' funds.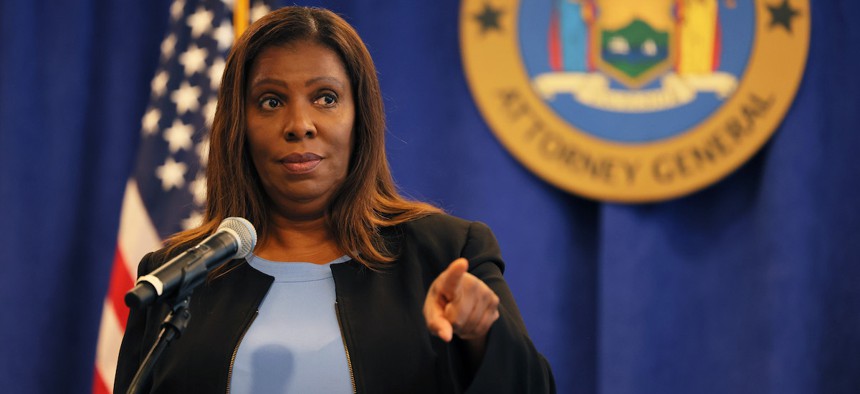 First came the BitLicense. Then came a moratorium on an environmentally destructive form of cryptocurrency mining. And now, New York state could take new regulatory action that's sure to further vex the cryptocurrency industry.
State Attorney General Letitia James is introducing a program bill for consideration by the state Legislature that would create new regulations for cryptocurrency companies designed to protect investors and consumers, including the lower-income people and people of color who are often the target of crypto companies' advertisements. "Rampant fraud and dysfunction have become the hallmarks of cryptocurrency and it is time to bring law and order to the multi-billion-dollar industry," James said in a press release. "These commonsense regulations will bring more transparency and oversight to the industry and strengthen our ability to crack down on those that don't pay respect to the law." 
The legislation, known as the CRPTO Act, would require crypto companies to undergo independent auditing and publish financial statements, and require platforms to reimburse customers who are victims of fraud, among other things. It would also prevent the sorts of conflicts of interest and financial shenanigans that were hallmarks of the now-bankrupt FTX exchange. Individuals who own crypto exchanges would be barred from also owning the companies that trade on those exchanges. Crypto exchanges would not be allowed to keep custody of customers' funds, and crypto brokers would not be allowed to lend out or borrow customers' funds.
The crypto industry has long criticized New York's first-of-its-kind licensing regime for digital currency companies – known as the BitLicense – as being overly restrictive. (James' bill would also codify parts of the BitLicense framework, which were put in place by the state Department of Financial Services in 2015, into state law.) And a two-year moratorium on energy-intensive proof-of-work cryptocurrency mining was passed by the state Legislature and signed by the governor last year – much to the dismay of the crypto industry, which made a well-funded effort to stop it.
But James' legislation shows that some lawmakers see more room to regulate the volatile industry, which has experienced a string of demoralizing and destructive bankruptcies and lawsuits in the last year. State Comptroller Tom DiNapoli praised the bill. "The cryptocurrency industry is in need of regulation and oversight," he said in a statement. "As the financial capital of the world, New York must lead these efforts."
A number of lawmakers have already thrown their support behind the bill, though it will be up to state Senate and Assembly leadership to determine who will officially sponsor the legislation in each chamber. "By raising the bar for this rapidly evolving market, we can ensure that consumers and their investments are secure in this space," state Sen. Kevin Thomas, who chairs the Committee on Consumer Protection, said in a press release.
"With communities of color increasingly drawn to investing in crypto, it's essential that we introduce common-sense protections to prevent them from facing higher financial risks," Assembly Member Michaelle Solages said in a statement. "This bill is a significant step toward creating a fair and secure environment for crypto investors in New York state."