Energy & Environment
Delays in tree prunings tell the story of an underfunded NYC Parks Department
Tree prunings have slowed, and department cuts do not bode well for the maintenance programs.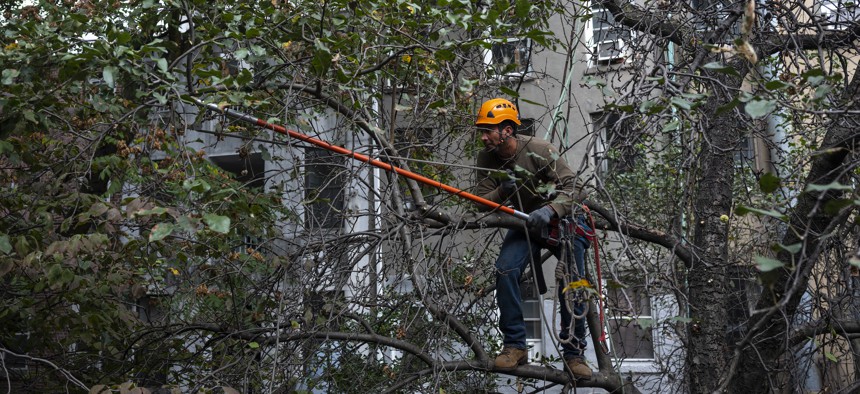 On an August Saturday last year, a tree branch fell on a man sitting in a Bedford Stuyvesant, Brooklyn, park, killing him and terrifying multiple witnesses. WABC reported that the tree had been pruned two summers before, and no problems were identified. 
While that was an unusually tragic accident, city records suggest that maintenance of New York City's urban forest is in decline – and more trees could be left unpruned as a result.
During the first four months of fiscal year 2022, there were 60,716 tree inspections and 18,255 trees pruned, according to the Preliminary Mayor's Management Report, released in January. But during the first four months of fiscal year 2023, there were less than half the number of inspections: 28,790, and less than a third the number of prunings 4,966.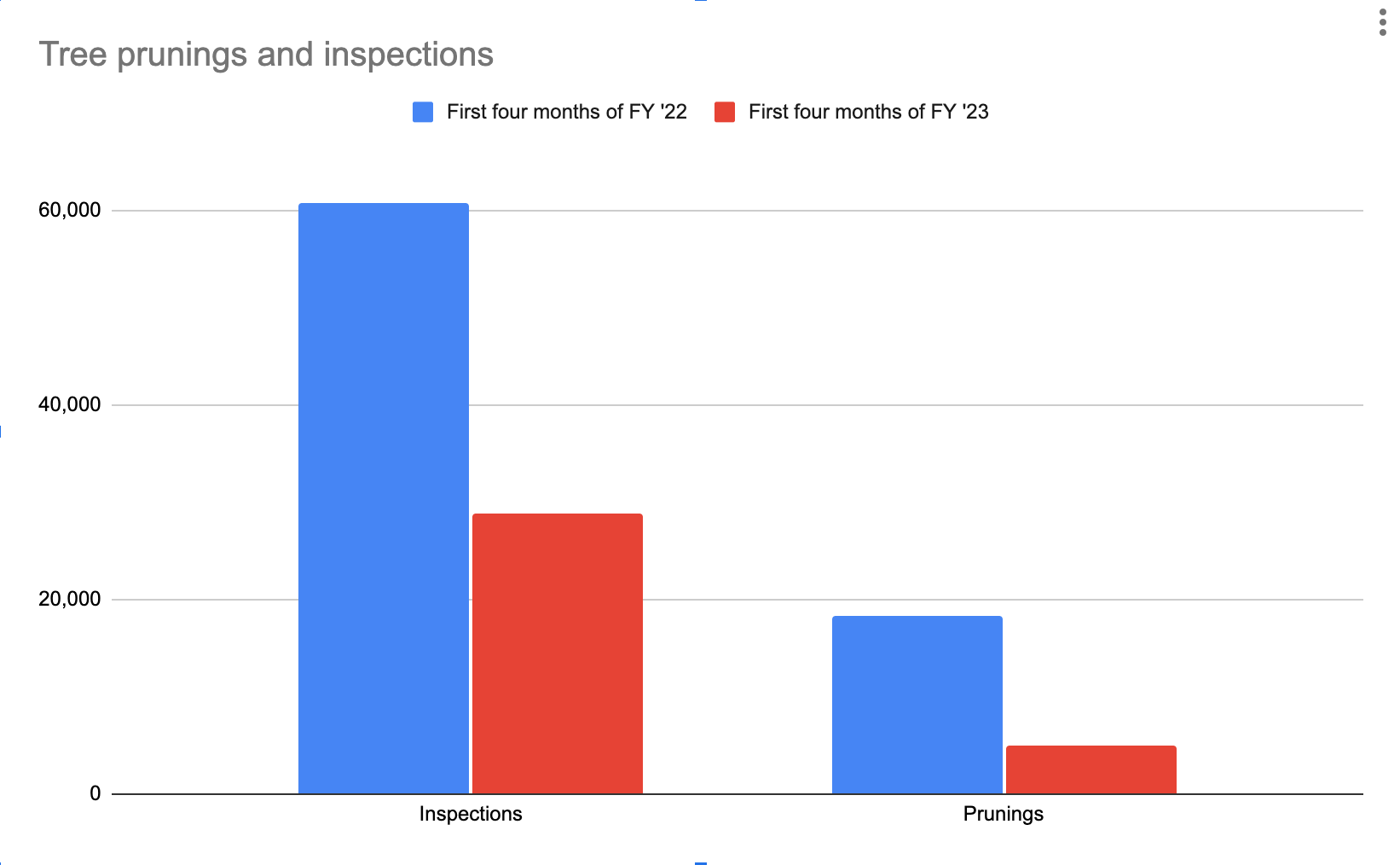 The New York City Department of Parks and Recreation manages public pruning, but seasonal staffing shortages and an issue with a major contract have caused a backlog of service requests. On top of that, a budget reduction appears to be on the horizon.
Mayor Eric Adams proposed a fiscal year 2024 Parks Department budget of $610.4 million, which is nearly $40 million less than the department is projected to spend this fiscal year, potentially putting even further strain on pruning backlogs.
The mayor again seems on track to fall short of his campaign promise to designate 1% of the city budget to parks. The .06% designated in the current proposal is minimal in comparison to many other American cities, according to the advocacy group New Yorkers for Parks.
"Another year, yet again, where the mayor has not fulfilled his promise," City Council Committee on Parks and Recreation Chair Shekar Krishnan said at the preliminary budget hearing on March 22. "If we are to be a world-class parks system that reflects how essential these spaces are for all New Yorkers, then we need to invest in them in a world class way."
Tree pruning is the process of removing sick, hanging or otherwise damaged branches from trees. It's done for the safety of people and infrastructure near the tree that could be harmed if the branches fell off naturally.
It might seem that cutting some branches here and there is a small feat. It's not.
"It can be a very serious matter when it comes to trees that pose risk, whether they're dead trees or live trees that have dead broken limbs, things that can fall," Arbor Day Foundation Urban Forestry Program Manager Pete Smith said. "So we need to be monitoring and reviewing these trees regularly."
It can be dangerous to ignore unstable branches that hang over buildings, cars, walkways or wires. By pruning trees with some regularity, damaged limbs are removed before they get the chance to fall and hit whatever's beneath. 
"Trees are these large heavy objects that always fall down – they don't fall up," Smith said.
Currently, Parks is slowly trudging through the backlog of pruning requests across the city. 
"Proactive maintenance of our street trees is a major priority for the agency, and, though our block pruning program has experienced delays following staffing and contractual challenges, we continue to respond to extreme and high-risk conditions quickly and efficiently," Parks spokesperson Chris Clark said in a statement. "We encourage New Yorkers to continue to report unsafe tree conditions – such as hanging, dead, and diseased limbs – through the NYC Street Tree Map, the NYC Parks website, or by calling 3-1-1."
While Parks Department staff handles urgent pruning situations, maintenance prunings are done by outside vendors who are contracted with the city. There aren't many companies in the area who are equipped to handle tree care on the scale needed by the department, and in the last few fiscal years there have been some challenges with the contracts.
Last year, The City reported that a major tree–pruning contractor was put under Department of Investigation monitoring after being charged with insurance fraud. The indictment of the company disrupted pruning in Brooklyn and Queens for months, Brooklyn Paper reported. Another contractor was terminated due to poor performance.
Trees are categorized into different levels of priority based on their risk of causing harm, which the department calls "failure." 
For Priority A trees – which are trees for which failure is guaranteed, the likelihood of impacting something is high and the damage would be severe – Parks has a 99% on-time response. For Priority B trees, which are still high priority but don't rise to the level of highest risk, there's a 98% on-time response. 
These highest-risk situations are still being serviced in a timely way, but lesser priority situations have longer wait times.
On the website, an interactive map shows all of the sites serviced within the past six months, plus 69,156 trees slated to be pruned. Inspectors first visit a site to assess how quickly service is actually needed. If the situation isn't dire, the tree gets pushed to the back of the queue.