Policy
Emma Stone-backed child harassment bill sparks First Amendment, youth incarceration concerns
Legislation backed by the Oscar winner would make recording children in public without parents' consent a misdemeanor in New York punishable by up to a year in prison.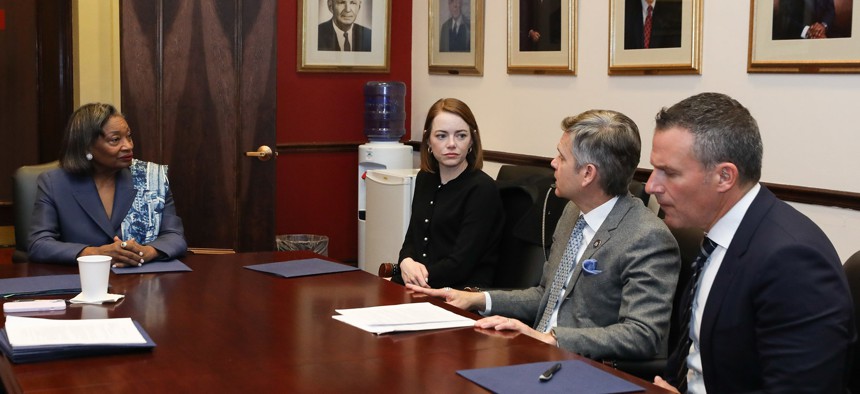 Media law experts and public defenders are concerned about a proposed state law that would criminalize annoying people under 18 or photographing them without their consent. They say that the proposed legislation, sponsored by state Senate Judiciary Committee Chair Brad Hoylman-Sigal and backed by actress Emma Stone, will violate journalists' First Amendment rights and could involve more youth in the justice system. The state Senate Codes Committee is scheduled to vote on the bill Monday morning. 
Hoylman-Sigal introduced the first version of the bill, numbered S6341, on April 17. The bill was inspired by a similar law enacted in California aimed at preventing aggressive paparazzi photographers from harassing celebrity children. (Other states, including Hawaii and New Jersey, have tried and failed to pass their own versions of the law.)
Hoylman-Sigal's bill creates a new type of crime known as "Harassment of a Child," which would be a Class A misdemeanor punishable by up to one year in prison.
The current version of the bill defines "harassment of a child" broadly, stating that "a person is guilty of harassment of a child when he or she intentionally or knowingly harasses, annoys or alarms a child or a child's parent or guardian by" shoving them, following them, recording their image or voice or committing other acts that "seriously annoy" a child.
The bill is backed by Child USA, an advocacy group that previously worked with Hoylman-Sigal on the Child Victims Act and Adult Survivors Act, and the SAG-AFTRA union. Last month, actor Emma Stone visited the Capitol to campaign on behalf of the bill, and plenty of legislators took the opportunity to pose for selfies with the Academy Award winner. As one political insider quipped, "There's nothing Albany loves more than a B-list celebrity, and Emma Stone is an A-list celebrity!"
Behind the scenes, though, the bill ran into some opposition. Journalism groups including the New York News Publishers Association, Media Law Resource Center and National Press Photographers Association objected to the provision of the law that made photographing anyone under 18 without the consent of their parents into a criminal misdemeanor.
"The way it's written right now, it would place a journalist or a news organization at risk if they took a photograph or a video of, say, kids running away from a school shooting or kids at a protest, which is really common," said Diane Kennedy, president of the New York News Publishers Association. "I mean, the gun safety protests all involved people who fall into the age range that would be covered by this bill."
"There's this parental consent issue here," she continued. "But if you're, say, a 16-year-old kid, and you want to speak to a reporter about gun safety, or anything else, for that matter, abortion and LGBTQ and trans rights, and your parents don't agree with you, they might not give permission for for the news organization or the journalists to continue to capture you on video. So then you could have an issue with where you're kind of muzzling kids who do want to speak."
After City & State initially asked Hoylman-Sigal for comment on these critics' concerns, his office released an amended version of the bill, which includes language clarifying that it is not a violation of the law if someone "acts in a reasonable manner and the recording is of the child: (a) engaging in public speech or demonstration; or (b) attending or participating in a newsworthy public event."
But some First Amendment advocates, including David Heller, deputy director of the Media Resource Law Center, said that the amendment does not go far enough.
"You take a photograph in Central Park and there are kids in the thing and they're in public, you might not be able to defend it on newsworthiness grounds. But it certainly is an unobjectionable thing to do that has some artistic value to it," Heller said.
In an interview with City & State, Hoylman-Sigal disputed that the bill would criminalize routine photography of children, since the proposed law would require intent to harass.
"Intention is very important here. And that's why we think it would have a very narrow impact on what everyday people normally do," he said.
In response to the bill's potential unintended consequences, the senator repeatedly cited the success of California's decade-old law.
"This is built off of the California statute," he said. "So, it's a proven framework. They have this in California, to be clear."
But according to Kennedy, the California law is significantly narrower than Hoylman-Sigal's bill.
"The California law has a lot of provisions in it that require that a person who wants to file a complaint show that they felt threatened, their children felt threatened. There's a lot of intentionality language in there that is missing in Sen. Hoylman's bill. Just photographing someone in public doesn't rise to (the level) of harassment or something like that. … You have to show that you fear for your safety or you fear for your children's safety. It's not just someone taking a photograph of you," she said.
Kennedy said that Hoylman-Sigal's office has been actively engaged with the bill's critics and she is hopeful that the bill will be further amended.
"When we met with his counsel last week, he said that they were going to amend it, they're aware that the amendments probably were not going to go far enough for First Amendment advocates, which they don't. … They're making a good faith effort to make the bill palatable and workable. We're going to continue conversations with them," she said.
"I trust Sen. Hoylman, and I don't think he's going to try to jam something through that would have this many opponents," she added. "He's always been very conscious of and supportive of the press. So I just don't think she would have something that he knew had had this much concern."
But First Amendment advocates are not the only ones with concerns about the bill. The prospect of creating a new, vaguely-defined crime with a potential year-long prison sentence has also alarmed criminal justice reformers and advocates.
"This bill is extremely troubling and will undoubtedly have unintended consequences for children engaging in innocuous activities with their friends," public defender Eliza Orlins told City & State in a text message. "I am also deeply worried about the racial disparities in how cases like these would be prosecuted if this passes."
Hoylman-Sigal dismissed concerns that the law, if enacted, could be used to prosecute children, pointing out that children do not have criminal responsibility for their actions. (Hoylman-Sigal supported the Raise the Age law, which prevents people under 18 from being charged as adults, but teens and children can still be prosecuted in juvenile courts.)
The senator said that he remains open to continuing to amend the bill to address critics' concerns.
"It's a bill, let's be clear, and we're getting feedback, and we're going to weigh concerns, just as they did in California," he said. "So, we're not trying to – you know, we're open to concerns, and we'll craft it accordingly."