Policy
In New York, Narcan is becoming a household name
Lawmakers have worked to increase access to the opioid overdose reversal drug as thousands continue to die every year from overdoses.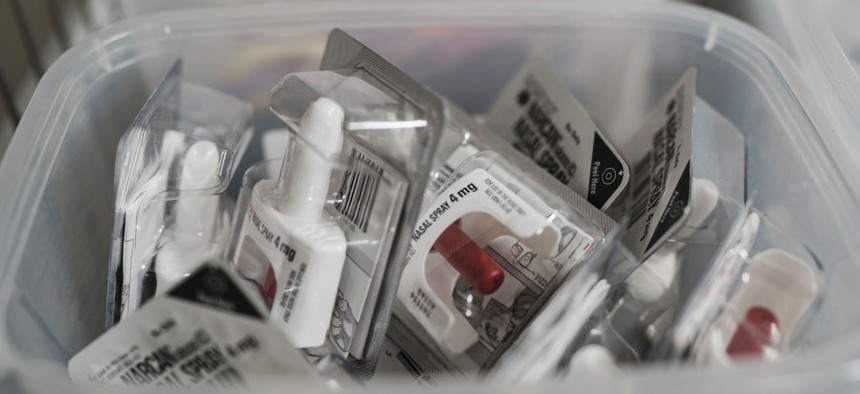 In the decade preceding 2021, overdose deaths involving opioids more than quadrupled in New York state, with 4,946 deaths reported in 2021. From 2010 to 2021, the crude death rate jumped from 5 per 100,000 to 21.5, according to the state comptroller's office. The country as a whole has seen opioid overdoses jump 17% from 2020 to 2021.
In New York, lawmakers have attempted to combat the growing epidemic through legislation increasing the availability of naloxone, an opioid antagonist that can reverse overdoses as they occur. Naloxone can come in the form of an injection or a nasal spray, and it's easy for a person without medical training to use. 
In December 2021, Gov. Kathy Hochul signed legislation that requires medical professionals to prescribe opioid antagonists along with opioids for patients with certain risk factors. In November, Hochul signed additional legislation requiring public colleges to have opioid antagonists in campus housing.
"My administration will continue to work every day to fight the opioid epidemic and provide New Yorkers with further access to lifesaving resources, services, and care," Hochul wrote in October.
In addition to actions at the city and state level, the Food and Drug Administration approved naloxone for over-the-counter use in March. 
In New York City, City Council Members Chi Ossé and Keith Powers passed legislation providing Narcan, a commercial brand of naloxone, and training on how to use the drug to bars and nightclubs. 
Powers said since the law went into effect in January, bar and restaurant owners have been appreciative of the legislation. He said there is no mechanism for collecting data on the number of overdoses prevented, if any have been since the program began.
"We can save people's lives on the prevention side but also be realistic about the need to save people's lives in real time," Powers said.
Ossé's office added that he would support a public education campaign to better inform New Yorkers on "this clear and effective way" to make the city safer.
While nothing is currently teed up, Powers said he was open to further legislation putting naloxone in other locations, specifically school buildings.
"We'll continue to build on this to look for other places where we can provide (naloxone)," he said.
Before the current wave of legislation distributing naloxone across the state, organizations like Harlem United and the A$AP Foundation have been distributing the life-saving opioid antagonist in their local communities for years.
A$AP Foundation's Executive Director Darryl Phillips said his organization has been providing naloxone to bars in the city. And his organization has put the overdose inhibitor in other retail locations like smoke shops.
Harlem United has also been providing people in the city with naloxone. While recent legislation may overlap with their work, it's still proved helpful, said Kristin Goodwin, Harlem United's associate vice president for integrated harm reduction.
"I work at an organization that very evidently serves people who use drugs, and not everyone who uses drugs may be comfortable coming here due to stigma around substance abuse," Goodwin said. "Any time we increase access … it's good because substance use still has pretty wide stigma."