New York City
City Council considers bills to alleviate the harms of slavery
From the removal of artwork to reparations, this legislative package also addresses the lingering impacts of systemic racism.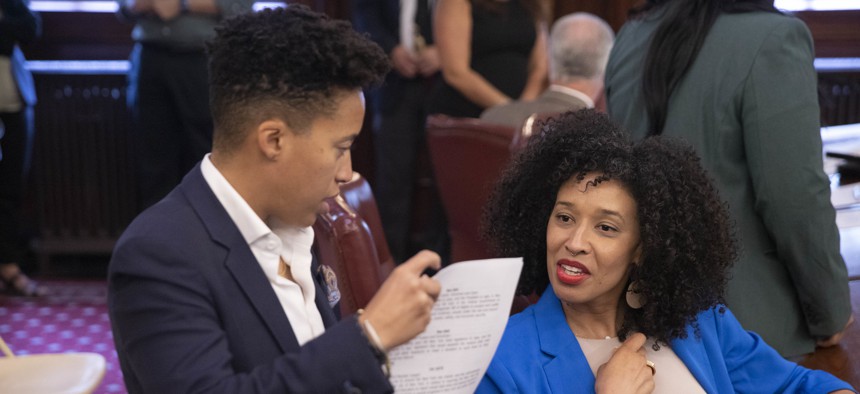 The New York City Council recently introduced several measures aimed at reckoning with the history and impact of slavery on Black New Yorkers and city institutions, including legislation that could lead to the removal of artwork depicting people who participated in slavery or committed other crimes against humanity.
The package of four bills – which also included a measure that would create a task force to consider reparations – comes just ahead of Juneteenth and as the state continues to wrestle with how to address the lingering impacts of slavery and systemic racism. Even in New York City, the vestiges of slavery can be found all over the five boroughs. For example, Stuyvesant High School, Stuyvesant Town-Peter Cooper Village and Bedford-Stuyvesant are named for Peter Stuyvesant, a prominent figure in city history who enslaved 15 to 30 people in the 17th century. Many city streets, neighborhoods, and subway stations bear similar ties to other individuals.
Intro. 1085, sponsored by New York City Council Member Sandy Nurse, would require the city Public Design Commision to create a plan on how to remove statues, paintings and other works of art on city land that depict people who "owned enslaved persons or directly benefited economically from slavery, or who participated in systemic crimes against indigenous peoples or other crimes against humanity." For any artwork that couldn't be removed, the city would be required to add a plaque with historical context, explaining the featured person's connection to slavery.
It's an idea that Nurse said she had been thinking about for some time, especially after she, the daughter of her Black immigrant father, was elected to the council and began spending time in City Hall – an institution that she described as not having been built with someone like her in mind. Having broken barriers in the last election cycle, the current City Council has more gender and racial diversity than any of the previous bodies.
"We spend a lot of time looking at the people who adorn the walls of this institution that we are now a part of," she said. "It's this surreal kind of experience where we are looking at these figures that loom above us or are scattered throughout public space, who represent these deep wounds of racism and brutality."
Nurse said the intention behind the bill is to create an opportunity for the city to reconcile with its history by replacing these figures with art honoring people who fought against oppression and helped transform the country away from prior wrongs or to "contextualize them" with a plaque.
While debate over contentious art and statues depicting people who benefited from slavery has circulated across the country, conversations intensified in 2020 after George Floyd was murdered by police in Minnesota. Facing opposition from people concerned about whitewashed history and what these people symbolized, local governments began to remove artwork and Confederate statues. Earlier this month, workers removed a statue of Maj. Gen. Philip Schuyler – who had been one of the Capital Region's most prominent enslavers – from outside City Hall in Albany. In 2021, a statue of Thomas Jefferson – who also enslaved people – was removed from New York City Hall after a unanimous vote by the city Public Design Commission. Still, it's a controversial topic – one likely to continue garnering discussions as Nurse's bill goes through the legislative process. According to the New York Post, City Council Minority Leader Joe Borelli and City Council Member Robert Holden oppose the legislative package.
Nurse is well aware of her proposal's charged history. She said the bill offers options.
"In the peak of the period where people wanted to take statues down, there was so much backlash. The counterargument is 'this is history, these are historical pieces' and you know in some places you have General Lee or these Confederate monuments," Nurse said. "But those figures remain the dominant figures in our story of self. We are offering an opportunity for New York City to make a decision to either swap that out for figures that tell a story of resilience and persistence and liberation or to provide that true piece of history."
The legislation would also require the Department of Transportation to consult with the Department of Education to install explanatory plaques in spaces near New York City public schools named after a person who participated in slavery or committed other crimes against humanity.
Intro. 1073, sponsored by Council Member Crystal Hudson, would require the city Commission of Racial Equity to establish a "truth, healing, and reconciliation process" in which the commission would examine the history of slavery in the city and recommend changes to prevent continued harm.
Another measure in the package, Intro. 1082, would create a nine-member task force to study the impact of slavery and other historical injustices on African Americans in the city as well as mull potential reparations. Within a year, the task force would be required to submit a report of its members' findings and recommendations to the mayor and City Council speaker. State lawmakers recently passed a similar bill that would create a commission to study reparations. 
The bill's sponsor, Council Member Farah Louis, wrote on Twitter that the package of legislation is a "significant stride towards rectifying long-standing injustices and recognizing the imperative for genuine reparations."
"It is essential that we confront the pain and inequalities of the past if we aspire to construct a fair and inclusive society," she wrote. "By embarking on this crucial journey together to address the profound injustices endured by African Americans, we eagerly anticipate delving into potential remedies, including reparations, that will pave the way for a more equitable future."