New York State
Local elected officials from around the state call for immigrant protections from feds
New York Immigrant rights advocates and lawmakers have not given up hope on passing a bill meant to protect undocumented residents from having their immigration status reported – even as the legislative clock winds down.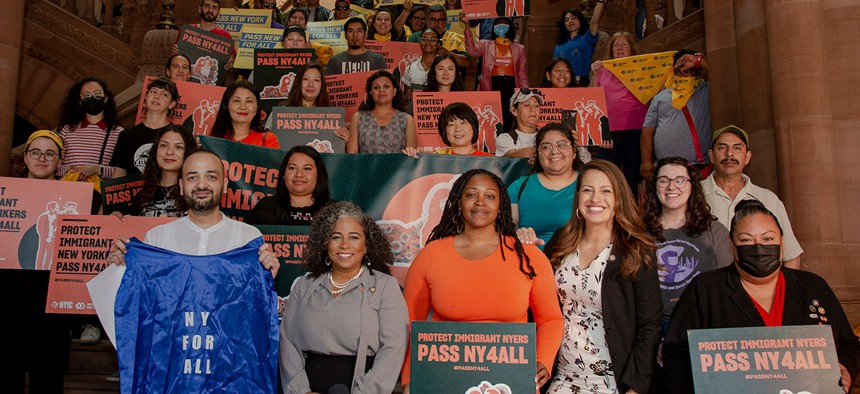 In a letter shared exclusively with City & State, over 50 local elected officials are urging Senate Majority Leader Andrea Stewart-Cousins and Assembly Speaker Carl Heastie to pass the New York for All Act. The bill, sponsored by state Sen. Andrew Gounardes and Assembly Member Karines Reyes, would prohibit local law enforcement agencies from sharing a person's immigration status with federal immigration agencies.
Those who've signed on to the letter – including New York City Council members, town council members and county legislators from across the state – assert that collusion between local law enforcement and immigration authorities is an ongoing issue, especially along the northern border of the state, where border patrol officers' surveillance areas overlap with local law enforcement. In New York City, the letter says, jail officials have shared immigration information with federal immigration agencies. 
New York City is already a sanctuary city, which means local law enforcement is supposed to protect immigrants from possible deportation and prosecution. But in reality, that hasn't always been the case. Federal immigration agencies have successfully arrested undocumented individuals and even have claimed the city's sanctuary policy has led to increased enforcement activity. The New York for All Act is meant to add an additional layer of restrictions so law enforcement agencies can't access information, ban agreements between local and federal law enforcement on the enforcement of immigration law and also ban the use of state resources for immigration enforcement.
The coalition says undocumented people live in fear of deportation that keeps them from fully participating in civic life, and that fear has not abated since the advent of the Biden administration, whose policies resemble those of the Trump administration.
"All New Yorkers deserve an opportunity to contribute to their communities and lead full, open lives without worrying that they will be suddenly ripped from their families," reads the letter. 
On Thursday, immigration policy advocates from several nonprofit organizations – including the New York Immigration Coalition, New York Civil Liberties Union, the Immigrant Defense Project and the Vera Institute of Justice's Advancing Universal Representation Initiative rallied at the state Capitol to call for passage of the bill. 
"Every immigrant New Yorker deserves to live without the fear that attending to everyday tasks like going to the grocery store or seeking medical care for their child may result in separation from their families," said Murad Awawdeh, executive director of the New York Immigration Coalition, while at the rally.
Awawdeh added: "The New York For All Act would provide the long overdue safety and protection immigrant New Yorkers need to keep their families stable and their communities strong." 
At the rally, the Gounardes outlined the impact of not passing the bill on undocumented immigrant communities. "We have let state and city authorities collude with (Immigration and Customs Enforcement) and (Customs and Border Protection) for far too long. We've seen the harm it causes: parents too afraid to go to parent-teacher conferences, workers too afraid to file necessary labor violations, families being split apart," the bill sponsor said.
Eyes have been on the governor and federal government to provide aid for the recent influx of tens of thousands of migrants coming to the state in the past year. When Gov. Kathy Hochul unveiled her plan to provide $1 billion in aid in the state budget to help New York City address the migrant crisis, state lawmakers and immigrant advocates called on the state to do more for the immigrant community – which included passing the New York for All Act. 
After first getting introduced to the Legislature in 2020, the bill has been introduced every session since but has failed to make it out of committee in either chamber. This year, the bill has a growing amount of support among lawmakers – with 32 co-sponsors in the Senate and 57 co-sponsors in the Assembly. With the Legislature scheduled to wrap session on June 8 and several legislative priorities, it seems unlikely that the bill will pass both chambers and get final approval from the governor to be signed into law. Still, lawmakers insist it is possible and continue to underscore the bill's importance in providing assistance to undocumented residents of the state. 
"There is no reason why – as part of our work in the next four days – we cannot pass a very simple and basic law that would help our most vulnerable immigrant communities across the state," Gounardes said on Thursday.
Powered By
NEXT STORY: Rikers officials chip away at transparency measures