Policy
NYC DAs tell Legislature to address deed theft before session end
Homeowners across the state have been impacted by deed theft. State Attorney General Letitia James and state lawmakers have crafted two bills to address the issue head-on.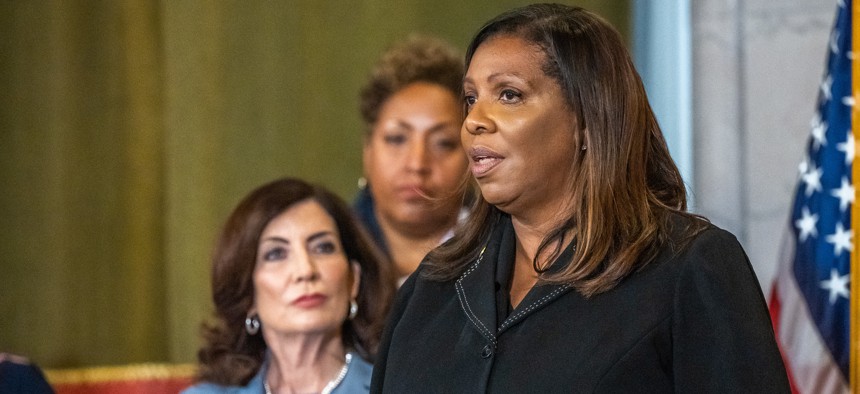 As the legislative session comes to a close, calls are mounting for the Legislature to pass a set of bills making deed theft punishable as a criminal offense and adding protections for homeowners. 
Deed theft occurs when a person takes the title to someone's home without that person's knowledge or approval, and it has become a prominent issue across the state. In three separate letters sent to the state Senate Majority Leader Andrea Stewart-Cousins and Assembly Speaker Carl Heastie, a diverse set of groups have made the case for the state to bolster deed theft protection to help homeowners. 
The first letter by a coalition of housing, legal and community groups – including New York Communities for Change, New York Housing Conference and New York Legal Assistance Group – who are calling for a bill to make deed theft punishable by criminal charges. "(The) lack of meaningful repercussions emboldens scammers, who have stolen millions of dollars in property and promise from some of the most at-risk communities in New York with impunity," reads the letter. 
The second letter sent by all five New York City district attorneys along with the Onondaga County DA and other New York City officials – all of whom serve on the state attorney general's deed theft task force – underscored how communities of color are targets for deed theft. AARP New York sent a third letter to legislative leaders that also underscored how deed theft disproportionately impacts people of color as well as older New Yorkers. AARP shared the sentiment that legislation must be passed to help New Yorkers from getting tricked into signing over a deed when faced with financial strain and the possibility of foreclosure on their properties. "Action must be taken to shield New Yorkers from the economic hardships and burdens that are a result of this unconscionable practice," reads the AARP letter.
According to the state attorney general's office, the New York City sheriff's office has handled nearly 3,500 deed theft complaints since 2014. In January 2020, state Attorney General Letitia James' office created an interagency task force to address the growing report of deed theft and received widespread support from elected officials and stakeholders, including New York City Public Advocate Jumaane Williams, Rep. Yvette Clarke and New York City Mayor Eric Adams.
"Deed theft is a heartless crime foisted on people who worked all their lives to achieve a vital piece of the American Dream, only to have that dream become a nightmare," James said at the time. 
This year, the state attorney general's office has worked with lawmakers to introduce two bills aimed at addressing deed theft across the state.  
One bill, sponsored by state Sen. Zellnor Myrie, would make deed theft a crime and ensure the state attorney general's office has jurisdiction to prosecute it. If implemented, the bill would also extend the statute of limitations for reporting deed theft from five to eight years and grant the state attorney general's office the jurisdiction to prosecute the crime without a referral. The bill has not been introduced in the Assembly yet, but supporters say support is growing. "Too often, state government has been unable to prevent or prosecute this destructive crime," Myrie said in April on the introduction of the bill. 
The second bill, sponsored by state Sen. Brian Kavanagh and Assembly Member Helene Weinstein, would provide homeowners and prosecutors with tools to help restore house deeds after the theft. If implemented, the bill would allow prosecutors to file legal actions on properties where a deed theft has taken place, protect victims of deed theft from evictions and expand the Homeowner Equity Theft Prevention Act. The bill passed in the state Senate on Wednesday and is set for review by the Assembly on Thursday. Lawmakers are scheduled to end session and head home for the year after Thursday. The Assembly, at the very least, is expected to stay until Friday.