Heard Around Town
25 pols call for taxis, app-based drivers to be exempt from congestion pricing
In a letter to the Traffic Mobility Review Board, the electeds said taxi and for-hire vehicle drivers shouldn't be burdened with extra fees.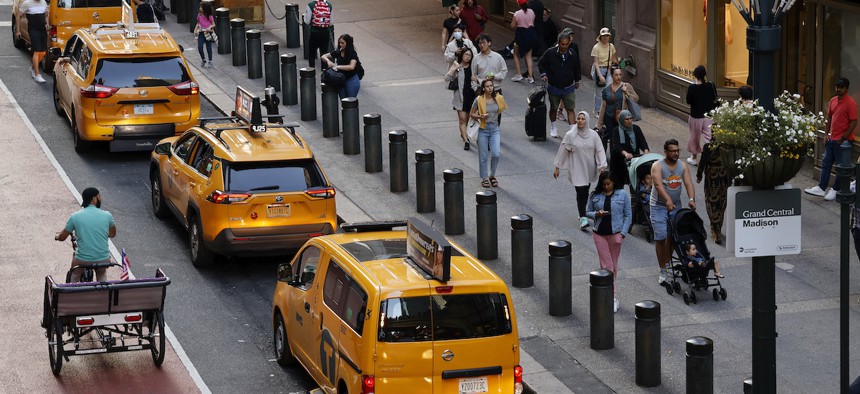 Over two dozen elected officials are calling on the body responsible for enacting congestion pricing regulations to exempt taxi and for-hire vehicle drivers from the new toll. In a letter sent to the Traffic Mobility Review Board shared exclusively with City & State, 25 lawmakers from both the state and New York City government argued that instead, passengers of services like Uber should pay a small extra surcharge for each ride in the congestion pricing zone below 60th Street in Manhattan. They asked that traditional green and yellow cabs be exempt entirely.
"Congestion pricing serves a laudable goal: raising sorely needed money for the MTA while ensuring our streets remain usable and our air breathable," the letter reads. "But we cannot allow this progress to occur on the backs of drivers, who not only provide an essential service to this city but are part of the vulnerable working-class and immigrant communities that congestion pricing stands to serve." The letter says that any new rider fee on Uber and Lyft rides "cannot be so high as to cause major job loss" for drivers.
Signatories of the letter include state Sens. Julia Salazar and Robert Jackson, Assembly Members Zohran Mamdani, Jessica González-Rojas, Eddie Gibbs and Phara Souffrant Forrest, and City Council Members Erik Bottcher, Shahana Hanif and Linda Lee among others. "I represent a lot of taxi drivers in my district and many are of South Asian descent or Latino and have grown up in environmental justice communities and been impacted by the harms of climate change," González-Rojas said in a statement to City & State. "They should not now also suffer from the economic burden of implementing congestion pricing."
Salazar and Souffrant Forrest signed onto a similar letter with three other colleagues last month, and González-Rojas rallied with drivers ahead of the Traffic Mobility Review Board's first public meeting. But the new letter constitutes the largest coalition of lawmakers to signal support for exempting cab drivers from congestion pricing. "We think the letter really speaks to the loud support for drivers and the taxi industry as a whole to be exempt," said Bhairavi Desai, president of the New York Taxi Workers Alliance. "And I think what's really notable here is that the support is coming from the elected officials who favor congestion pricing."
The Traffic Mobility Review Board held its first public meeting last month, where among other topics, members discussed the multitude of requests for exemptions it received. The MTA had stipulated in its environmental review for congestion pricing that cabs and for hire vehicles would only get charged once a day, but drivers and their advocates have called for a complete exemption and that any additional new per-ride fee be nominal and passed onto riders. The board is scheduled to meet again on Thursday.