Heard Around Town
Venezuela, Ecuador and Colombia are top countries of origin for NYC asylum-seekers
More than a third of the 107,000 people who have arrived since last spring are Venezuelan, according to city data.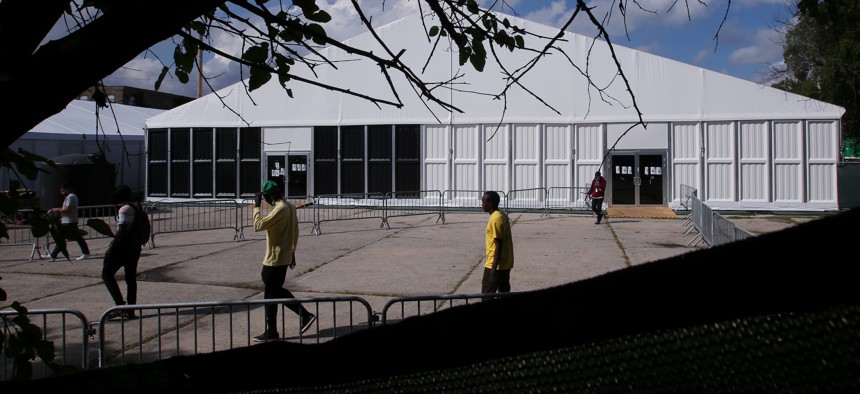 As of July 30, people from Venezuela make up the largest portion – 41% – of asylum-seekers who have arrived in New York City since spring 2022, according to City Hall data shared with City & State. Ecuador and Colombia were the second and third most common countries of origin for migrants at 18% and 13% respectively.
Since last spring, more than 107,300 people from all over the world have come through the city's intake system as of August 27. About 59,400 migrants remain in the city's care, according to Deputy Mayor of Health and Human Services Anne Williams-Isom.
With so many people who've arrived having fled economic instability and the threat of violence and with little concrete aid offered by the federal government, New York City leaders have increasingly referred to the surge as a "global crisis." A vast network of nonprofits and city workers have rolled out over 200 emergency shelter sites as well as a variety of resources to the city's newest arrivals. The Adams administration has argued that the federal government has a responsibility to step in with a "decompression strategy" so New York City isn't bearing a disproportionate share of such a sprawling crisis.
Peruvians make up 5% of migrants who've arrived in New York City. The most common countries of origin in Africa are Senegal at 2% and Mauritania at 4%. Three percent of asylum-seekers said they came from Russia, 2% from Nicaragua, and 1% from Honduras and Turkey.
The breakdown of asylum-seekers who remain in city care fall roughly along the same percentages, according to City Hall.