Policy
Lawmakers turn up heat on cannabis regulators at hearing
State senators grilled Office of Cannabis Management Executive Director Chris Alexander and other officials on the lack of enforcement against illegal pot shops.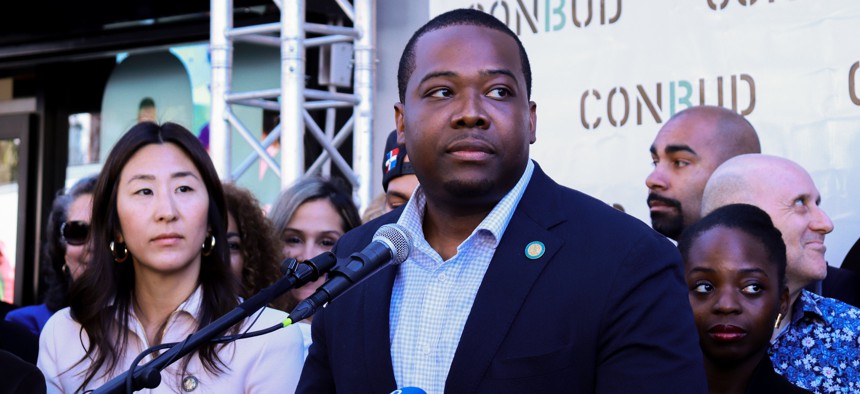 State lawmakers took Office of Cannabis Management officials and their counterparts from other departments to task at a state Senate hearing on Monday. On the back of a complicated and delayed rollout of New York's adult-use market and complaints from growers and dispensary license owners, senators wanted to know what solutions would look like – assuming there were any.
Legislators from both sides of the aisle called for the Office of Cannabis Management to take more aggressive action against illegal cannabis shops, which they said had negative effects on both fledgling legal cannabis businesses and public health. As unlicensed operations, the illegal shops don't test their products for safety or quality.
"Why would anyone go to a legal weed store if it's more expensive than this store up the street that looks the same," asked state Sen. Sean Ryan, a Democrat from Buffalo. "How are we ever going to get rid of the black market if we're not bringing hundreds of enforcement actions per quarter?"
State Sen. Brad Hoylman-Sigal, a Democrat from Manhattan said that minors in his district have been spotted entering the shops, some of which are near schools. He said the Office of Cannabis Management had closed a shop selling to kids, "but it's reopened." 
State Sen. Mario Mattera, a Republican from Suffolk County, became frustrated when an official from the Office of Cannabis Management declined to answer his question. Mattera wanted to know how many enforcement officers were working throughout the state and in his district. He also asked how much money the Office of Cannabis Management set aside for enforcement. 
But Daniel Haughney, the office's Director of Investigations and Enforcement,  said that if that information was made public, it would benefit criminals. "Thanks for not answering my question," Mattera said. 
Chris Alexander, executive director of the Office of Cannabis Management, told lawmakers that his office's new enforcement powers have been helpful. He said that over 16 violating cannabis operations went through the office's administrative hearing process before the hearings were suspended in October. 
Skoufis was not impressed. "That seems like a startlingly low number given the fact that we all recognize there are thousands of these illegal shops around the state and the enforcement powers have been in place since June," he said.
Farmers, like dispensary license holders, have been hurt by the state's botched rollout of the recreational cannabis market. Cannabis flower has a limited shelf life and growers have a small pool of legal dispensaries to sell to in New York. This year, the Office of Cannabis Management approved growers' showcases around the state that allowed farmers to legally sell cannabis. The revenue from those showcases slightly offset the profit loss from expired cannabis. According to Alexander, the showcases sold $1.9 million of cannabis products. 
"It's not enough. It's not a replacement for legal dispensaries. And frankly, we know the solution is of course more stores," Alexander said. " But in the interim, we're trying to figure out what is going to be the best way to either incentivize the businesses so that they survive and trying to figure out ways to deal with that excess biomass."
Michele Hinchey, a Democrat from Saugerties, asked if the office had enough in its budget to set up a recovery fund for struggling growers. 
"I can't make the definitive statement," Alexander said. "I don't know exactly. Just to be clear, the product pricing per pound, that number is significant and differs from what we've seen here for outdoor flower."
Hinchey also took issue with the office's view of outdoor grows.
"It's actually concerning to me to hear the focus from OCM being shifting into greenhouses as opposed to incentivizing outdoor grow especially as we tried to hit our climate goals," Hinchey said. "Greenhouses are incredibly energy intensive."
Toward the end of the hearing, Skoufis asked a panel of stakeholders in the cannabis industry a series of yes or no questions about the rollout. 
"Do you believe OCM has set up effective lines of communication with stakeholders who have questions in case the cameras can see for the record?" he asked. "None of them raised their hands," he added.
"Second question, do you believe OCM sufficiently considered feedback from stakeholders during the development of regs?" he asked. "No hands." 
"Question three, do you believe OCM could have better anticipated and proposed for the loss prepared sorry for the lawsuits and injunctions?" Skoufis asked, noting that all five raised their hands.
"Question four, do you believe OCM is doing an effective job with enforcement actions against illegal outfits?" he asked. "Four (raised hands) and one abstained."
His final question addressed the Office of Cannabis Management's recent actions.
"Five, do you believe OCM has been acting with enough urgency given the troubling circumstances you've all outlined?" he asked. "Zero, none of you."