Policy
New York has yet to realize measurable savings from parole reform. Could that change?
A new report asked New Yorkers how they would spend money saved through state parole reform. But the state hasn't saved as much as expected in the two years since changing its parole policy to reincarcerate fewer people.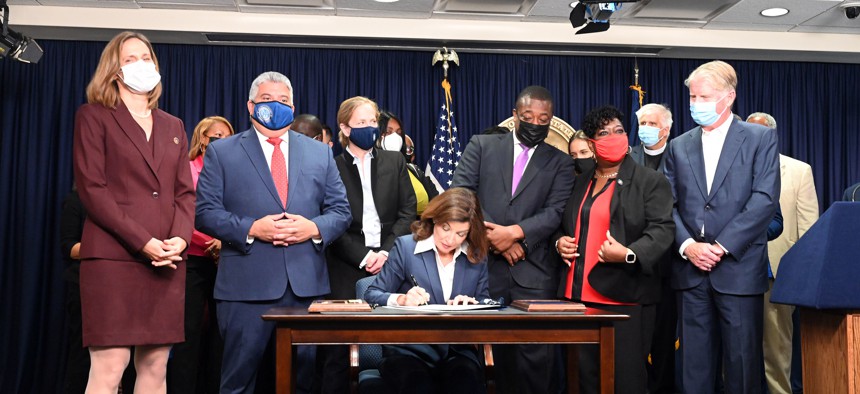 Two years ago, Gov. Kathy Hochul signed the Less Is More Act into law. The law was meant to decrease reincarceration for minor parole violations and to help get people off of parole faster for good behavior. Now, a new report from the Columbia Justice Lab Probation and Parole Project and the advocacy group Unchained found that communities across the state would like to see any potential savings that were expected to result from the law reinvested into affordable housing, reentry supports and vocational training. But right now, no one knows how much – if any – money would be available through savings related to parole reform.
The potential cost-saving benefits of Less Is More are largely unknown. The report acknowledged that the full impact of the law is "beyond the scope" of the current research, but it contended the savings could be significant. It noted that between 2021 and 2022, 1,300 fewer people were in a state correctional facility for a technical parole violation than the previous year, and that the state in 2021 had estimated it would save $58 million if it reduced its jail population by 2,000 people. The report also said that prior to Less Is More, the state estimated that it cost $680 million annually to cover the cost of incarcerating people for technical parole violations. 
A spokesperson for the state Department of Correction and Community Supervision told City & State that it's still too soon to determine any fiscal savings related to lower recidivism, but that the new law did result in some new costs in the short term. "While the parole population has declined over recent years, the Less Is More Act changed the parole violation process by elevating the burden of proof at preliminary and final hearings and added a new recognizance hearing process, which required additional staff," the spokesperson said. A spokesperson for the state Division of the Budget also told City & State it has no data yet on the fiscal impact of Less Is More.
According to the fiscal impact statement included with the original Less Is More Act legislation, it cost the state about $68,880 to incarcerate someone for a year at the time the law was passed in 2021. "With a significant fraction of parolees no longer incarcerated for technical parole violations, it is anticipated to (reduce) state and local costs accordingly," the memo reads.
Researchers for the report were interested in how New Yorkers want to spend those projected savings. They conducted 16 virtual community discussions between May 2022 and April 2023 in five parts of the state that have in the past had high rates of reincarceration for parole violations: Harlem, Brooklyn, Long Island, Onondaga County and Monroe County. Although exact cost-savings remain elusive, researchers asked participants how they would prefer to spend the $680 million annually it cost to incarcerate people for technical parole violations prior to Less Is More. According to the report, 231 New Yorkers participated in the town halls, the majority of whom said they wanted to see any money the state saves from Less Is More get invested into community improvement rather than traditional public safety measures, like law enforcement training and drug courts. 
Instead, affordable housing topped the list of funding priorities, with behavioral health care and employment not far behind it. After those three came vocational training, reentry support and community spaces. "The feedback received from community members at town halls reflected a deep understanding that the safest communities are not those with the most police and prisons but those with the most resources and strongest infrastructure," said Emily NaPier Singletary, co-author of the report and co-founder and co-executive director of Unchained.
The report also highlighted several pieces of pending legislation that it says would support the stated desires of community members researchers spoke to. Each have support among progressives in the state Legislature, but none have yet passed. They include the Housing Access Voucher Program, which would create a statewide rental subsidy program for those who are homeless or face eviction, Raise Up NY, which would raise the minimum wage to $21.25 by 2027, and the Unemployment Bridge Program, which would offer a form of unemployment benefits for recently incarcerated people reintegrating back into their communities.