In preliminary budget, de Blasio calls for Health and Hospital reorganization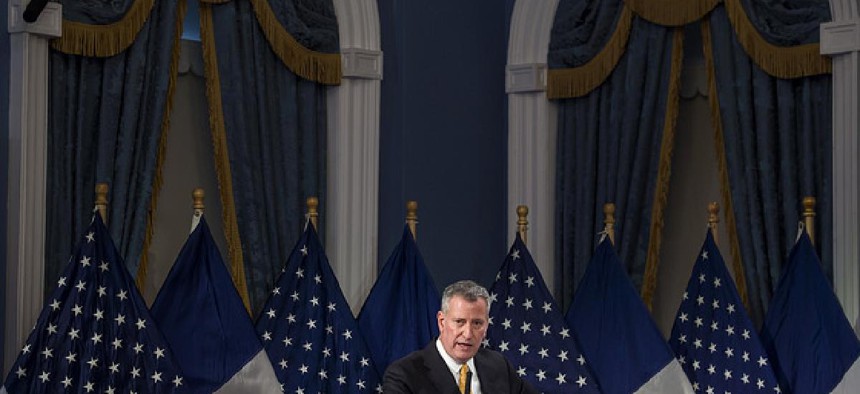 New York City Mayor Bill de Blasio unveiled an $82.1 billion preliminary budget on Thursday that limited new investments to targeted initiatives the mayor said would bolster the city's health, including expanding mental health services, attempts to curb homelessness and additional ambulance tours.
The mayor said the city must immediately direct $337 million to the Health and Hospital Corporation to keep it afloat while the public health system maps out a restructuring plan. He said the reorganization proposal will be released ahead of the executive budget this spring and before the City Council votes on it this June.
De Blasio said he does not anticipate any hospitals closing because of the reorganization. The review will likely consider ways to consolidate multiple services in fewer buildings and to entice more New Yorkers with non-Medicaid insurance to rely on HHC, which operates a large network of public hospitals, clinics and others medical service providers in New York City.
"We have to provide an immediate infusion of resources to continue the work that Health and Hospitals does," de Blasio said. "Health and Hospitals is going to have to transform its operating model intensely because the current situation is not sustainable."
A confluence of policy changes contributed to HHC's fiscal stress, the mayor said. Because HHC's patients tend to be on Medicaid or uninsured, de Blasio said it has suffered amid cuts to federal "charity" funding for the uninsured and declining reimbursements for care provided under Medicaid.  HHC treats about 1 in 6 New Yorkers, according to the administration.
"As the health care economic picture has changed, we now have many more Medicaid patients not going to our public hospitals, going to our voluntary hospitals -  an intense increase in the pickup rate of voluntary hospitals taking on those patients, leaving HHC with even fewer customers who come in with the ability to pay," de Blasio said.
As part of the de Blasio administration's agreement to cover the costs of contract settlements with HHC's major unions, the city is planning to direct $192.7 million to the corporation, according to budget documents. Another $188.9 million is slated to offset the corporation's new contract to provide care for those in the city's correction system.
And when it comes to the city's fiscal health, the mayor said he was protecting residents from an economic downturn by adding to the reserves, paying off pension funds and limiting the number of "splashy new things." In all, the $82.1 billion proposal is about 0.05 percent larger than this year's budget. It includes some obligations, including a roughly $600 million increase in pension contribution costs now that people are living longer and $73 million to account for lower-than-expected returns in pension investments.
The administration is proposing nixing a $24 million summer program for youth, but said it was not otherwise planning to reduce services or raise tax rates. Some $1 billion in proposed savings has been identified from refinancing debt and other efficiencies, moving people out of homeless shelters and into permanent homes (saving $20 million) or even using red pavement to delineate bus lanes rather than having workers mark boundaries with red paint ($2.5 million).
The de Blasio administration is also planning to invest $62 million on mental health training and services, $41.3 million implementing an anti-violence plan at Rikers Island, $5.4 million adding FDNY ambulance tours in select areas, $12.1 million on 327 new traffic enforcement agents and millions more on a handful of measures to mitigate the homelessness crisis.
The proposal does not, however, shelter the city from nearly $1 billion Gov. Andrew Cuomo suggested the state stop contributing to the City University of New York and Medicaid costs. After unveiling his own state budget proposal, Cuomo said he would work with the city to ensure it finds efficiencies and does not have to pay a penny more. De Blasio said his proposal was crafted with that in mind.
"I am taking the governor at his word, and I will hold him to that word," the mayor said.