Politics
Adriano Espaillat claims 'historic' primary win in race to replace retiring Rangel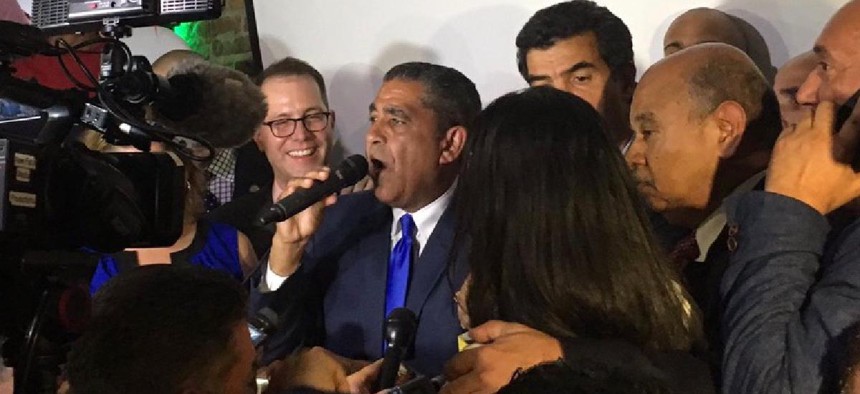 With all but five election districts reporting, state Sen. Adriano Espaillat suggested voters help make history by sending him – a self-described country boy from Santiago, Dominican Republic – to Congress.
But Assemblyman Keith Wright said the results were too narrow for any candidate to declare themselves Rep. Charles Rangel's successor Tuesday night and demanded that every paper ballot be counted.
Espaillat received 15,735 votes - or nearly 1,240 votes more than Wright's 14,499, with nearly 99 percent of the precincts reporting, according to preliminary results from the state Board of Elections. Whoever wins the Democratic primary is virtually guaranteed to win the general election in November.
From the 809 Bar & Grill in Inwood, the state senator said he was confident he will have outperformed Wright and seven other candidates by more than 1,000 votes once all the ballots are tallied.
"Tonight the voters of the 13th Congressional District made history," Espaillat said, referring to his campaign as one that, if successful, would make him the first Dominican-American Congress member and the first to arrive in the U.S. as an undocumented immigrant. "We will count every single vote. We are confident that at the end of the fight, we will be up by over 1,000 votes."
After a divisive campaign underscored by tensions between African-American, Dominican and other communities, Espaillat said the district must come together and work to address gentrification, education and the need for jobs with dignified salaries. The district, once a stronghold for African-American political leaders such as Rangel, is now majority Latino, and Espaillat's likely victory signaled the changing demographics.
Espaillat did specifically praise Rangel as one of two "giants" that had represented the 13th Congressional District, which runs from Harlem up to Washington Heights and Inwood and into the northwest Bronx. The state senator unsuccessfully challenged Rangel twice – and the congressman backed Wright this time around.
But at the Minisink Townhouse in Harlem, neither Rangel nor Wright seemed ready to adopt such a conciliatory tone.
At one point, Wright roused the crowd into briefly chanting "Do the right thing," while noting Espaillat had called for every paper ballot to be counted when trying to oust Rangel in 2012. If roles were reversed, Wright said the state senator would be saying the same thing again.
"No candidate can declare victory tonight; not until every vote is counted," Wright said. "This race is further complicated by the real possibility of a lot of campaign irregularities and voter suppression. … We look forward to every vote being counted and every potential campaign irregularity investigated."
Charlie King, a Wright campaign advisor, said he did not know how many absentee ballots were sent out or returned to the Board of Elections, noting he didn't anticipate the contest being tight enough for them to be a factor. The BOE also did not respond to requests for absentee ballot information.
Wright renewed his call for the U.S. Department of Justice to monitor the election. When asked about suppression concerns, the assemblyman referred to a memo from a pro-Espaillat PAC that mentioned the state senator could win if he prevented or suppressed the white progressive and African-American vote for Wright. A PAC representative said the word choice was poor, and nobody intended to suppress votes. Espaillat also denounced the memo.
When pressed by reporters about Wright's potential loss, Rangel said the notion was ridiculous and that he was not prepared to talk about it. Similarly, he said he hadn't contemplated the idea of someone hailing from outside Harlem assuming his seat.
"I've never thought about that ever happening in all of my years – 72 years – it's always been," Rangel said. "How could that be?"