Politics
Unions, construction companies are playing the blame game over worker deaths in NYC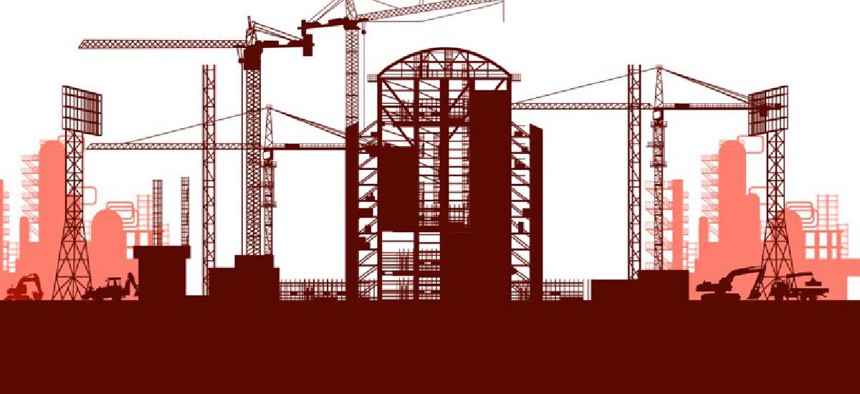 On the morning of April 6, 2015, Carlos Moncayo was doing excavation and foundation work at a non-union construction site in Manhattan's Meatpacking District. Despite city and federal regulations and multiple warnings from inspectors, the trench was not properly shored up, according to officials, even as the depth grew from around seven feet to at least 13 feet. Shortly before noon, the trench collapsed and killed Moncayo, a 22-year-old undocumented laborer.
Last month, Harco Construction LLC, the construction company at the site, was convicted in state court of manslaughter, criminally negligent homicide and reckless endangerment in Moncayo's death. "Today's guilty verdict should signal to the construction industry that managing a project from afar does not insulate a corporation or general contractor from criminal liability," Manhattan District Attorney Cyrus Vance Jr. said in a statement. "Just as a supervisor can be held accountable for a safety lapse resulting in a fatality at a factory, construction companies are responsible for the safety of the individuals that work on their projects, regardless of union or immigration status."
The ruling came as New York City's building trade unions are trying to stem the proliferation of non-union builders, arguing that the sites they operate are inherently more risky. Lawyers and boosters of the non-union segment of the construction industry adamantly deny the charge.
But in the wake of the guilty verdict in the workplace death of Moncayo, New York City's construction union leaders say it could be a major turning point in their bitter battle with the non-union contractors that continue to dominate the city's once-in-a-generation multibillion-dollar housing boom.
"Far too many criminally negligent contractors have quite simply gotten away with murder, and that stops today," said Gary LaBarbera, president of the Building and Construction Trades Council of Greater New York. "Negligent contractors should be put on notice that they can no longer put profits ahead of the safety of workers and that they will be held liable for their actions."
Charlene Obernauer, the executive director of the New York Committee for Occupational Safety and Health, which works with the construction unions on training, claims the link between non-union work sites and unsafe conditions is well documented. "This is particularly true in New York City," Obernauer told City & State. "When you look at the fatalities for calendar year 2015, you will see that 15 of the 17 fatalities we have documented were at non-union sites."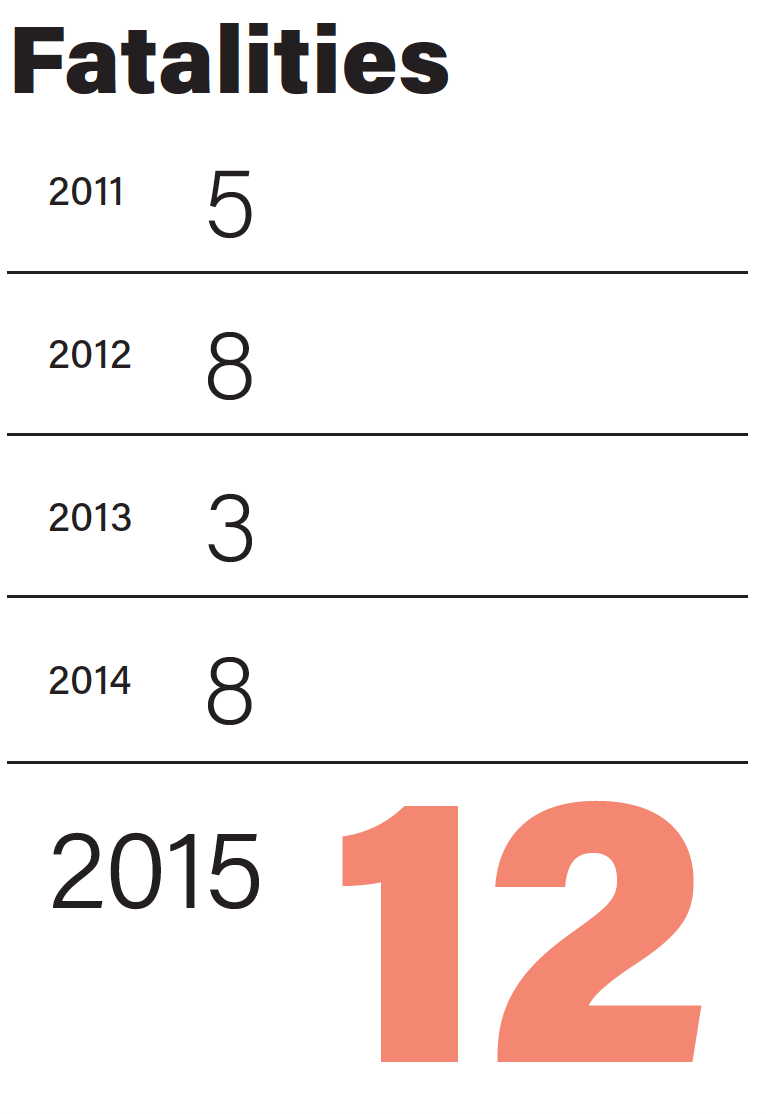 LaBarbera, whose union represents over 100,000 members of 15 different unions, agrees. "There is definitely a nexus between fatalities and serious injuries and non-union job sites," he said. "The significant difference between non-union and union is our extensive apprentice and safety training that teaches workers how to work safely and what safety equipment is required."
To assess whether there is such a nexus, it would be helpful to know just what percentage of New York City's construction workforce is unionized – but there appears to be no consensus on that question. 
BuildingNYC, an advocacy group aligned with non-union builders, claims that the higher incidence of workplace injury and deaths at non-union construction sites is simply because three out of every four construction workers are employed at non-union shops, according to the group's calculations. In its analysis of construction deaths between 2008 and 2014, BuildingNYC says 60 were linked to non-union sites, or 65 percent of the total, while 33 deaths occurred on union sites, or 35 percent, a higher percentage than the 27 percent of construction industry's rank-and-file that are unionized, according to the advocacy group.
BuildingNYC's estimate on the non-union share of the construction trade is supported by a 2015 report by the City University of New York's Murphy Institute, which found that slightly more than 26 percent of the those involved in construction in New York City were enrolled in a union, versus 15 percent nationally.
In contrast, a 2014 survey of the industry's employment picture by Columbia University's School of International and Public Affairs found that "union workers have a majority of the market share in the New York City construction industry" but took note that "non-union workers are gradually increasing their presence." The Columbia analysis also found that unions dominated "public sector construction, especially infrastructure and large scale commercial development," while the residential sector was more likely to rely on non-union labor.
Nor is there consensus on the significance of the Harco verdict for the construction industry. While trade unions see Harco as a watershed case that strengthens their hand, advocates for the non-union segment of the construction industry say the ruling was based on a "perverted version of strict liability" in which "the inherent danger of the industry will no longer have any legal significance."
Brad Gerstman, an attorney and spokesman for BuildingNYC, said his group is likely to file an amicus brief supporting Harco, which has filed a notice to appeal. Gerstman said the verdict has serious implications for the entire construction industry, both union and non-union sectors.
"The conviction of Harco Construction has set a dangerous precedent where an accident is no longer an accident," he said, "and you have to be worried that when an accident does happen there will be a homicide charge hanging over your head."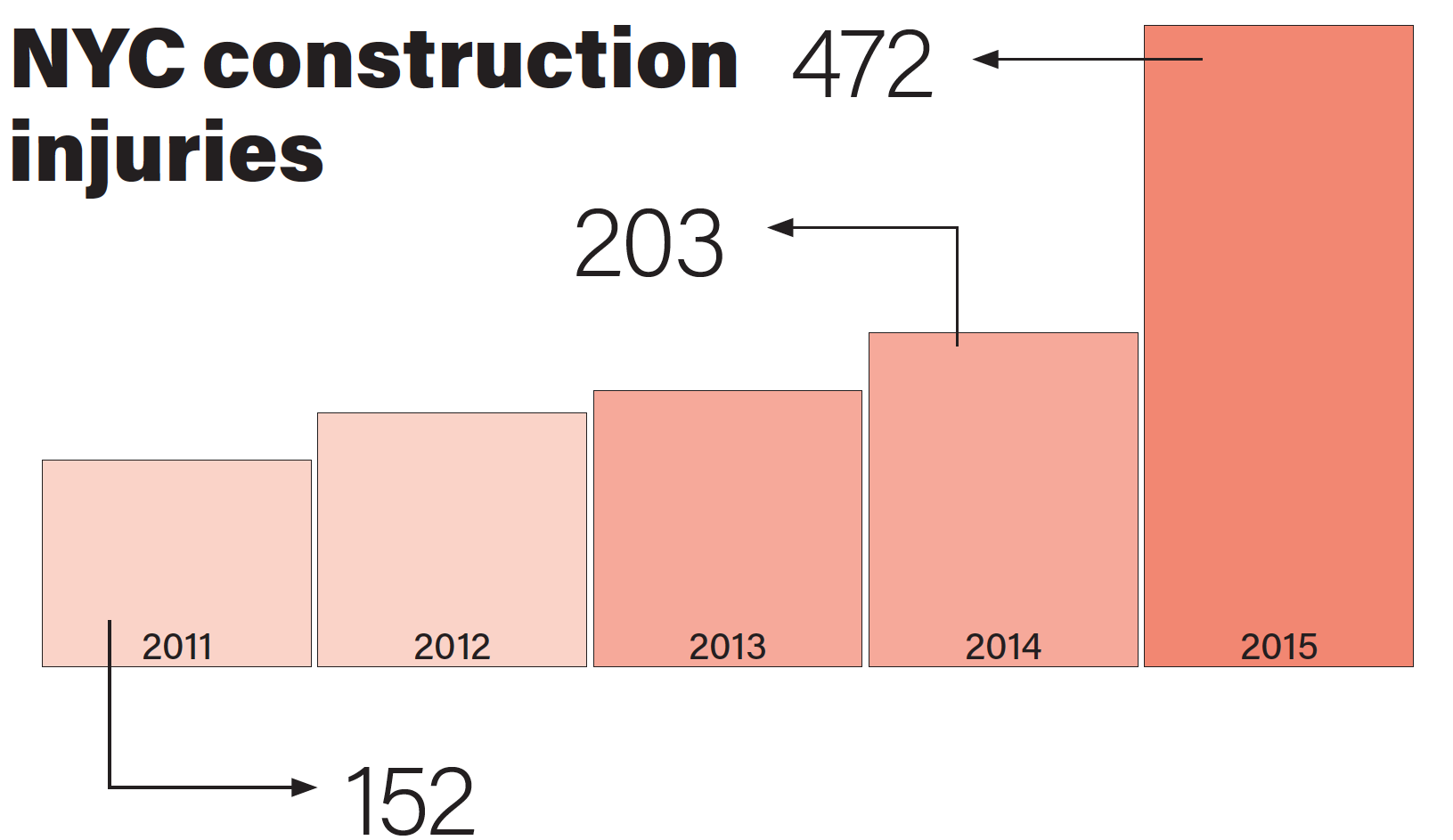 In the last few years, New York City's construction business has been booming. The city has experienced a 329 percent increase in construction volume since 2009 and a 517 percent increase in new residential starts, according to the city's Department of Buildings. In 2009, when the city was still reeling from the Great Recession, the department issued just 74,586 permits. By last year, the number of permits taken out spiked at over 107,000.
With this surge in building has come a substantial uptick in serious worker injury and workplace deaths. According to the Department of Buildings, in 2013 there were just three construction-related worker deaths and 203 injuries. By last year, the number of construction workplace deaths had risen to 12, with 472 injuries reported.
Obernauer says the variation between the 17 construction deaths in 2015 documented by NYCOSH and the lower Buildings Department total of 12 is due to a broader definition she uses for what qualifies as a construction-related work site accident.
The federal Occupational Safety and Health Administration, which also has documented more construction-related deaths or injuries in the city than the Buildings Department has, uses yet another set of criteria. OSHA counted 20 deaths in the city in 2012, 17 in 2013 and 22 in 2014. Its total for 2015 will be released at the end of this year.
According to a Buildings Department representative, OSHA and Buildings Department statistics measure different things. "If a worker cuts his hand on a circular saw, that's an occupational injury that OSHA would count and we would not," the representative said. "However, if someone hammers into a wall and it falls down on someone, that's an injury caused by a construction accident which we would likely count."
The Buildings Department's data indicates that between 2014 and 2015, injuries jumped by more than 91 percent to 471, while deaths jumped 50 percent to 12.
In another variance, OSHA identifies whether a site involved in a workplace injury or death is a union or a non-union shop, a distinction the Buildings Department does not make.
"While OSHA and the Buildings Departmentmay have different numbers on this, the data is clear on this," said Lou Coletti, president and CEO of the Building Trades Employers' Association, a trade group made up of unionized builders and contractors. "When it comes to worker safety performance, union and prevailing wage job sites far outperform the non-union."
Injuries and deaths at construction sites in New York City can hit immigrants the hardest. A 2015 New York Times examination into the circumstances involved with construction site deaths for the prior two years found "an increase in fatalities and injuries" that "mostly affected undocumented laborers" that "far exceeds the rate of new construction" over the same period. The Times also found that many of the deaths "were completely avoidable."
"For a lot of these non-union shops, the key is to get workers that are sufficiently undocumented so that they can pressure those workers to not report when they are hurt on the job, or even lie about it as the company directs them if they have to get to the hospital," said Richard Weiss, the communications director for the Mason Tenders' District Council, Laborers International Union of North America. "Non-union companies can use multiple subsidiaries, even set up seemingly separate limited liability companies, all as a way to distance themselves from having to take responsibility for the workers that get injured on their job sites."
Bob Bartels, business agent at large for the Steamfitters Union, calls the non-union construction world "a free-for-all." "You're dealing with workers from all kinds of ethnicities, that might have immigration issues, so they end up taking 10 or 12 dollars an hour, under the table, with all kinds of workplace risks to their safety, but they can't speak up for themselves," he said. "They've got to have representation and that is what joining with a union is about."
Mark Peters, the commissioner of the city's Department of Investigation, which also worked on the Harco case, said that over the years he has noticed a connection between contractors that cut corners on things like prevailing wage laws and their willingness to put worker and public safety at risk.
"If you are willing to steal wages from your workers then it's pretty likely you'll have no trouble not spending the money on safety equipment or taking the additional time to do a job safely," said Peters.
For many New Yorkers, a union construction job remains an opportunity worth pursuing. Earlier this month, dozens camped out in lower Manhattan for over a week in stifling heat in hopes of qualifying for one of 250 apprenticeships being offered by the Carpenters Union. In July, hundreds slept on the street in Queens hoping for a similar slot with the Plumbers Union.
Following the dramatic increase in construction accidents, the Buildings Department has in recent months "significantly" increased its enforcement and oversight, a representative said. Fines have also been quadrupled from $2,400 to $10,000. 
"This week, the Buildings Department began sweeping contractors with poor safety records who are working on buildings under 10 stories because last year a disproportionate number of accidents occurred at these sites," the Buildings Department representative said via email. In addition, the city will hire 100 new enforcement inspectors as part of a $120 million upgrade, which includes new information technology to more accurately track and locate bad actors in the industry.
Is the heightened enforcement effort paying off in terms of reducing workplace deaths and injuries? Based on the Buildings Department's year-to-date numbers as of August, the city has seen five construction worker deaths and 253 injuries.