Brooklyn
Bedford-Union Armory redevelopment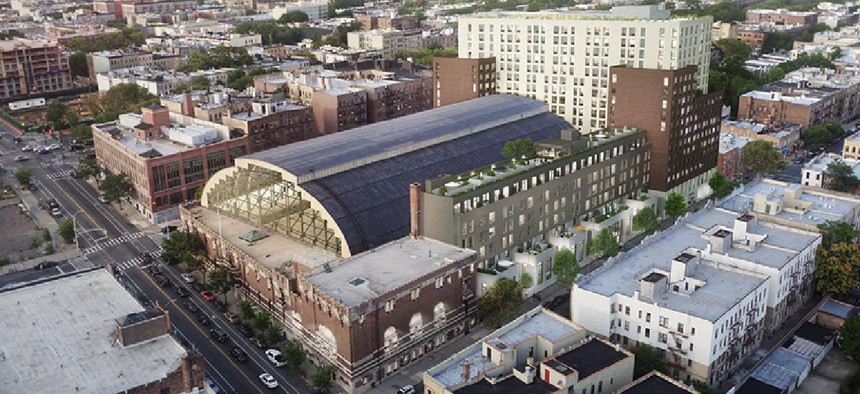 There's a war brewing over plans to redevelop the 115-year-old Bedford-Union Armory military facility.
The city's Economic Development Corporation has selected BFC Partners to purchase a portion of the Crown Heights property and build condominiums on it, and to sign a long-term lease to construct an affordable apartment complex with a recreation center and community office space.
The redevelopment plan would designate up to 12 of 60 condos as "affordable" and reserve half of the 330 apartments for lower- and middle-income residents. However, the city determines affordability levels by examining the median income of the metro area. And the nearby Crown Heights community's median income is far lower.
Activists and residents worry the project will spur gentrification and displacement. Their rallies and protests have drawn out construction unions, which are seeking a role in the project. Amid the furor, a number of elected official have called for the redevelopment to contain only affordable housing, since it will be built on city-owned land.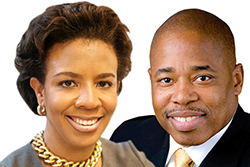 The project is currently undergoing an environmental review, and when that ends, it is expected to begin the city's Uniform Land Use Review Procedure this spring. That process will include a recommendation from Borough President Eric Adams and culminate in a vote by the City Council, which typically aligns with the local Council member's preference on a project.
Both Adams and local Councilwoman Laurie Cumbo said there are several competing visions for the armory: transforming it into one giant recreation center, building only affordable residences, housing students from Medgar Evers College, developing a Steiner Studios-style film production hub, or leaving it untouched.
RELATED: 25 Brooklyn influencers you need to know
Adams said he believed the highest need in the area was low- and middle-income housing, and that should be complemented with a recreational center. Cumbo said she has a number of concerns with current proposal. Chief among them is the inclusion of "luxury" condos, and the sale of public land, rather than the execution of a long-term lease. She also raised concerns about the rental units not being affordable for many in the community.
But Cumbo said she was pushing Mayor Bill de Blasio's administration to offer up more housing subsidies, and she was negotiating with the developer. Cumbo said she is hopeful the project will be significantly improved, noting that she still views the prospect of revitalizing the armory with affordable housing, space for nonprofits and a rec center as a "once-in-a-lifetime opportunity."
"I can't support a project that, at its very existence, would contribute to the further gentrification of the community, and the very people that we're building these amenities for," Cumbo said, noting that discussions about redeveloping the armory originally centered around providing the youth with a much-needed resource and deterrent from gangs. "I'm most inspired by the ability to create a recreational center that will save the lives of the youth in our community because the reality is our young people, particularly in that section of Brooklyn, are in a state of emergency."
Return to the 5 projects borough leaders want to tackle next.
Powered By
NEXT STORY: Increasing safety at J'Ouvert