Trump slams de Blasio in fiery Long Island appearance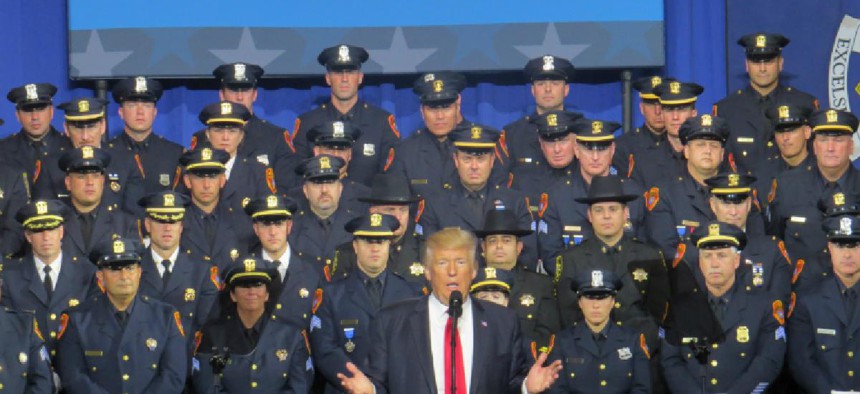 President Donald Trump seemed to call New York City Mayor Bill de Blasio "pathetic" in a speech in front of law enforcement officers on Long Island on Friday afternoon. 
"I've had police that are great police that aren't allowed to do their job because they have a pathetic mayor or a mayor that doesn't know what's going on," Trump said. The pro-Trump crowd, made up largely of members of the Suffolk County Police Department, cheered for 22 seconds. 
"Were you applauding for someone in particular?" Trump asked, to more cheers. "It's sad, it's sad."
De Blasio has been a frequent target of the president, who even called him "the worst Mayor in the U.S" in 2015. The mayor has similarly made Trump a political foe, even traveling to Hamburg, Germany, to appear in a rally opposing the president.
RELATED: How Pete King learned to stop worrying and love the Donald
Though he wasn't mentioned by name, de Blasio seemed to assume the comments were about him. After the speech, the mayor's re-election campaign sent out a fundraising email to supporters, calling Trump's speech rambling and incoherent.
And in a statement, City Hall spokesman Austin Finan said Trump needs to "get a grip."
"The truth is the women and men of the NYPD are doing their jobs better and more effectively than ever before," Finan said, "strengthening bonds with the communities they serve and driving crime to historic lows."
Trump's comments came during a part of his speech blaming the recent scourge of MS-13 gang violence on "weak political leadership" and "weak policing." The multinational gang is blamed for 17 murders on Long Island since January 2016, and two members of the gang were arrested Friday morning in connection with a May murder in Queens.
Queens and Long Island was a big focus of the speech at Suffolk Community College in Brentwood. Trump's visits to his home state of New York have been rare since he took office in January.
"This is certainly being home for me," said Trump, who grew up in Queens, which is geographically part of Long Island. "I'd come here and this was like the luxury location for me. And I love it."
But in Trump's eyes, the area has changed because of violence. "I never thought I'd be standing up here talking about liberating the towns on Long Island, where I grew up."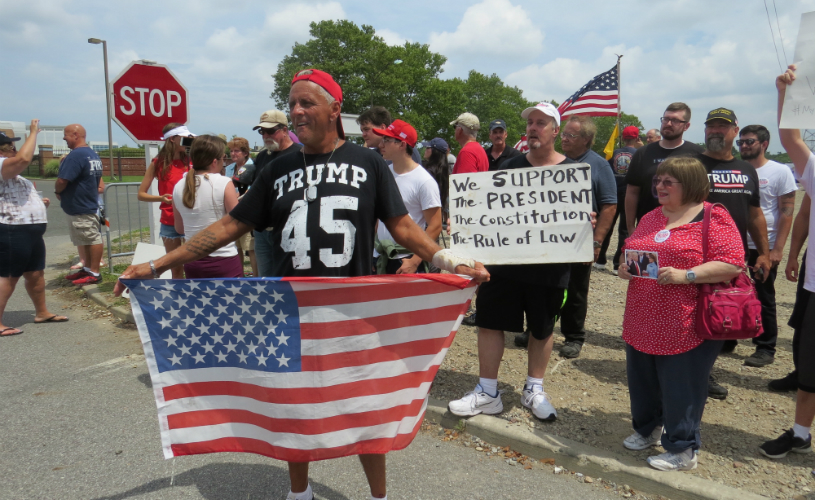 Supporters of President Donald Trump during his speech at Suffolk Community College in Brentwood, Long Island. (Jessica Newman)
Trump vowed to fight the "animals" in criminal gangs, calling on Congress to fund 10,000 more Immigration and Customs Enforcement officers "so that we can eliminate MS-13" and vowing to crack down on so-called sanctuary cities, which don't cooperate with federal immigration officers in some cases.
MS-13 is made up largely of immigrants from Central American countries. Among 13 MS-13 members arrested in a March sweep, 10 had immigrated to the United States illegally. 
Trump also seemed to endorse police officers being physically rough with gang members during arrests.
"Please don't be too nice," he said. "Like when you guys put somebody in the car and you're protecting their head? You know, the way you put the hand over? Like don't hit their head, and they just killed somebody? Don't hit their head? I said, you can take the hand away, OK?"
Brentwood resident Alma Kissinger supported Trump's harsh response to gang members. "I feel that (Trump) should give the death penalty to all of them," she said.
RELATED: A timeline of Pete King's on-again, off-again support of Trump
Kissinger was wearing a shirt with a picture of Kayla Cuevas, a teen who was allegedly murdered along with her friend Nisa Mickens by MS-13 gang members in September 2016. Kissinger was watching the hundreds of anti-Trump protesters who had gathered across the street from the community college, as well as the dozens of pro-Trump counter-protestors, but she wasn't joining in. 
"I feel that all this is bullshit," she said. "Because (Trump) is not here for immigration, and he is not here for who likes him and who doesn't like him. He's actually here for Kayla Cuevas and Nisa Mickens and the four boys that got killed in Central Islip."
While Trump welcomed Cuevas' family at the beginning of his speech, the president did not hesitate in connecting the issues of violence and immigration. 
"I have a simple message today for every gang member and criminal alien that are threatening, so violently, our people," he said. "We will find you. We will arrest you. We will jail you. And we will deport you."