Andrew Cuomo
Six bills still awaiting action from Cuomo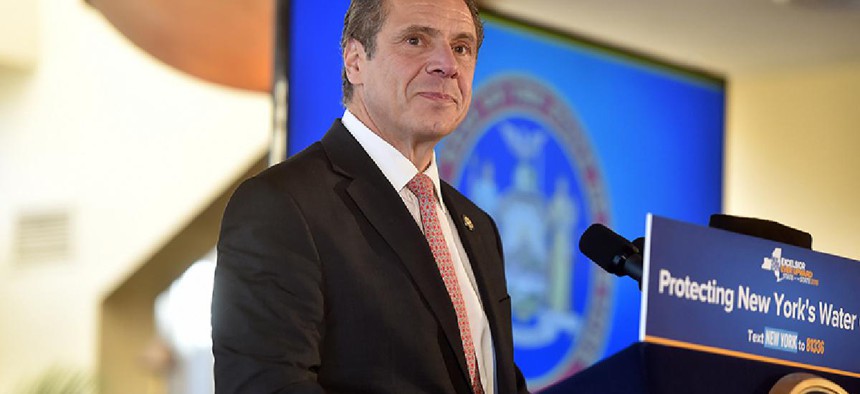 The year is winding down, and Gov. Andrew Cuomo still has a few bills on his desk he needs to take action on. He has until Dec. 30 at midnight to make his decision on six pieces of legislation currently awaiting either his signature or his veto. If it takes no action, the bills automatically become law.
RELATED: Get a head start on the 2018 state legislative session
Bill A2891/S3018: New York allows certain minority- and women-owned business enterprises to apply for a certificate that allows these MWBEs to compete for billions of dollars in contracts. This bill would change the requirements to get a certificate by expanding the eligibility. Under current law, the business owners cannot have a personal net worth greater than $3.5 million. This legislation would eliminate this requirement so that personal net worth is not considered at all during the process. The bill is sponsored by Assemblywoman Rodneyse Bichotte and state Sen. Patty Ritchie. It passed both the Assembly and state Senate with overwhelming bipartisan support in June and was sent to Cuomo's desk on Dec. 19. The bill was first introduced in the 2015-2016 legislative session.
Bill S6513B/A08508A: This bill also relates to MWBEs, but would specifically amend the New York City charter to allow more MWBEs to bid on contracts from the city. It raises the certified MWBE contracts' maximum from $20,000 to $150,000 to create more incentives to bid, while also avoiding a formal competitive bidding process, which can be costly for the businesses. New York City officials support the legislation because it would help them meet their goal of directing 30 percent of contract spending to MWBEs, and have urged Cuomo to sign it into law. A Cuomo spokesperson told the Daily News the bill is under review. It is sponsored by state Sen. Marisol Alcantara and Assemblywoman Alicia Hyndman. Alcantara told Gotham Gazette her team is in talks with the governor, but that she is confident he will sign since it passed with overwhelming support in the state Legislature in June. It was sent to Cuomo on Dec. 19.
Bill A8388/S3018: This bill clarifies that the Nurse-Family Partnership program, which sends nurses to the homes of low-income women pregnant with their first child to provide aid on a voluntary basis, is not technically home care. Some have incorrectly interpreted NFP services as needing a medical order, as is required by home care services, causing unnecessary costs and delays. The legislation, sponsored by Assemblyman Richard Gottfried and state Sen. Kemp Hannon, passed both houses with unanimous support in June and was delivered to Cuomo on Dec. 19.
Bill S6593A/A08260A: This legislation aims to create a seven-person task force on online lending institutions, an industry legislators say is rapidly growing, to better understand them and how they serve consumers and small businesses. Sponsored by state Sen. Jesse Hamilton and Assemblyman Kenneth Zebrowski, it passed both houses in June by a very wide margin and was sent to Cuomo on Dec. 19. The state Department of Financial Services previously probed online lenders in 2016, and sent a letter to 28 of them requesting information on their practices.
Bill S6326A/A07963A: The purpose of this bill is to amend New York City law to allow all models of hybrid and electric cars to be used as taxis, requiring the New York City Taxi and Limousine Commission to approve all of them. In 2005, the commission allowed for six models of hybrid cars that could be approved as taxis, in compliance with a law signed by then-Mayor Michael Bloomberg. Bloomberg had wanted all cabs in the city to be hybrids, but his plan ultimately failed due to the ruling in a federal lawsuit. And in 2015, the new fleet of yellow cabs introduced were not hybrids. This legislation, sponsored by state Sen. Marty Golden and Assemblyman Michael DenDekker, passed unanimously in the state Legislature in June and was sent to Cuomo's desk on Dec. 19.
Bill A5036B/S4845B: The bill relates to the rights of adoptees. It would allow someone who has been adopted to request a copy of their original birth certificate and medical history form when they turn 18. Under current law, an adoptee needs to go through a judicial process to obtain that information, something nonadopted people have access to freely, and at the end of that process, access is not guaranteed. The legislation is sponsored by state Sen. Andrew Lanza and Assemblyman David Weprin. First introduced in the 1992-1993 legislative session, two versions of the bill passed the Assembly in the 2015-2016 session for the first time, before ultimately dying in the state Senate. The current version passed both houses with some opposition, but still with a large majority, and was sent to Cuomo on Dec. 19. Adoptee advocates have urged the governor to veto the bill, saying it will only make the process of getting an original birth certificate more complicated as it allows exceptions when considering the rights of the birth parents as well.
Editor's note: An earlier version of this post misspelled the name of state Sen. Andrew Lanza.