Bill de Blasio
The bromance of Bernie and Bill: Two progressive pals or a marriage of convenience?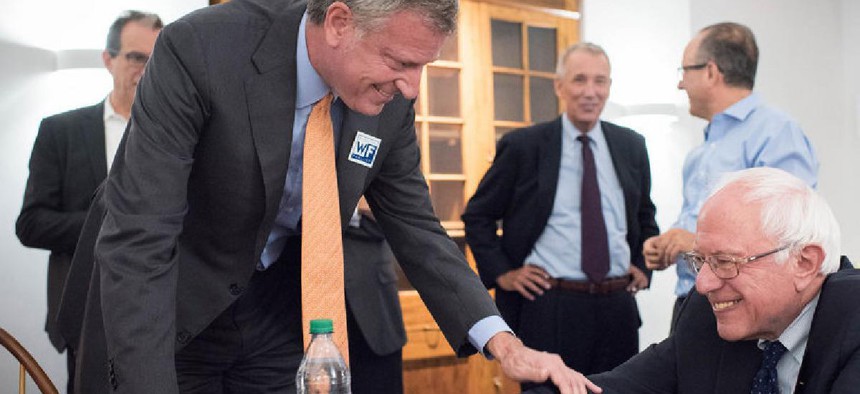 On Jan. 1, New York City Mayor Bill de Blasio will be sworn in for his second term. U.S. Sen. Bernie Sanders will administer the oath of office, a culmination of the pair's evolving relationship since de Blasio backed Hillary Clinton for the 2016 Democratic presidential nomination over Sanders.
De Blasio has been courting Sanders since the 2016 election to raise his national profile, and to show himself as the next leader of the progressive movement, said George Arzt, a political consultant and president of George Arzt Communications.
"I think he feels that he is the new generation, that Bernie and Elizabeth Warren are older, and that he is the new voice of the left," Arzt said about de Blasio. He added that Sanders and de Blasio may be using each other in anticipation of future presidential bids. Sanders may be making inroads in New York to curry favor with big donors, while de Blasio is aiming to have some of the Vermont iconoclast's "stardust" rub off on him.
"I think this is the first step to build up your progressive credentials as the voice of the left and to run from the left," Arzt said of de Blasio's motivations.
Sanders will preside over the oath of office exactly four years after former President Bill Clinton undertook that role, showing that de Blasio may be trying to pivot away from the Clintons' brand of pragmatism. In 2014, Hillary Clinton may have seemed a lock for the presidency – four years later, the political landscape has drastically changed.
Arzt also noted that there is still some bad blood between the Clinton camp and de Blasio due to the mayor's delayed endorsement of Clinton in the Democratic primary. In having Sanders administer the oath of office for his second term, de Blasio may be trying to correct what he believes was mistaken support of the ultimately losing candidate. It is his chance to show that he was on the right side of history in his slow endorsement.
From subtle encouragement to full-throated support, here is the timeline of the relationship between Sanders and de Blasio, the progressive icon and the man who would like to take his place in 2020.
RELATED: The biggest storylines of 2017
Jan. 1, 2014 – De Blasio is sworn in as the 109th mayor of New York City. Former President Bill Clinton administers the oath of office, with his wife, Hillary Clinton, standing nearby. De Blasio was the campaign manager for Clinton's 2000 U.S. Senate campaign.
April 12, 2015 – Clinton releases a campaign video announcing that she is running for president. On the same day, de Blasio, appearing on "Meet the Press," declines to endorse her, saying that he needs to "see a vision" for her campaign.
May 12, 2015 – De Blasio appears with U.S. Sen. Elizabeth Warren in Washington to unveil his "Progressive Agenda" roadmap for politicians. De Blasio later said that the launch of Sanders' presidential campaign, on April 30, 2015, overshadowed the mayor's progressive agenda and attempt to build a movement – although he later argues this ultimately was a positive development.
June 10, 2015 – De Blasio tells reporters that he will not attend the official launch rally of Clinton's campaign, which takes place on Roosevelt Island on June 12. He says he is waiting for Clinton to speak out on the Trans-Pacific Partnership, and praises Sanders for opposing the trade deal, calling him a "great voice for a fair society and a fair economy."
Sept. 18, 2015 – De Blasio emails Robby Mook, Clinton's campaign manager, to let Mook know that he has been invited to meet with Sanders. De Blasio tells Mook that he will tell Sanders that he is not supporting him in the campaign. He also tells Mook that he will praise Clinton in an upcoming interview with George Stephanopoulos. (De Blasio's coordination with the Clinton campaign is revealed in emails published by Wikileaks in October 2016.)
Sept. 29, 2015 – The Wall Street Journal reports that de Blasio's office is planning a presidential forum on the topic of economic inequality in Iowa. He had initially proposed in May of 2015 the idea of a presidential forum.
Oct. 6, 2015 – The Journal reports that de Blasio met with Sanders in September, and that the two discussed "progressive politics." Sanders says in a statement that de Blasio is one of the "leading progressives" in the country.
Oct. 11, 2015 – The Progressive Agenda Committee, founded by de Blasio to combat inequality, announces that the forum will take place on Dec. 6, and that the top five candidates in both parties according to polls will be invited to attend.
Separately, Mook emails de Blasio asking when he would like to endorse Clinton. De Blasio defers his endorsement until after he returns from a trip to Israel.
Oct. 21, 2015 – The deadline to register attend de Blasio's forum passes without any candidate firmly committed, although Sanders' spokesperson says he is interested.
Oct. 23, 2015 – De Blasio emails members of the Progressive Agenda Committee, saying that Sanders will attend his forum. Later, Sanders apparently reneged.
De Blasio also emails Mook to say that he has returned from Israel, and is ready to schedule the endorsement.
RELATED: Departing New York City Council members discuss their legacies
Oct. 30, 2015 – De Blasio endorses Clinton on MSNBC's "Morning Joe," lagging behind the majority of the Democratic establishment in New York. De Blasio says, "I like Bernie a lot," but Clinton is "the most capable of executing the vision." His delayed endorsement remains a source of friction between the mayor and the Clinton campaign.
Nov. 10, 2015 – The Progressive Agenda Committee announces that the presidential forum to take place on Dec. 6 is canceled, and had become unnecessary, as inequality had moved to the forefront of the political conversation. It appears that no candidate had committed to attend.
Nov. 11, 2015 – De Blasio acknowledges that the forum was canceled because candidates "weren't willing to participate," but that he has other approaches to influence the presidential race.
Jan. 31, 2016 – De Blasio visits Iowa to canvass for Clinton before the state's caucus on Feb. 1, knocking on doors because he said the campaign did not need another surrogate in the state.
April 1, 2016 – In an interview published in Politico, de Blasio affirms his support for Clinton, but says, "Bernie has made tremendous contributions. What he's doing is very helpful for this country and for the party." He also says that Sanders has the right to stay in the race until the Democratic National Convention in July.
April 7, 2016 – De Blasio criticizes Sanders for saying that Clinton isn't qualified to be president. De Blasio says that Clinton is "eminently qualified," but that Sanders "is qualified to be president, too."
June 8, 2016 – De Blasio urges Sanders to end his presidential campaign. He also encourages him to organize his political movement to rally around progressive causes, and says that "this country will not be the same, it will be better because Bernie Sanders ran."
Dec. 12, 2016 – In an interview with ABC7, de Blasio says that Sanders' economic message "would have won the election." De Blasio also says that his endorsement helped push the Clinton campaign to be more progressive.
Feb. 21, 2017 – De Blasio writes an op-ed in The Washington Post supporting Rep. Keith Ellison for chairman of the Democratic National Committee. Ellison was Sanders' candidate of choice.
Feb. 25, 2017 – De Blasio flies to Atlanta to stump for Ellison before the vote for DNC chair on Feb. 26. He does not endorse Rep. Grace Meng and Assemblyman Michael Blake, two New Yorkers running for DNC vice chair positions, despite their offices asking for his support. Perez was elected chairman and Ellison named vice chairman.
May 5, 2017 – De Blasio goes to Burlington, Vermont, to introduce Sanders at an awards ceremony.
Oct. 30, 2017 – Sanders spends the day campaigning with de Blasio, with the two riding the subway together, and endorses him for re-election in an evening rally.
Nov. 20, 2017 – In an interview with Politico, de Blasio says he will travel to Iowa in December to headline an event for a progressive group. He outlines his vision for the Democratic Party, saying "there was a huge mistake made in 2016 to not invite in the Bernie Sanders movement more effectively."
Dec. 19, 2017 – De Blasio speaks at the annual holiday party for Progress Iowa, which Sanders headlined in 2014.
Dec. 27, 2017 – It is announced that Sanders will administer the oath of office at de Blasio's inauguration on Jan. 1, 2018.