Ritchie Torres
Torres defends police reform bill in emotional speech ahead of Council's closest vote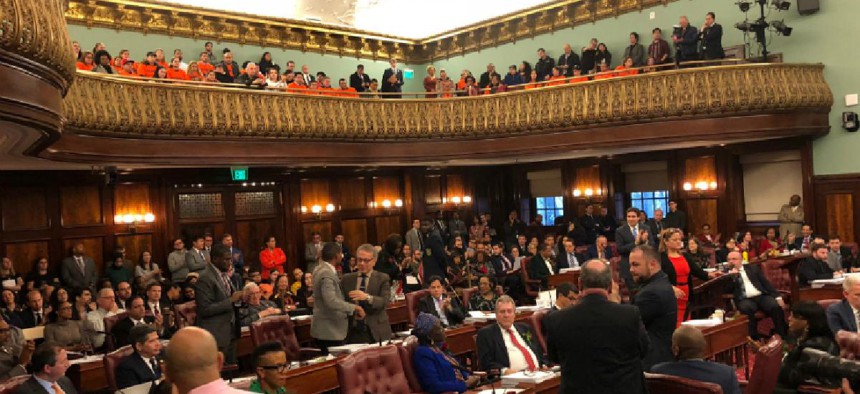 It started with a whimper, as New York City Councilman Ritchie Torres spoke into a dud mic. But after he switched seats in the City Council chambers and sat in front a working microphone, Torres launched into a powerful speech defending the compromise he reached on Intro 182-d, one half of the Right to Know Act.
"I stand by what I have chosen to do, even if it means standing alone," Torres said. "Even if it means straining and severing political relationships. Even if it means I am no longer beloved in progressive circles. Even if it means I have no future in progressive politics. I remain convinced, as I have ever been, that I am doing the right thing and moving the ball forward, and I am at peace with the path that I have chosen."
Torres's bill will require police officers to offer a business card with identifying information during pedestrian stops and a variety of other interactions with civilians. A coalition of criminal justice reform groups vehemently opposed compromises to the bill that Torres reached with the NYPD, saying that the final bill did not go far enough in holding police officers accountable. Other groups opposed the bill, saying that it would "handcuff cops."
Torres spoke in the council chambers ahead of Tuesday's vote. His bill ended up passing 27-20, with three abstentions. According to Politico New York data reporter Brendan Cheney, it was the closest vote of the entire session.
RELATED: Waste equity bill killed amid a last-minute flurry of legislation
Torres' speech earned immediate praise. City Councilman Corey Johnson, expected to be the council's next speaker, tweeted that he was "extremely moved and proud" of Torres' "thoughtful, honest, pragmatic, progressive + wise" remarks, and City Councilwoman Vanessa Gibson called the speech "powerful." Both voted for the measure.
Former Assemblyman Michael Benjamin, now an op-ed columnist for the New York Post, said that he did not support the bill, but that Torres made "a well-reasoned & cogent defense of his compromise bill. Bravo!"