New York City Council
Where the New York City Council speaker candidates would look to cut costs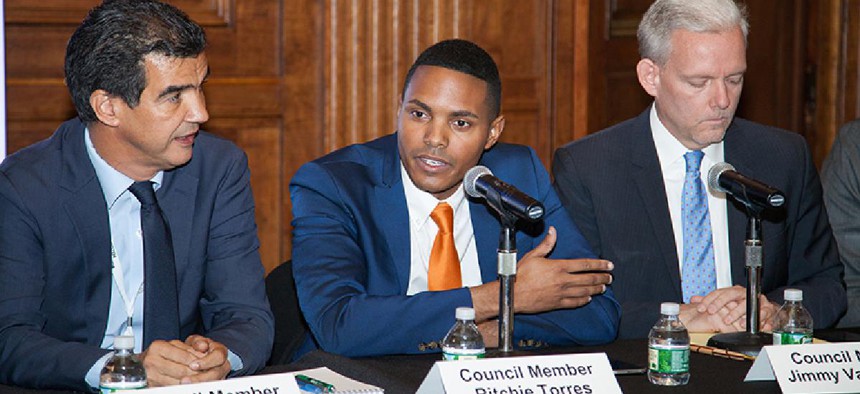 With federal budget cuts, a national tax deal that is expected to hurt New York and fears of a coming economic recession, New York City Councilman Ritchie Torres was sure of one thing: "It is no question that compared to the previous four years, we're going to be governing under conditions of austerity," he said. "I think the council should begin the process of budget cutting as early as January."
Torres and the other seven candidates for New York City Council speaker debated at City & State's New Council Member Retreat, an all-day event meant to prepare newly elected council members for their new position.
Among other questions, the candidates were asked what areas of the city budget could be cut. While only one will become speaker, all will serve on the council next year, and are likely to give input on the budget. Here are some of their ideas.
RELATED: Who's a player in the New York City Council speaker race?
Procurement
City Councilman Mark Levine targeted the city's capital process, essentially what it takes to build new things. "The average cost for building a comfort station in a park is $3 million. The average cost for renovating a comfort station in a park is $1.7 million. That's unacceptable," he said, and pointed to smarter contracting as a way to save money.
City Councilman Ydanis Rodriguez agreed, pointing towards reforming the procurement system as a way to save money. "So much red tape that has to be cut… it's too much, too expensive," he said. 
Outside consultants
In a similar vein, City Councilman Donovan Richards said the city needs to look at outside contracts. "We really need to focus our nearly $86 billion budget. A lot of contracts are going in and out the window," he said. "We need to make sure that whatever we can do in house is what we're focusing on and doing it to be more efficient."
City Councilman Jimmy Van Bramer said the council would need to review the use of "outside consultants at every agency."
RELATED: The best New York City Council members
PEG
City Councilman Corey Johnson brought up the PEG, or Program to Eliminate the Gap, through which the mayor's office in the past has asked each city agency to find 5 percent in savings. Those across-the-board cuts have been done as an exercise, he said, but New York should make it real. "When you look through what they cut, through savings, it was stuff that probably should have been cut," Johnson said. "We should probably go through that exercise." 
City Councilman Jumaane Williams also spoke about across-the-board cuts, but urged caution. "If we do have to make those cuts, we have to do it equitably," he said. "We can't leave $5 billion in the police department and then cut all of the youth jobs for people."
Finding revenue
A number of the candidates suggested other responses, like raising revenue.
"Can we push Albany even further on the millionaire's tax, the transfer tax, things of that nature?" Williams asked. "We should think of that first."
City Councilman Robert Cornegy and Johnson also brought up the city's reserve fund. Now near $1.5 billion, the city's reserves are at the highest they have ever been, and could presumably be tapped to help close budget deficits.