Lee Zeldin
Why a Steve Bannon fundraiser may be a good thing for Lee Zeldin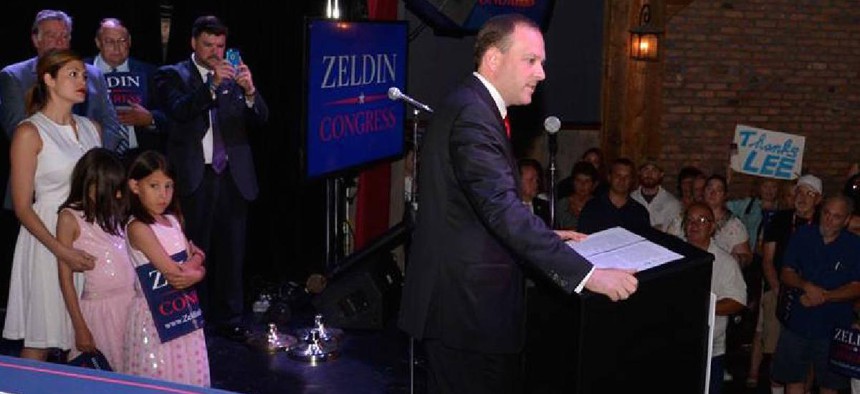 Roy Moore, the conservative firebrand accused of sexual misconduct with underage girls, lost the special U.S. Senate election in Alabama on Tuesday, despite vocal support from President Donald Trump and his former chief strategist, Steve Bannon. On Wednesday, Rep. Pete King, a Long Island Republican, tweeted that "after Alabama disaster GOP must do right thing and DUMP Steve Bannon," calling him "tired, inane and morally vacuous."
His fellow Long Island Republican, Rep. Lee Zeldin, seems to disagree. Bannon will be headlining a Manhattan fundraiser for Zeldin Thursday night, which will also feature House Freedom Caucus leader Rep. Jim Jordan. Zeldin, who is Jewish, and the controversial executive chairman of Breitbart – who has been accused of anti-Semitism – may seem like an odd couple. However, Lawrence Levy, executive director of the National Center for Suburban Studies at Hofstra University, argues that Zeldin has more to gain from his relationship with Bannon than to lose.
According to Levy, the two bonded over their mutual support for Israel, a cause célèbre for Bannon and the conservative Christians that see him as an icon.
RELATED: The six GOP New York House members the Dems are targeting
In an emailed statement to City & State, Katie Vincentz, a spokeswoman for Zeldin, wrote that "The Congressman has worked with Mr. Bannon on a number of policy issues, including the need to combat the growing BDS movement on college campuses and around the world, passing the Taylor Force Act, moving the U.S. Embassy from Tel Aviv to Jerusalem, decertifying the deeply flawed Iran Nuclear Deal, recognizing Jerusalem as the capital of Israel, and more."
Zeldin's district supported Trump in the 2016 election, and while the president's popularity is declining in general, he is still popular with the Republican base that the congressman is dependent upon for re-election. After Zeldin voted against the House tax plan last month, Levy suggested that he may be out of favor with those voters, and Bannon can lend him credibility as the president's "chief avatar."
"Zeldin almost certainly sees securing his conservative, Trump-supporting base as political task number one," Levy said.
Zeldin remains opposed to the Republican tax plan, writing in an emailed statement to City & State that "I am NO on this bill in its current form." He added that he would "love to be able to vote for an improved version of this bill that fixes some important issues that need to be addressed," such as maintaining the state and local tax deduction and expanding the child tax credit.
Bannon's support could offset any backlash from Zeldin's opposition to the tax plan. He could also help to fend off a primary against Zeldin from the right. Prominent Republican fundraisers Robert and Rebekah Mercer are patrons of Bannon, and residents of Zeldin's district. They have given to New York candidates in the past, notably Trump. A Robert Mercer-backed super PAC also donated $1 million supporting Westchester County Executive Rob Astorino's unsuccessful re-election bid in October.
"If he has the support of Bannon, and by extension the Mercers, he will probably be able to chase off a serious primary challenge," Levy explained.
Zeldin's relationship with Bannon is not without risk. While his first concern is solidifying his base, Levy suggested that the congressman's next priorities will be appealing to moderate Republicans and independents, who may be turned off by Bannon's support for Moore and other controversial causes.
"With Trump's approval rating falling, even in the redder areas of Suffolk, and Bannon's along with it, this becomes an even riskier political play," he said.
RELATED: Paul Ryan seizes control of Lee Zeldin re-election fundraiser
The Democratic Congressional Campaign Committee began capitalizing on this relationship, sending a release targeting him for fundraising with "Steve Bannon, supporter of known child molestor Roy Moore." Zeldin is also facing several Democratic candidates, although divisions in the Suffolk County Democratic Party may make it difficult for one to break through.
Levy believes that the right Democratic candidate can beat Zeldin, but he or she would have to have significant funding, the ability to navigate the feud between Suffolk County Executive Steve Bellone and county Democratic Leader Richard Schaffer, and a moderate image to appeal to "soft Republicans."
Another potential roadblock for Zeldin could be House Speaker Paul Ryan, who last month canceled a fundraising event with him in retaliation for Zeldin's opposition to the tax bill. Ryan still held the event, but the money raised was instead given to the National Republican Campaign Committee and his own political operation. Bannon, who reportedly once called the House speaker a "limp-d*** motherf**ker," has also had a contentious relationship with congressional leadership.
However, as Ryan may be resigning after the 2018 election, Levy said that the speaker is "less and less of a political consideration."
Despite the risks inherent to being tied to the "bundle" of issues that comes with Bannon, Levy thinks that maintaining his support is critical for Zeldin. New York's First Congressional District includes inner-ring suburbs, outer-ring suburbs and exurbs, many of which are just as conservative as red states.
"While a lot of people are spinning the narrative that Bannon's support for Zeldin is a negative, I think you could just as fairly argue that if Bannon withdrew his support for Zeldin, it would be more damaging to his candidacy, because the first task of any candidate is to secure his base, and Bannon certainly has their love," Levy said.