Andrew Cuomo
Why didn't Cuomo bring the fight to Republicans in Congress sooner?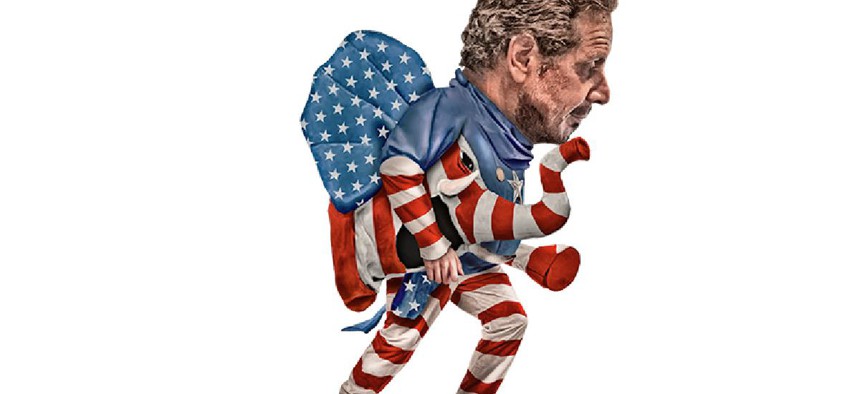 To Gov. Andrew Cuomo, Rep. Chris Collins is a "Benedict Arnold" for backing the Republican Party's sweeping federal tax reform plan and the peddler of a "political Ponzi scheme" that would shift New York's Medicaid costs from the counties to the state as part of an attempted repeal of the Affordable Care Act.
Rep. John Faso has also faced withering criticism from Cuomo for supporting the Obamacare repeal, with the governor recently calling on him to resign in protest over the GOP's controversial tax plan, even though the Hudson Valley congressman voted against the House version of the bill.
Cuomo has been treating most of the state's House Republicans with similar contempt. He branded nearly half of the GOP congressional delegation – Collins, along with Reps. Claudia Tenney, John Katko and Tom Reed – as "treasonous" for voting for the tax plan, saying it would "rape and pillage" New York communities. And he pledged to knock out of office half a dozen New York Republicans – including Reps. Elise Stefanik and Lee Zeldin – for their votes to repeal and replace Obamacare.
RELATED: How much could New Yorkers lose from GOP tax reforms?
"They said they would help their districts. They said they would help the struggling middle class," Cuomo said this summer as he stood alongside House Minority Leader Nancy Pelosi to announce a campaign targeting six New York House Republicans over the Obamacare repeal bill that ultimately failed. "They're doing the exact opposite. These are not moderate, responsible public officials. They're not taking reasonable positions. These are political pawns to the ultraconservative puppet masters in Washington."
But as the governor tries to flip a half dozen or more congressional seats in New York from red to blue, an effort that is key to a national Democratic bid to retake the House of Representatives, he faces a nagging question: Why didn't he bring the fight to New York Republicans earlier?
On the basis of sheer numbers alone, the governor's track record appears weak. Since Cuomo's first run for governor, the number of Republicans in New York's House delegation has tripled, from just three in 2010 to nine today – even as the total number of House seats in the state declined by two, to 27.
Since Cuomo's first run for governor, the number of Republicans in New York's House delegation has tripled, from just three in 2010 to nine today.
A year after taking office, Cuomo allowed a redistricting plan to go through that made a number of Democratic House incumbents more vulnerable, and several would go on to lose key seats. And while the governor has raised money for Democratic candidates and made appearances with them on the campaign trail, he has earned a reputation for keeping his distance from congressional races across the state.
The Cuomo administration disputed this characterization as "insane," saying that the governor had set himself apart by championing progressive measures, including a $15 minimum wage, a gun safety law and a ban on hydrofracking. 
"For years, he has worked with Nancy Pelosi, and congressional leadership to turn red seats blue across this state and – with the seemingly daily assaults on New York by Washington – this mission is more important than ever," a Cuomo spokesperson said. 
But take Collins' Western New York district. In 2011, Republican Rep. Chris Lee was caught up in a sex scandal and abruptly resigned. Kathy Hochul, the popular Erie County clerk, jumped into the race as the Democratic nominee. Despite a significant Republican voter registration advantage in the district, Hochul prevailed.
However, her victory was short-lived. In 2012, as Cuomo and the state Legislature were negotiating over redistricting, the governor wanted lawmakers to approve a plan to make the process more independent. But as is the custom in Albany, he allowed the Democratic Assembly and Republican state Senate to push through the plans they wanted for their own houses. Congress, as usual, was an afterthought, and it was ultimately left to the courts to draw the lines.
Hochul, who was already at a disadvantage, saw even more Republicans added to her redrawn district, and narrowly lost to Collins later that year. Overall, the new congressional districts were seen as reasonably fair and independent, with incumbents in both parties losing ground. But Cuomo's relative disinterest and lack of involvement was in stark contrast to what was going on in other states. In many Republican-controlled states, elected officials deliberately redrew the congressional lines to maximize their party's representation in Congress.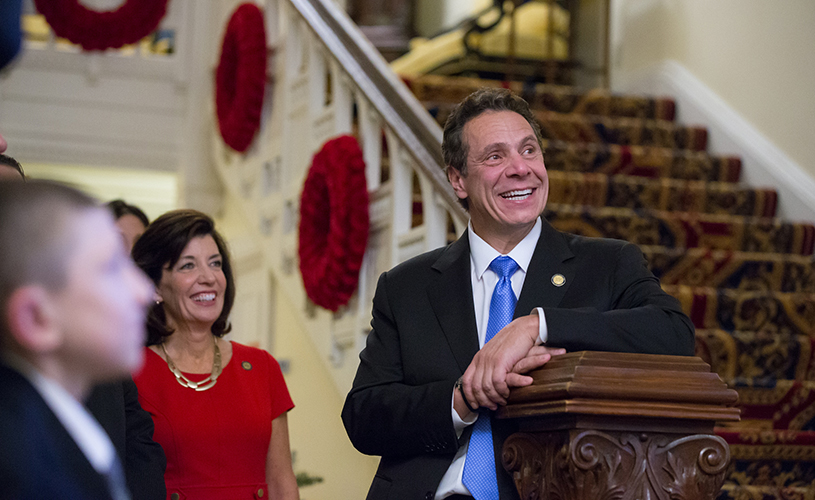 Gov. Andrew Cuomo and Lt. Gov. Kathy Hochul at the New York State Police Protective Services Unit annual holiday party at the Executive Mansion. (Photo by Philip Kamrass/Office of Governor Andrew M. Cuomo)
Some Democratic governors fought back, like Missouri Gov. Jay Nixon, who vetoed a Republican-drawn congressional map only to be overridden by the state Legislature. Illinois Gov. Pat Quinn, who approved a congressional map that threatened the state's majority Republican congressional delegation, was taken to court. Meanwhile, in New York, there were reports that Pelosi was alarmed about Cuomo's inaction and the risk to incumbents like Hochul and Rep. Louise Slaughter – who was nearly ousted in 2014.
Cuomo did get through a constitutional amendment on independent redistricting in the end, although it's debatable how independent it actually is. But to be fair, the governor would have been criticized by good government groups and editorial boards had he tried to ram through a new congressional map with blatantly partisan boundaries.
"Did he not put his thumb on the scale to try to make it so the congressional lines were pro-Democratic? Yes, he was guilty of that," said Bruce Gyory, a Democratic consultant. "But on the other hand, that's what we say we want – we want a less partisan process for that."
Gyory added that he doesn't think it's "fair to ding the governor much on the congressional lines," suggesting that the bigger issue is the state's lackluster voter turnout.
"I have no comment on Governor Cuomo's effect on this election. Quote me on that." – then-Rep. Steve Israel in 2014
While some observers applauded Cuomo's push for independent redistricting, when it comes to Hochul, drawing a more favorable district – or at least preventing the addition of more Republican voters – might have been the only realistic shot at keeping the seat in Democratic hands.
A source involved in Hochul's 2012 re-election campaign, who only spoke on the condition of anonymity to speak freely, said that the new lines undoubtedly made for a tougher re-election fight. The tougher odds also made it harder to get national Democrats to fund Hochul.
"It was still close. It was more indicative of the candidate than the district itself, which is a pretty conservative district," the source said. "She just happened to be there for a long time and was pretty well-known. I don't know if the district will ever be won by a Democrat again as it currently stands, unless Collins goes down in flames for some reason."
Nor is Hochul's case an isolated example.
RELATED: Kathy Hochul's keynote speech at the State of NY Women forum
When Cuomo was running for his first term, congressional Democrats were bound to lose seats in the 2010 midterms. But with then-Gov. David Paterson as a lame duck and Cuomo widely seen as the heir apparent, he arguably could have done more to assist fellow Democrats that year.
In the wake of further losses in 2014, then-Rep. Steve Israel, who headed the national Democratic Congressional Campaign Committee's efforts that year, suggested that Cuomo had been of little help. "I have no comment on Governor Cuomo's effect on this election. Quote me on that," he told The New York Times, adding: "We had conversations several months ago with the governor's staff about helping to organize and coordinate a campaign and I didn't see the fruition to those conversations."
And in 2016, Cuomo eventually endorsed Zephyr Teachout, the Democratic nominee running against Faso. But the governor, who had been embarrassed by Teachout's strong challenge against him in the 2014 Democratic gubernatorial primary, wouldn't even endorse her by name.
Now, in response to the President Donald Trump's policies – and perhaps to pave the way for his own potential presidential campaign – Cuomo is positioning himself as a leading voice on the national stage. Will 2018 prove to be a turning point for the governor's support of Democratic congressional candidates, or will it be more of the same?
Editor's note: This post has been updated with a comment by the Cuomo administration.