Mark Treyger
Barron falls again as council names borough chairs
New York City Councilmen Antonio Reynoso and Mark Treyger were elected co-chairs of the Brooklyn delegation.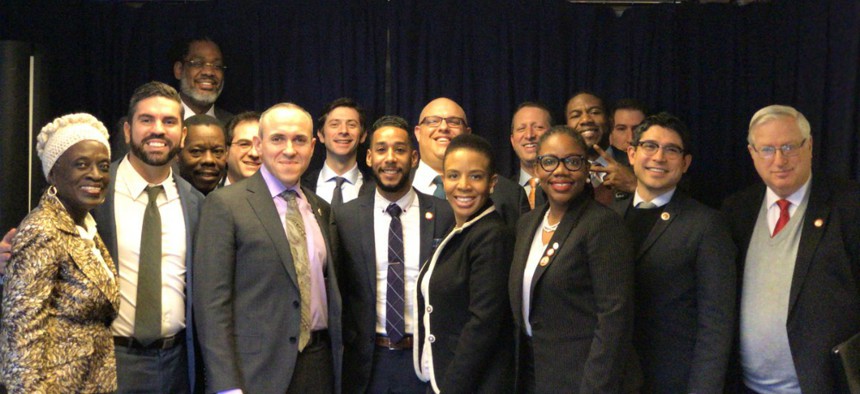 Breaking the New York City Council Brooklyn delegation's norm of having a male and female co-chair, on Wednesday City Councilmen Antonio Reynoso and Mark Treyger were elected co-chairs of the delegation. The two men defeated City Councilwoman Inez Barron in a three-candidate race among the 16-member delegation.
Earlier this month, Barron nominated herself at the last minute for City Council speaker, in part to protest the lack of black politicians in leadership positions in New York City. Barron then earned just one vote, her own.
Barron, who represents a district in eastern Brooklyn, wouldn't say how many votes she got for delegation chair when asked by City & State, but she said it was more than just her own. "I got more votes there than what I got from the 50 (City Council members), so it's movement, it's progress," Barron said with a laugh.
Treyger was re-elected as co-chair, having served last session alongside former City Councilwoman Darlene Mealy, who was term-limited out of office. Treyger told City & State there was no tension within the delegation, despite the contested vote.
The three candidates vary ideologically. Treyger, from Southern Brooklyn, is one of the more moderate members of the Council, while Reynoso, from North Brooklyn, and Barron are more left-leaning. But City Councilman Stephen Levin, a member of the Brooklyn delegation, agreed the vote was amicable and said it had nothing to do with ideological divides. "Honestly, in my opinion, after eight years (in the Council), politics does not actually play in," he said.
Borough delegations meet anywhere from twice a month to a few times a year. Delegation chair is largely an operational position, overseeing meetings where members can talk about priorities. Each borough is allocated funding in the city budget for local nonprofits, and the chair oversees discussions about where that money should go.
In Manhattan, City Councilwoman Helen Rosenthal and City Councilman Mark Levine were elected co-chairs on Jan. 24. The 10-member delegation was led last session by City Councilwoman Margaret Chin and Corey Johnson, who is now the City Council speaker.
Rosenthal said she and Levine were hoping to take a more active role as chairs. She suggested holding a policy meeting to hear from experts on topics that would affect the borough, like congestion pricing.
City Councilman Andy Cohen was voted chairman of the eight-member Bronx delegation Wednesday, replacing former City Councilwoman Annabel Palma, who was term-limited out of office. Cohen was unopposed for the position.
City Councilwoman Karen Koslowitz was reelected chairwoman of the 14 member Queens delegation on Jan. 19 in an unopposed race. The longest-tenured member of the Council, Koslowitz has been chair since 2015, when City Councilman Mark Weprin left the Council to take a job in the Cuomo administration.
City Council Minority Leader Steve Matteo will once again serve as de facto chairman of the Staten Island delegation. Just three members represent the borough, two Republicans and Democrat. "Nobody asked me to vote!" joked City Councilwoman Debi Rose, the lone Dem. But Rose emphasized the collegiality of the small delegation, saying that Matteo and City Councilman Joe Borelli often work with her to direct funding to her district, which has a lower median income than the rest of the borough.
Powered By
NEXT STORY: State of the Union emphasizes immigration, infrastructure